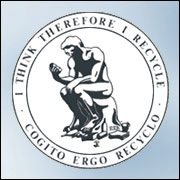 It might not be as glamorous as some industries, but recycling is booming.
The industry supports more than 450,000 jobs for Americans and generates US$10.3 billion in revenue for federal, state and local governments — making it larger than the forestry and fishing industries combined, according to a recent study released by the Institute of Scrap Recycling Industries (ISRI).
"It's an incredible industry that really brings together economics, the environment and energy savings," Melissa Merz, VP for communications and marketing for ISRI, told the E-Commerce Times. "It's a huge job creator."
The Business of Recycling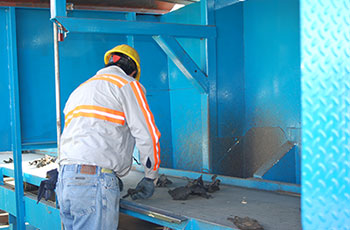 Recyclables include ferrous materials like iron and steel, and non-ferrous materials like copper, electronics, paper, rubber, plastics, glass and textiles. There is also a growing industry in recycling food byproducts, including composting scraps for agriculture and repurposing cooking oil for fuel.
Much recycling involves collecting materials and breaking them down into their basic components, which are then sold to manufacturers as raw material. A growing segment of the industry involves refurbishing and reselling items, such as computers and other electronic equipment.
"The demand for the materials both in the U.S. and worldwide has been strong," Bill Moore, president of paper recycling consultancy Moore & Associates, told the E-Commerce Times. "The market prices for the materials have been good."
As with other raw materials, prices are based on market economics, and the market for recyclables has become especially strong.
"It's a supply-and-demand thing," Chaz Miller, director of state programs for the National Solid Wastes Management Association (NSWMA), told the E-Commerce Times. "You have a demand for end products."
A Second Life for Electronics
One area in the recycling world that's seeing tremendous growth is electronics recycling. For equipment that's six years old or older, this generally means breaking it down into its components, such as glass, plastic and metal, and selling them to manufacturers.

For newer equipment, it means refurbishing and reselling, often to international markets. Businesses in the U.S. tend to replace their electronics every several years, after all, and when that happens, electronics recycling companies are there to take the old equipment off their hands.
AnythingIT specializes in electronics recycling, and it's an example of the sector's strength. Over the last two years, the company has doubled in size, and it will likely continue to grow.
"It's a vibrant industry," David Bernstein, AnythingIT's president, told the E-Commerce Times. "It's growing exponentially."
In 2002, 600,000 tons of used electronics were recycled, according to Bernstein. By 2010, that number had climbed to 3.5 million. Increasingly, businesses are making long-term plans for their electronics equipment, knowing where it's going to go when it's obsolete even as they're buying it.
"It's becoming more and more a part of the way equipment is acquired," explained Bernstein. "When we buy new stuff, we think about how to get rid of the old stuff. Organizations want to make sure this stuff is handled properly."
Electronics companies, too, are working on ways to make their products more recyclable.
"There's a push to get the manufacturers to make their products more environmentally friendly," said Bernstein. "There's a healthy demand for good, working equipment outside the U.S."
Proper handling of recycled electronic equipment includes wiping it clean of all data, a service provided by any reputable certified electronics recycler.
Recycling for a Living
The recycling industry includes a range of jobs and business opportunities, and there are even job boards, like RecyclingJobs, that specialize in listings in this area. Truckers, sorters, salespeople, and material recovery facility (MRF) managers are some of the hands-on positions in the field. Then there are the engineers who design the equipment that sorts, bales and processes recycled materials.
"The country is desperate for jobs, and the recycling industry creates them," Neil Seldman, president of the Institute for Local Self-Reliance, told the E-Commerce Times.
Disposing of 10,000 tons of materials in a landfill creates one job, whereas recycling the same amount creates up to 10 jobs, Seldman noted.
In older materials recovery facilities, the sorting of recyclables is still done by hand, notes "Careers in Recycling," a report released by the U.S. Bureau of Labor Statistics in 2011.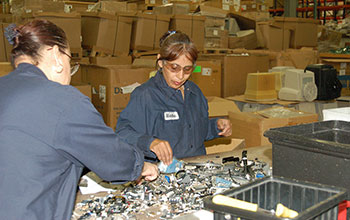 Newer ones, however, use higher-tech sorting machines. These include magnetic systems for removing metal and optical sorters for picking out different colors of plastic or glass.
"Equipment development is a fairly vibrant area," said Moore.
Recycling, in other words, is becoming as high-tech as other areas of manufacturing.
"It's become more technologically sophisticated," explained Miller. "Separating equipment is much more technologically advanced than it used to be."
Recycling is becoming a part of daily existence for American citizens and businesses, and this is a trend that will likely continue.
"Recycling has become a good, solid industry in this country," said Miller. "Americans just expect to recycle, whereas 20 to 30 years ago, you couldn't say that."