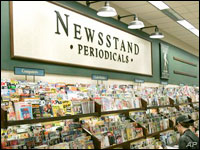 Five leading American publishers, including Time and Conde Nast, officially unveiled what is, effectively, an online digital newsstand on Tuesday.
The announcement ended months of speculation about the project. The five will offer a service from which readers can buy subscriptions to their publications.
The project, led by Time executive John Squires, aims to create a robust publishing platform, a digital storefront, a reading app and new opportunities for online advertising.
Teaming Up Digitally
Reports about publishing giants teaming up to offer their products on a joint digital platform had been circulating for months.
The players are Time Warner, Conde Nast, Hearst, News Corp., and Meredith, publisher of magazines such as Ladies' Home Journal and Family Circle.
They will initially offer their magazines digitally, but may later branch out into other areas such as newspapers, comic books and blogs.
Making It Work
In addition to a digital newsstand, the consortium will create an online reading app, a publishing platform, and new online advertising options. The idea is to create a system that can be downloaded, stored and read on any device, including smartphones, laptops and electronic tablets.
The idea is quite practicable, Frank Dickson, a vice-president of research at In-Stat, told the E-Commerce Times. "There are already similar platforms that exist on the computing side of the house," he explained. "The task is easy to do with enough money."
Indeed it is — Target and Zinio announced in October that they would jointly launch a digital newsstand. This would offer titles including Elle, Popular Science, and Woman's Day at discounts. Zinio, headquartered in San Francisco, offers more than 50,000 digital magazines and books. It claims to offer the world's largest online newsstand.
Device manufacturers could prove to be a sticking point, however. Whether or not they accept the consortium's standards will depend on how badly they want its content, Rob Enderle, principal analyst at the Enderle Group, told the E-Commerce Times. "Text media isn't as well-controlled as either music or movies, suggesting the consortium lacks the power it needs to drive device makers to it," he pointed out. This could lead to fragmentation and push the consortium and possibly the e-reader industry into failure, Enderle warned.
The five-member consortium must create a customizable user interface that lets different platforms maximize the screen size, Dickson pointed out. "An e-reader has limited screen real estate, while a smartphone has extremely limited screen real estate," he explained.
Also, the consortium must enable advertisers to get advertising metrics, Dickson said. Two of the main gripes publishers have with Kindle are that Amazon.com takes 70 percent of the revenue from the Kindle Store and does not release customer data to the publishers. "Being able to customize ads to the demographics will enable higher advertising CPM, which could be the savior of the industry," Dickson said.
CPM stands for cost per thousand impressions. The higher the CPM, the more profitable an ad is to a publisher. Targeted ads will get higher CPMs than untargeted ones.
Riding the Skiff to Success?
One possible platform for the consortium could be Skiff, a digital newsstand, technology platform and soon-to-be-unveiled e-reader from Hearst. The publisher has invested in and developed Skiff over the past two years.
Originally called "FirstPaper," Skiff will use Sprint Nextel's wireless service. Hearst and Sprint announced Skiff last week.
Sprint already servers as the wireless carrier for Amazon.com's Kindle in the United States. Sprint spokesperson Kathleen Dunleavy declined to comment on whether or not this could lead to a conflict of interest.
Sprint will not only serve as Skiff's wireless carrier, but will also be one of its retail distributors. "We will sell the device in 1,000 Sprint stores and on www.sprint.com ," Dunleavy told the E-Commerce Times.
Skiff's backers claim to have held successful trials, but Kiliaen Van Rensselaer, its chief marketing officer, would not discuss details. "The specifics around our trials are confidential under non-disclosure agreement with our partners and participants," he told the E-Commerce Times.
Skiff is working with major consumer electronics manufacturers to integrate its service, digital store and client software into their devices. It has partnered with semiconductor manufacturer Marvell to create a system-on-a-chip for e-reading. This chip will be offered to device manufacturers to incorporate into their products.
Chasing the Almighty Dollar
The publishing industry has been flailing about for solutions since online publishing took off. Newspapers and magazines have reported falling ad revenue, and the publishing industry is looking to e-readers for salvation.
Several publishers have conducted trials with e-readers. For example, the Detroit Media Partnership, which manages the Detroit Free Press and the Detroit News, will test out these publications' content on the Plastic Logic device and the Amazon Kindle with customers.
The e-reader market is expected to boom — Amazon.com claims orders for its six-inch Kindle devices broke all records in November. Meanwhile, Barnes & Noble has delayed deliveries of its Nook e-reader, claiming it can't fill orders fast enough. Several other companies are expected to unveil new e-readers at the next Consumer Electronics Show in Las Vegas in January. In-Stat forecasts the e-reader market will hit the US$2 billion mark by the end of 2010.
That has spurred marketers' interest in e-readers, and they are planning for mobile advertising opportunities.
Whether or not the consortium succeeds with its proposed digital newsstand remains to be seen. "The key is to provide a premium experience that enough folks are willing to pay for," Enderle said. "The consortium won't make it if this is seen as simply another way to get information."