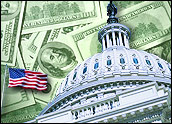 Competing for federal contracts is tough — and protesting the award of a federal contract may be even tougher. But a ruling by a federal agency appears to have improved the ability of all vendors — not just IT firms — to utilize key legal channels for protesting the award of federal contracts.
One of those channels is the General Accountability Office, which for decades has had the authority to rule on certain types of challenges to the award of federal contracts. These challenges include price, performance, and conformity with requirements. Congress has tinkered with GAO's jurisdiction often — sometimes expanding GAO's authority while at other times restricting the agency's powers.
GAO's jurisdiction changed again in late May. The agency explained the current status of its authority in a June 14 ruling. In essence, GAO is currently operating its contract protest program in two different venues. One applies to defense-related contracts, the second to civilian agency contract awards.
GAO obtained exclusive jurisdiction over certain aspects of bid protests for both civilian and defense task and delivery order awards valued at more than US$10 million through a provision of the 2008 National Defense Authorization Act.
Task Order Jurisdiction
"For over 80 years, the GAO has provided an independent and objective process for determining whether federal contracts have been awarded fairly. But in the 1990s, when Congress restricted the GAO's ability to review individual task orders, no one anticipated how large these orders would become," Sen. Joseph Lieberman, I-Conn., said in a statement emailed to the E-Commerce Times.
"In response to that growth, Senator Susan Collins and I authored a provision, signed into law in 2008, to allow GAO to review orders exceeding $10 million," Lieberman said.
Task and delivery orders occur under broad contracts in which an agency selects multiple vendors and then may choose among several of these for specific tasks or delivery of certain services.
However, the Lieberman provision expired in May 2011 as a result of a "sunset" clause in the 2008 law. When the sunset date arrived, "the general consensus in the government contracting community was that the GAO's jurisdiction over civilian agency task and delivery order awards had expired," Marko Kipa, an attorney with Sheppard Mullin Richter and Hampton told the E-Commerce Times.
GAO saw the issue differently by going back further in the legal record of the issue. In the somewhat elastic legislative history of expanding and then restricting GAO's authority, GAO determined that the sunset clause not only terminated Lieberman's 2008 provision expanding GAO's authority, but also nullified a 1994 law that had restricted GAO's power.
That nullification means that the agency's authority for civilian agency protests is now based on broad powers granted to the agency under a much earlier law, the 1984 Competition in Contracting Act.
"As a result of the sunset, the jurisdiction of our office over protests of task or delivery orders has, effectively, reverted to the jurisdiction we had under CICA," GAO said in the June ruling.
Its statutory authority under CICA allows it to not only hear protests of contracts generally, but also to rule on protests involving task and delivery orders, GAO said.
Another Door Opens
For IT vendors and others involved in federal contracting, the impact of GAO's June 14 ruling could provide a greater opportunity for protesting civilian agency contract awards in two ways.
"GAO's decision could increase task order protests because the ruling opens the door to protests of task orders valued under $10 million," Emma Broomfield, an attorney with Arnold & Porter, told the E-Commerce Times.
In addition to expanding the valuation range for protests, GAO's June ruling that it would operate under the 1984 CICA law opened up another channel to vendors for filing protests. Under CICA law, the GAO shares jurisdiction on task and delivery orders with the U.S. Court of Federal Claims.
By reverting back to the CICA law, "GAO's jurisdiction over these protests is no longer exclusive," said Sarah Gleich, an attorney with Crowell & Moring in a blog post.
"To the extent that the Court of Federal Claims agrees with GAO's interpretation of the sunset clause," the court could once again share jurisdiction with GAO, Gleich said.
Just how long IT vendors will have to take advantage of the expanded opportunities for filing protests with either GAO or the Court of Claims is uncertain. Legislation cosponsored by Lieberman and several colleagues would essentially extend the 2008 law as applied to civilian agency contracts. The bill has passed the Senate, and a companion bill has been introduced in the House. Also, the issue has been addressed in a pending military authorization bill in the Senate.
The current legal saga over GAO protests does not apply to contracts awarded by the Department of Defense. Congress basically extended the 2008 reforms on task and delivery orders related to DoD in a 2011 funding bill.
To complete the circle, Kipa noted that whatever role GAO plays in task and delivery order awards for either civilian or defense contracts, the agency does not review matters related to contract administration.
"IT firms and other firms may seek recourse for contract administration 'issues' under the Contract Disputes Act at either the Board of Contract Appeals or the Court of Federal Claims," he said.
The matter of contract protests was mentioned as a significant factor in the timidity of federal IT procurement officials to have more contact with the vendor community for fear of raising conflict issues.
In a February 2011 memo addressing IT contracting "myths," Daniel Gordon, Administrator for Federal Procurement Policy specifically encouraged federal officials to engage in more dialog with vendors, noting that "constructive communication" could actually reduce the potential for protests.