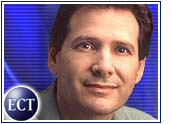 Name-your-price pioneer Priceline.com announced Monday that it cut its second-quarter loss to a bare penny per share, excluding special items, as revenues topped $352 million (US$). The Norwalk, Connecticut-based retailer of airline tickets, hotel rooms, rental cars, gasoline, telephone long distance and other products and services said growth in repeat customers and reduced advertising and marketing costs helped more than triple revenues from the same period last year.
"We believe we are rounding the final turn and [are] on the homestretch toward profitability," Priceline President and CEO Daniel H. Schulman said. Schulman noted that the company added 1.5 million new customers in the quarter, bringing its total customer base to 6.8 million.
Schulman said, however, that the 39 percent customer repeat rate, up from 26 percent a year ago, was even more important in improving results.
Picking Up the Pace
The company's revenues of $352.1 million during the quarter are 216 percent better than revenues of $111.6 million during the same quarter in 1999, and the $4.4 million operating loss was an improvement from a loss of $15.8 during the year-ago quarter. Net loss for the quarter amounted to $1.6 million, versus $13.9 million in 1999's second quarter.
Its gross profit of $55.2 million was a 406 percent improvement over the comparable quarter's profit of $10.9 million, and gross margin widened sharply to 15.7 percent from 9.8 percent in the year-ago period. Second-quarter operating costs were flat compared to the first quarter of this year, up only $500,000 to $59.5 million.
Analysts had been projecting a loss of three cents per share.
Marketing Costs Shrink
One reason for the improved results was tighter control of advertising expenses, which grew at a much slower rate to $13.8 million from $9 million the year before. It cost the company $9.16 in advertising to gain each new customer during the quarter. The company reported that total marketing costs per new customer dropped to $10.81 per customer, down from $13.23 a year earlier.
After accounting for $381,000 in non-cash supplier warrant charges and $2.5 million in option payroll taxes, the company's loss widened to $11.7 million, or 7 cents per share. Those results were also an improvement over the same quarter last year, however, when the company reported a loss of $14.3 million or 10 cents per share including one-time items.
Share Price Drops
Despite the improved results, the company's shares dropped in early trading Monday. Priceline.com is one of the targets of Orbitz.com, a controversial consortium of 30 airlines that aims to offer discount airline travel tickets online.
Airline tickets has been one of Priceline.com's top sales categories since the company was founded two years ago by Vice-Chairman Jay Walker.