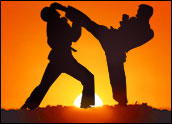 PayPal and its parent eBay have filed a lawsuit against Google over mobile payments, in the wake of Google's announcement Thursday of its new e-wallet services.
The suit personally names two Google executives as defendants. It also names another 50 defendants as "John Does," meaning the plaintiff doesn't presently know their identities.
The two named defendants, Osama Bedier and Stephanie Tilenius, head Google's mobile payments efforts and previously held similar posts at PayPal.
PayPal is alleging misappropriation and threatened misappropriation of trade secrets, breach of contract, intentional interference with contractual relations, breach of fiduciary duty and duty of loyalty, among other accusations.
Google will fight the lawsuit, spokesperson Jordan Newman told the E-Commerce Times.
PayPal spokesperson Ashley Carter pointed the E-Commerce Times to the company's blog and declined to provide further comment.
More lawsuits may be filed, predicted Carl Howe, director of anywhere consumer research at the Yankee Group.
"Whenever there's money at stake, there's going to be a lot of fighting as to who gets it," Howe told the E-Commerce Times.
Groundwork for the Lawsuit
Orrick, Herrington & Sutcliffe, the California law firm representing PayPal and eBay, filed the suit in the California superior court in the county of Santa Clara.
The suit states that Bedier, who worked at PayPal until Jan. 24 as vice president of platform, mobile and new ventures, fills a similar role at Google.
It further states that Tilenius, who left eBay in October of 2009, was the company's senior vice president of North America and global products at the time. She had been vice president of PayPal Merchant Services from 2004 to 2008.
The lawsuit's main complaint is against Bedier, who was in charge of bringing PayPal's mobile payment and point of sale (POS) technologies and services to retailers, and who had "an intimate knowledge" of the company's capabilities, strategies, plans and marketing intelligence about mobile payment and related technologies.
The lawsuit alleges that Bedier, who was leading negotiations with Google on making PayPal a payment option for mobile app purchases on Google's Android Market, was interviewing for a job at Google during the talks.
The suit claims Bedier and Google have misappropriated PayPal's trade secrets by disclosing them within Google and to major retailers.
Google hired Bedier after another former eBay executive, defendant Stephanie Tilenius, solicited and recruited him, the lawsuit states. This action violated Tilenius's contractual obligations to eBay, according to the suit.
Bedier has also violated his obligations to eBay by soliciting and recruiting PayPal employees to work at Google, both before and since his arrival at Google, the lawsuit alleges.
Further, Bedier, who knows PayPal's top prospects among retailers, has begun approaching them on Google's behalf, the lawsuit states.
The lawsuit alleges that Bedier admitted he had confidential eBay information in locations such as his non-PayPal computers and email account, and in an account on the DropBox cloud service. He has allegedly refused repeated demands from PayPal for the proper return and analysis of this information.
"Silicon Valley was built on the ability of individuals to use their knowledge and expertise to seek better employment opportunities, an idea recognized by both California law and public policy," Google's Newman said.
"We respect trade secrets and will defend ourselves against these claims," Jordan added.
Inaction Hurts
Bedier told eBay and PayPal in early November that he wanted to leave and was being pursued by several companies, the lawsuit states. PayPal warned him that he'd be in conflict of interest if he took a similar job at Google, and that just by knowing what he knew, he'd be misappropriating PayPal's trade secrets as well, according to the suit.
In December, as told by the suit, Bedier told PayPal that he'd changed his mind and wanted to stay on, but on Jan. 24 he left. He downloaded up-to-date versions of documents outlining PayPal's mobile payment and POS strategies to his non-PayPal computer just days before leaving, the lawsuit claims.
If this version of events is accurate, could PayPal be held at least partially liable for Bedier's access to the latest information before he left?
On learning that Bedier had planned to leave for Google, why didn't IT security restrict his access to sensitive documents, or at least monitor his account?
"You can't always protect against theft, and you have to allow employees to do their work," Rob Enderle, principal analyst at the Enderle Group, told the E-Commerce Times.
What about making executives sign a non-compete clause so they can't join a competitor shortly after jumping ship?
"In California, it is virtually impossible to enforce non-compete clauses," Enderle said.