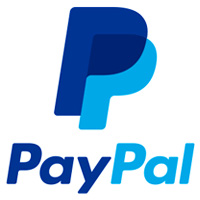 PayPal on Monday returned to the Nasdaq as an independent company, no longer tethered to eBay.
PayPal debuted at a market value 1.4 times its former parent — US$46.6 billion — while eBay's capitalization shrunk to $34 billion.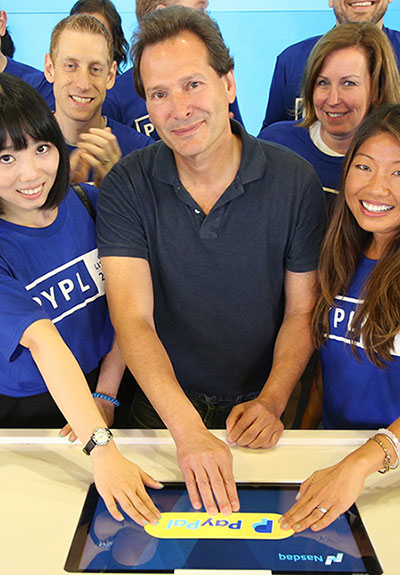 PayPal CEO Dan Schulman pushes the PayPal button to ring the bell at Nasdaq Monday morning.
The companies agreed to split in September due to market pressures and some nudging by corporate raider turned shareholder value advocate Carl Icahn.
Although analysts are picking PayPal as the clear winner, eBay was sanguine about the divide.
"As standalone companies, each now have enhanced strategic focus and flexibility to capitalize on their respective growth opportunities in the rapidly changing global commerce and payments markets, including the ability to pursue new market and partnership opportunities," said eBay spokesperson Abby Smith.
"We believe that both standalone companies are well positioned for success and to deliver sustainable shareholder value," she told the E-Commerce Times.
Better Deal for PayPal
There appear to be benefits for both companies in going their separate ways.
"For eBay, it means they have the flexibility to use whatever payment methodology they would like to use, like Apple Pay," said Patrick Moorhead, founder and principal analyst with Moor Insights and Strategy.
"It also means slower growth but better focus on their core business of providing an e-commerce marketplace to better compete with companies like Amazon and Craigslist," he told the E-Commerce Times.
"For PayPal, it means they can more closely partner with retailers like Amazon and Best Buy — and even Craigslist — to be a broader supplier of payment services to more people."
By cutting its ties to eBay, PayPal is cutting loose it growth potential, noted Kathleen Wailes, a senior strategist with Levick.
"PayPal has a higher growth potential than eBay," she told the E-Commerce Times. "That can be developed better as a standalone company."
However, eBay has lost a driver of its growth.
Not a Nonstop Ticket to Success
PayPal last year processed $235 billion in total payment volume, and generated more than $8 billion in revenues. In the second quarter alone, it processed 1.1 billion transactions, a 27 percent increase over the same period a year earlier.
Meanwhile, eBay garnered $83 billion in gross merchandise volume in 2014. During the second quarter, GMV was $20.1 billion, down 2 percent from the previous year.
PayPal's departure from eBay isn't a nonstop ticket to success, however.
"PayPal as a standalone entity can better compete with emerging competitors Apple Pay and Square," said Trip Chowdhry, managing director for equity research at Global Equities Research.
"But I wouldn't jump to the conclusion that PayPal is a de facto winner," he told the E-Commerce Times. "Being independent from eBay gives it a better chance of survivial, but spinning it off isn't necessarily a winning recipe."
Acquisition Target
Neither will the spinoff guarantee eBay's future independence.
"eBay is seeing revenue growth in the single digits, while a lot of e-commerce competitors are still growing at 20 percent or more," explained Seth Shafer, an analyst at SNL Financial.
"Since they're lagging in the market right now, the natural conclusion a lot of people jump to is it will be acquired by Alibaba," he told the E-Commerce Times.
Losing value could advance that scenario.
"Since eBay's valuation will be negatively affected by the spinoff of PayPal, if someone wanted to buy eBay, they'd pay less for it,"Wailes said.
PayPal was purchased by eBay for $1.5 billion in 2002. At the time, 70 percent of all eBay auctions accepted PayPal payments, and one in four auctions were paid through the service.
During the second quarter of this year, eBay sales accounted for only 22 percent of all PayPal transactions, a decline from 26 percent a year ago.