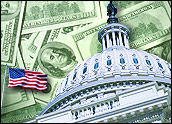 A bill before Congress to revamp how franchises are awarded for delivering television to communities will save consumers US$22 million a day, a panel of telecommunication experts said Wednesday at a press conference in Washington, D.C.
"Twenty-two million dollars a day," declared panel member Robert Johnson, president of Consumers for Cable Choice.
"That is how much consumers lose each day there is not a competitive cable market. Consumers are demanding a solution, and they want it now."
Johnson, George Ford, chief economist at the Phoenix Center for Advanced Legal and Economic Public Studies, and David P. McClure, president and CEO of the U.S. Internet Industry Association, formed the panel put together by the New Millennium Research Council (NMRC).
The Council supports a bill sponsored by Reps. Joe Barton (R-Texas) and Bobby Rush (D-Ill.) which, among other things, would take the power to issue television franchises out of local hands in certain situations, and give it to federal regulators.
The measure is expected to reach the House floor soon. A parallel measure has been filed in the Senate.
Billions Lost
According to the NMRC, its panel of experts has determined that delay in passage of the bill would cost consumers and communities $8.2 billion this year and $35 billion over the next five years.
"If the bubble of the 1990s taught us anything, it is that entry is extremely expensive and that there is no guarantee of success," observed Ford, of the Phoenix Center.
"As video is the key economic driver to justify the huge expense of deploying advanced broadband networks to residential consumers," he continued, "so long as the local franchise process continues to raise entry costs for new firms, we may end up with no entry costs at all."
Sluggish Process
Under the current scheme, local communities award franchises for delivering television programming into their environs, a process that's too slow for some telecommunication companies hot to penetrate markets entrenched by cable TV providers.
"The process of going to a municipality to get a new franchise agreement is really onerous," AT&T spokesperson Claudia Jones told the E-Commerce Times.
The application and approval process takes from 12 to 18 months to complete, she said.
To provide television to its customers in its 13-state territory, AT&T would have to ink 2,000 agreements. "If we signed a franchise agreement every single business day of the year, it would take us seven and a half years to complete the process," Jones estimated.
Not So Slow
Critics of the Baby Bells, though, find their claims about the slowness of the process disingenuous. Broadband Everywhere, a CATV industry-funded group, cited half a dozen instances on its Web site where telcos received local approval of their franchises in days, not months.
Jones called those instances "anomalies." Broadband Everywhere spokesperson Cyril Dadd acknowledged to the E-Commerce Times that his organization did not have any numbers on the average time it would take to get a franchise approved.
In the statement at the Broadband Everywhere Web site, the group maintained, "AT&T has not applied for franchises anywhere except in Texas, and thus has not been 'delayed' by anything other than their own refusal to apply for franchises."
Video Redlining
The telcos want to avoid local franchising authorities so they won't have to abide by rules requiring them to provide their services to all neighborhoods in a franchise area within a reasonable amount of time, according to Dadd.
"If you look at the communities where they've rolled out their fiber networks which provide video," he said, "a cursory examination of the census data shows those communities have incomes above the national median and minority populations below the national median.
"Although they claim they have no intention of discrimination," he continued, "the evidence thus far suggests that they are overwhelmingly targeting high-income communities and bypassing others."
Something for Everyone
While the House measure would make it easier for the Baby Bells to compete with the cable companies for TV customers, the cable industry remains neutral on the legislation, according to Brian Dietz, vice president for communication for the National Cable & Telecommunications Association (NCTA) in Washington, D.C.
He noted that there were some benefits to the industry in the proposed law. They include the extension of interconnection rights to telephone networks for VoIP providers, and the ability of cable companies to obtain national franchises when a new provider enters their market.
However, the industry has some misgivings about the measure, too.
"We are concerned with the network neutrality language in the bill that would impose first time network neutrality regulation on the Internet," Dietz told the E-Commerce Times. "We will continue to work both on the House and Senate side to remove any unnecessary regulation of the Internet."