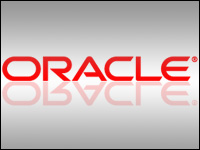 Oracle announced at its OpenWorld conference on Monday that it's ramping up its move into big data analytics.
An Oracle big data appliance was one of the announcements made at OpenWorld 2011 by Thomas Kurian, Oracle executive VP of product development.
Big data also featured prominently in a Monday keynote given by Joe Tucci, chairman and CEO of storage systems firm EMC.
Oracle Enterprise Manager 12 was also announced by Oracle's Kurian.
Oracle President Mark Hurd, who has been essentially keeping a low profile since he came on board after leaving HP under a cloud last year, made a brief but energetic appearance.
Oracle's Big Data Appliance
The Oracle Big Data Appliance is an engineered system that includes an open source distribution of Apache Hadoop, the Oracle NoSQL database, the Oracle Data Integrator Application Adapter for Hadoop, the Oracle Loader for Hadoop and an open source distribution of R.
R is a language and environment for statistical computing and graphics. It's available as free software under the terms of the Free Software Foundation's Gnu General Public License. It compiles and runs on a variety of Unix platforms, Linux, Windows and MacOS.
The term "big data" generally refers to datasets that grow so large that they become difficult to work with. The difficulties include data capture, storage, search, sharing and analytics.
Oracle's focusing on building engineered systems that, like PCs, bundle communications, the operating system and other features into one box, Oracle's Kurian said.
The Oracle Big Data Appliance works with the Oracle Exadata Database Machine and the Oracle Exalytics Business Intelligence Machine, which was announced Sunday, to handle big data within the enterprise.
The appliance integrates with Oracle Database 11g and is designed to deliver extreme analytics on all data types.
Oracle "recognizes their strength is selling large corporations big ideas and pushing in business intelligence," Rob Enderle, principal analyst at the Enderle Group, told the E-Commerce Times.
Why Big Data?
Oracle's strong move into big data is understandable.
EMC chairman and CEO Joe Tucci said at OpenWorld Monday that a study by IDC concluded that the amount of digital information out there will grow 44 times between Jan. 31, 2010, and Dec. 31, 2019.
"We'll have to manage 35.2 zetabytes of information," Tucci said.
About 90 percent of that will be unstructured, Tucci added.
That meteoric growth will come from various sources, including increased use of video rendering and surveillance, geophysical and genomic sequencing, and "everything mobile," Tucci stated.
Oracle Enterprise Manager 12
Oracle Enterprise Manager 12 is the company's "biggest software release" of the product in five years, Oracle's Kurian stated.
It's designed to run application middle tiers, and Kurian claimed Enterprise Manager 12 runs "any Java, C or C++ application" with the fastest performance and best cost/performance available.
Enterprise Manager 12c includes a new centralized console for cloud computing system management. This has various new features, including consolidation, capacity planning, self-service, testing and metering.
It also has new virtualization management and cloud resource management capabilities through Oracle VM 3.0, the Oracle virtual machine.
EMC and the x86 Cloud
While Oracle is focusing on systems using Sparc processors, its long-time partner, EMC, is leveraging x86-based systems for the cloud.
"I see a massive opportunity where the cloud meets big data," EMC's Tucci said.
EMC is virtualizing its infrastructure on x86-based systems, said Pat Gelsinger, company COO and president. About 40 percent of EMC's Oracle instances have been virtualized, and the rest will be virtualized by next year.
Meanwhile, EMC is building a common cloud application layer together with VMware. It's also building a storage environment to complement that layer.