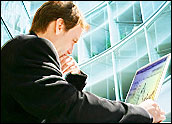 In today's competitive marketplace, securing online market share and mindshare are paramount to any business. Online market share is becoming increasingly important, with more and more consumers using the Internet. In January, 747 million people worldwide — ages 15 and over — used the Internet, a 10 percent increase from January 2006, according to comScore Networks.
With the rising importance of an online presence, businesses are spending increasing amounts of marketing dollars to build unique Web sites that attract consumers, and are designating advertising dollars to draw visitors to those Web sites.
However, the questions still remain: Are consumers doing what those businesses want them to do once they get to those Web sites? Are businesses creating Web sites that engage visitors and convert them into actual customers? The industry standard for click-throughs is a 4 percent conversion, and marketers have accepted that low percentage.
Lackluster Results
It's a common Web site marketing challenge: sufficient visitors with lackluster results. Controlling the consumer's online experience and influencing their online actions is the here-and-now challenge for corporate marketing executives. However, nowadays, how to do that, is for many companies, a plus-or-minus "billion-dollar" question.
Although online optimization can be complicated, finding the right strategy can be as simple as taking a realistic look at your online business objectives, determining methods on how to meet those objectives and then tracking the results.
Define Your Objectives
A primary challenge with corporate Web sites is the attempt to make them "do everything." However, a Web site simply can't. In order to optimize a Web site's usefulness, a business must ask itself: What are our online business objectives, why do we have a Web site and what do we want it to accomplish? Gone are the days of a static Web site for corporate appearance only. Companies can and must view their Web site as the ultimate sales tool whether it is to promote a product or service, sell a product or service, or solidify a consumer's choice.
In order to develop an effective Web site and increase ROI, businesses need to think of the end result of their Web site. What action do you want the visitor to perform after visiting your Web site? Do you want visitors to: purchase a product or service; learn about a particular product or service; sign up for a service or information; view a particular page; contact the business; find an answer to a question; or solve a problem?
Here are some suggestions:
Build a site that encourages a consumer's response. You've built a dynamic site, now make it work for you. Build in strategies that lead a consumer to act — whether it be purchasing a product or service or signing up for a newsletter.
Highlight products or services you want consumers to see. Every company has a flagship product or service. Make sure your Web site features that product or service so it's clear to the consumer. If you have a new product or service or even an element of that you want to feature, make sure it's easily seen by a visitor to your site. Demonstrations on how a product or service would work could help optimize sales and consumer action.
Enable online strategies that eases the consumer's experience. Complicated sites don't have to be complicated to navigate for the consumer. Enable online strategies that help consumers navigate through your site, your product or service. A consumer is more likely to remain on your site and act if it's simple for them to do.
Choose Your Methods
Once your objectives are clearly defined, you can begin to build, update or enhance your Web site. Choosing the right solution to develop your Web site to meet your goals is as important as the Web site itself. Web 2.0 strategies are the most common.
"Web 2.0 continues to play an increasingly important role in online business today as consumers look for a new and more engaging online experience and increased flexibility in how they interact with businesses online," Webtrends states. Strategies might include readily available off-the-shelf solutions, or possibly a state-of-the-art customized solution designed by a third-party consultant.
When choosing your methods consider this:
What is your budget? Determine your budget before researching external resources. This will save time and money to find the right solution.
What is the most important aspect to my Web site? After determining your budget, determine what aspects are most important to your Web site. Do you want the Web site to pay for itself in online sales or save time and money by reducing technical calls?
What methods are available that fit my budget and business objectives? Research and determine available methods that will meet your business objectives and budget. There are many resources that will enhance a Web site's effectiveness beyond click-throughs.
Are the methods proven? Ensure that your company is engaging proven methods and working with reputable agencies and firms that have client case studies that are similar to your business needs.
Track Your Investment
Ensuring your online investment is critical to any business. Beyond analyzing online data such as visitors, hits and traffic, examine how your business objectives are being met. Have your sales increased? Are your new products and/or services being viewed, used or purchased? Once you've optimized your site to meet your business objectives, monitor, analyze and evaluate it to ensure that those objectives are being met.
Optimizing your online investment doesn't have to be expensive or overwhelming. With the right planning and the right solutions, your site can begin to work for you in ways unimaginable. All it takes is a little planning and foresight.
---
Saul Ives
is founder and CEO of
Voicewalk
, a full-service production company dedicated to developing online software and Web-based demos.
---