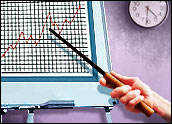 Today's global enterprises must optimize their Web sites to maximize the power of the Web to drive business and increase sales. B2B (business-to-business) or B2C (business-to-consumer) Web site design, usability and content are the top considerations as companies focus on success and satisfaction ratings of the customer and partner experience.
The customer and partner experience has become increasingly important in recent years because of growing competition across all sectors. People won't hesitate to go elsewhere if they are not getting the kind of service they want, whether online or offline.
Therefore, a consistent approach and smooth execution of the buying experience is crucial for retaining customer loyalty and ensuring that brands are enhanced by a positive experience rather than damaged by inconsistencies.
Following are key areas on which to focus to ensure a good B2B or B2C customer online experience:
Design and content, to make the site informative and easy to navigate;
Capture quality customers and partners and optimize their Web experience;
Usability, to increase site efficiency and customer satisfaction;
Guided selling, to help customers and partners select and validate required products and services.
Design and Content
The layout and structure of your e-business site should enable the flow of well-organized data throughout the site. Placing your customers' and partners' needs at the center of your Web strategy with user-centric design is the key to success. Key areas on which to focus include:
An organizational structure that best fits your business model;
An effective home or landing page that is simple and credible;
Clear and simple content;
Consistent branding to reinforce a customer's impression of the site;
Content maps and site maps to create an outline of what exists on each page and how content on the pages is related.
Enhanced Search Tools
To capture quality customers and partners and optimize their online buying experience, thereby increasing revenue, the three primary strategies are search engine optimization (SEO) and the use of directories and linking. However, another way that e-business sites can improve site navigation is by providing a more visual search tool that displays search results with thumbnails of actual products.
A second improvement is adding parameter-based searching capabilities, with the parameters visually available and the results dynamically updated on the same screen without disruptive page refreshes. By using appropriate text inside links, customers should be able to anticipate a link's destination by reading the text in the link or on the navigation button.
More Than a Buzzword
"Usability" is now more than a buzzword. It has emerged as a significant metric for how Web sites are viewed today. Usability surveys, usability tests, usability scores and usability focus groups are all part of the research and development of most e-business Web sites.
Improving the usability of a Web site can increase sales, reduce customer service calls and increase customer satisfaction and loyalty. It is advisable to rely on expert usability reviews early on in the design process to perfect the design in preparation for usability testing. Later, be sure to test your site with real users.
Guided Selling
One of the biggest challenges in selling goods and services online is providing an optimal customer and partner experience. Naturally, in the online channel, customers and partners can't touch or feel the product or service.
However, the process of configuration and guided selling helps customers and partners purchase when visualization is simply not enough and multiple product and service options are available. At a simple level, these options may be size or color. At a more complex level, these options may be service plans or multiple options with dependencies.
To create an optimized online customer experience:
Provide product and service comparison tools that allow customers to be well informed about competitive products and prices.
Prominently feature up-sells/cross-sells specific to the products and services in the cart. Also make sure to include unrelated products, such as "What's hot," "Clearance items," "New in stock," "Employee picks," etc. If you have profile data on the customer and partner, include product and service recommendations that are based on their profile.
Make it easy to locate the shopping cart, and make sure users are notified when items have been added to their cart.
In today's business world, losing any customer or partner is expensive and unnecessary. It costs up to 10 times more to acquire a customer than to keep an existing one, according to Gartner. Today, customers and partners must be at the center of your organization's business strategy — a strategy that provides consistent, personalized customer experiences at all touch points.
Several research studies show that clear navigation, an uncluttered interface and enhanced search capabilities contribute more to a great customer and partner experience than personalization. Responding to and enhancing your customers' and partners' experience with these strategies are the keys to keeping them.
---
Scott Pulsipher
is vice president of product management for
Sterling Commerce
, an AT&T subsidiary that provides business process integration solutions.
---