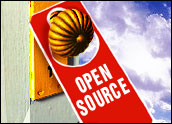 Major federal agencies in the U.S. are gradually getting the hang of dealing with open source technology — a situation that bodes well for commercial open source providers.
In a recently released "report card," Open Source for America (OSFA) says that a handful of top level cabinet departments have achieved a high level of success in adopting the technology, and that other departments have at least committed themselves to pursuing appropriate open source options.
"The results show a solid commitment to transparency and public feedback, as well as recognition and growing use of open technologies within the federal government," notes OSFA. OSFA represents business, government, and related organizations involved with open technologies.
OSFA analyzed the activities of 15 cabinet level departments and agencies in meeting the objectives of an Open Government Directive issued by President Barack Obama in December 2009. Those departments were required to begin meeting the directive last April. OFSA surveyed the agencies three months after they had launched programs to meet the directive.
In the report, OSFA assigns a percentage grade to 15 departments and agencies related to the use of open source technologies, open formats, and technology tools for citizen engagement. The highest ranking agencies: the Department of Defense (82 percent); the Department of Energy (72 percent); the Department of Health and Human Services (55 percent); the Department of Homeland Security (55 percent), and the Department of Transportation (53 percent). All the other departments scored above 40 percent except for the Interior Department at 37 percent.
Insufficient Legal Guidance
"Overall, we would have to say we're encouraged by the results, given that this is the first year under the directive. But we intend to measure progress on an annual basis," Gunnar Hellekson, chief technology strategist at Red Hat, told the E-Commerce Times. Red Hat is a member of OSFA.
The highest-scoring departments, such as Defense and Energy, have published agency-created software code as open source, and also have provided clear guidelines identifying open source as a permitted procurement option. All agencies have published at least some forms in open file format standards and accept files from the public in multiple document forms, according to the report.
Despite the progress, all departments still have much room for improvement in taking full advantage of open source capabilities, OSFA concluded.
"One disappointing note for me was that while the legal groundwork for using open source versus proprietary programs has been prepared, many agencies still have not generated the legal guidance that procurement people can use to pursue open source technologies," Hellekson said.
"On the plus side, as the report points out, this analysis represents only the first year that U.S. agencies have been operating under directives to increase consideration of open source options, and still some agencies, such as the DoD and DoE, earn high marks," Jay Lyman, senior industry analyst at 451 Group, told the E-Commerce Times.
"I also think it's good to see wider use of open file formats and increased transparency on budgets and other public information," he said.
"Conversely, the scorecard indicates that most government agencies failed to effectively produce policies and procedures that increase their open source consideration and options. I do believe this is beginning to change, but it will probably continue to be the case at a number of agencies for years to come." predicted Lyman.
The Defense and Energy departments have taken a balanced view of open source, he observed, and are embracing it for some functions while taking steps to ensure that the technology is used appropriately.
The evolution of open source adoption at the federal level should be a plus for commercial providers. "We see this progress as an endorsement of our development model that is suited to these applications," Hellekson said.
"There's no question that open source-focused vendors are doing a better job adapting open source software to government procurement policies, which have historically been a mismatch," added Lyman.
The Federal Buzz: Notes on Government IT
Cloud Deadlines: The National Institute of Standards and Technology (NIST) is seeking comment by Feb. 28 from both the public and private sectors on two draft documents dealing with the implementation of cloud technologies at the federal level.
Responding to a directive from Federal Chief Information Officer Vivek Kundra to help accelerate the federal government's secure adoption of cloud computing, NIST is leading efforts to develop related standards and guidelines in collaboration with standards bodies, the private sector and other stakeholders. NIST has been researching cloud computing for several years, and has been documenting the development of a definition of "cloud computing" on its Web page. NIST has now published a definition of "cloud computing" and is looking for feedback to determine if this definition remains valid or needs modification.
"Cloud computing is still an evolving paradigm. Its definition, use cases, underlying technologies, issues, risks, and benefits will be refined and better understood with a spirited debate by the public and private sectors," state Peter Mell and Timothy Grance, co-authors of the NIST document.
NIST is also seeking comment on another document, "Guidelines on Security and Privacy in Public Cloud Computing." The document presents an overview of the security and privacy challenges for public cloud computing, as well as recommendations that organizations should consider when outsourcing data, applications and infrastructure to a public cloud environment.
Internet Caucus: Rep. Anna G. Eshoo, D-Calif., who represents the Silicon Valley area, has been appointed to one of four co-chair positions of the Congressional Internet Caucus. The caucus is a bipartisan and bicameral group of over 150 members of the House and Senate. The mission of the caucus is to educate fellow members on the promise and potential of the Internet.
Eshoo joins Rep. Robert Goodlatte, R-Va., Sen. Patrick Leahy, D-Vt., and Sen. John Thune, R-S.D., as co-chairs of the caucus. Eshoo will also become the ranking minority member of the House Energy and Commerce Committee's Subcommittee on Communications and Technology.
In a recent op-ed article in the San Francisco Chronicle, Eshoo expresses support for expanding access to the Internet and for creating permanent tax breaks for technology investments.