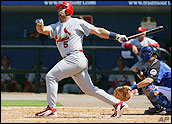 Revenues from advertising at sports sites on the Web will catapult in the next five years to more than US$1 billion, according to a report from a New York marketing research firm.
The report from eMarketer predicts sports sites will rake in $1.1 billion in ad revenues in 2011, up from $400 million in 2006.
The Net's share of the total sports marketing pie will more than double during the period, the report forecasts, to 10 percent, from 4.9 percent in 2006.
Reshaping Sports Marketing
"The Internet promises to reshape the sports marketing landscape by offering sports fans instant and dynamic access to scores, news, trivia, statistics, blogs, bulletin boards, social networks, fantasy sports services, highlights and live game streaming," observes the report.
"Web sites that successfully leverage these functions will deliver loyal, targeted audiences to sports marketers, who have traditionally spent billions of dollars each year reaching audiences through television and event sponsorships and are increasingly turning toward new media for emerging opportunities," it adds.
TV Still King
While television will remain the top attractor of sports fans' eyeballs, the Internet's allure will burgeon as we enter the second decade of the century, asserted the author of the report, Senior Analyst Paul Verna.
"There is a portion of the [sports] audience that's shifting to online," he told the E-Commerce Times.
"It may not be shifting wholesale, in the sense that people are [not] going to stop watching sports on television and suddenly use the Internet as their only conduit," he continued.
"I think," he added, "people are using the Internet and mobile channels more and more to supplement their sport experience, to access content that may not be accessible on TV and to customize it to the way that they want to experience it rather than accept only what comes across a TV broadcast."
Building Fan Loyalty
Professional sports leagues are aware of how their fans use the Internet, Verna noted, and are exploiting the medium to build fan loyalty.
"What's interesting in new media in general is how it offers a content owner, or league, the chance to tie together strains of their audience that may have been fragmented," he said.
At the Major League Baseball site, for example, you can stream live video, access statistics while you're watching the game, track your team's performance in a fantasy league and communicate with your buddies about baseball, he noted.
"All those things are packaged in a way that a TV broadcast can't deliver by itself," he argued. "So it's a way to reach potential new audiences and deliver to your existing audience an experience that's very compelling and that will, hopefully, produce loyalty."
What does all this multi-tasking during a game mean to marketers? Contrary to popular belief, the eMarketer report says, "viewers who multitask show higher levels of brand recall and engagement.
"This trend could spell new opportunities for marketers that target connected audiences by integrating online and mobile elements into their sports advertising campaigns," the report hypothesizes.
Mobile Still Lagging
The mobile piece of the new media sports picture is still lagging, Verna observed.
"It's not as far along as online," he said. "In the U.S., mobile networks aren't where they are in countries where 3G infrastructure is very strong, like Japan and South Korea.
"Not a lot of people want to view sports on mobile phones," he contended. "They may want information and statistics and scores, but they're not going to sit there and watch a two-and-a-half hour game on their mobile phone."
Nevertheless, marketers are showing great interest in developing the mobile channel, according to Nihal Meht, cofounder of ipsh!, a mobile marketing company in San Francisco.
"It's past the tipping point," he told the E-Commerce Times. "Every sports marketing agent and sports team is thinking of how to integrate mobile into their marketing."
Trapped in the Box
Overall, though, professional sports teams remain conservative in their approach to new media, maintained Jim Ivaldi, a principal in Jivaldi, an Internet marketing firm in Pleasanton, Calif.
"People think that because a team is a big organization, it automatically thinks outside the box," he observed. "That's not always the case.
"Oftentimes, teams just look at their competition for ideas," he said, "but usually it's the folks who try to differentiate themselves from their competition that get the most impact from their marketing efforts."