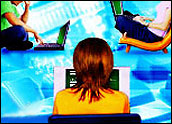 There are thousands of forums on the Web relating to any subject imaginable. Forums are a collection of people interested in specific subjects collaborating with one another. Forums even have top experts in their fields answering questions and offering advice at no cost. Forums allow for user interaction through question-and-answer boards. These boards have moderators to prevent spammers from ruining the forums' goals.
Forums are becoming more popular every day as people want to communicate with one another via the Web. Forums are a great place to find an answer to technical questions or get some expert advice. Larger forums receive thousands of visitors a day, bringing together a community of experts in a specific field or industry. Besides helping you find answers, forums can be a valuable tool for site promotion (search engine optimization), increasing traffic (search engine marketing), and proving that you really are an expert in a specific field (building credibility).
The more exposure you and your business receive, the better off your company will be in the long run. As more and more Web users see your company, they will be inclined to view your Web site and learn what you have to offer. This can ultimately lead to increased sales for your business and higher search engine rankings. You must remember that every customer has the potential to negatively impact your business with a negative rating or feedback; be sure to treat customers with the utmost respect and courtesy so they will recommend you to others.
Search Engine Optimization Benefits
Forums are a great way to get a new site indexed by the major search engines. Forums make a great alternative to paying directory listing fees or waiting for extremely long periods to be listed. Forums can get a new site indexed in the search engines at no cost and in as little as three days. All you need to do is find a high-traffic forum that is indexed frequently and place a link to your new site in a post or signature. Signatures are a place at the bottom of every post you make that is reserved for customized note, saying or link.
If you want to utilize the signature for SEO purposes, then you want to find forums that do not have the "No Follow" tag and place a link to your Web site in the signature. You will get a one-way link to your site, which is very good. To make the link even more valuable, make sure you are posting in a forum related to your Web site and you have keyword-rich anchor text in your signature.
I have compiled a list of some of the top forums that currently do not use the "No Follow" tag. Posting in these forums will get you a link back to your Web site, which is very helpful for search engine optimization.
Search Engine Marketing Benefits
Forums benefit search engine marketing plans, as you can easily market your company and build up positive feedback for yourself. There are hundreds of forums in which you can post. You want to look for forums that are relevant to your industry. You want to build up your company's reputation through forums that are related to your line of business.
When you post frequently in forums, you begin to build up a reputation for yourself. Building up a positive relationship with your fellow forum members can establish a positive feedback toward you and your business. In a Web 2.0 world where users can interact with one another, it is imperative to have positive feedback. Even one bad complaint can have irreversible negative ramifications upon your business. To avoid this, be respectful to customers and treat them as you would expect to be treated.
Posting new threads and responding to questions posted by members can build up your reputation and make you an authoritative figure, assisting with your search engine marketing. Make sure your posts are relevant to the thread. Do not spam every thread trying to build up your reputation.
Forums display the number of posts a member made next to the user name and avatar. The more posts you make, the more respected you become. Members with certain amounts of posts receive badges given out by the forums. Basically, the more you post in the forum, the higher badge — a mark of credibility — you will be awarded.
In essence, forums are a strong marketing place. Forums not only benefit search engine optimization, but also help with search engine marketing. Any webmaster should take part in some sort of forum posting, whether for building links or obtaining a positive company reputation.
---
Brandon Leibowitz
is president of
SEO Optimizers
, a provider of Internet marketing services specializing in search engine optimization.