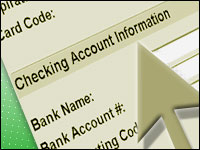 Part 1 of this two-part series takes a look at the state of online bill payment in terms of consumer adoption and market momentum.
Paying bills with a few computer clicks sounds like a great idea for consumers — and it is. Online bill paying is increasingly popular with millions of consumers, and the potential for paperless payments is many times greater than it is today. The number of households that used an online payment service provided through a financial institution jumped from 12 million in 2001 to 31 million in 2008, according to an Aspen Analytics study.
Online bill paying also is great tool for banks and credit unions to enhance their customer relationship management programs — and for the IT service providers who market their programs to financial institutions.
A two-step process is usually involved in converting consumers from paper to online payments, found a recent study by Javelin Strategy and Research. The study indicated that if consumers can accept receiving bills via the Internet, they are more likely to pay those bills through online payment channels. Currently, consumers can pay bills online directly to a biller, such as a utility or credit card company, via the biller's own Internet site. Alternatively, billers can make arrangements with financial institutions so that consumers can pay their bills through online bank accounts.
Financial institutions are well positioned to profit from offering online payment services on behalf of billers. Javelin found that consumers much prefer to utilize a central mechanism to manage their finances, including bill paying. About 43 percent of consumers said that the best way to persuade them to view more bills online is to pull them together at a single site — and that plays to the strength of banks and credit unions.
Sweet Spot for Financial Institutions
Banks and credit unions "sit atop the consumer's real-time transaction data; they can aggregate outside accounts and bills; and they have a trust advantage," Javelin notes in the study.
"It's pretty clear that financial institutions occupy a real sweet spot in this market," Mark Schwanhausser, senior analyst for multichannel financial services at Javelin, told the E-Commerce Times.
The immediate bottom line advantage to banks and credit unions offering online bill pay services is significant. Electronic bill paying reduces paper, postage and processing costs by US$1 per bill, or $12 per year for billers. Financial institutions that help billers achieve these savings can benefit from charging transaction fees that are far less costly to billers than paper processing.
However, banks and credit unions can reap additional rewards by offering online bill payment services as part of a strategy to enhance the entire customer experience. One benefit is customer loyalty.
"The more a financial institution can offer with features such as online bill paying services, the stickier the customer will be, in terms of staying with a bank or credit union versus switching to another institution," Sheila Narayan, executive vice president and general manager for banking payment services at Online Resources (ORCC), told the E-Commerce Times.
Customers of financial institutions using online bill payment programs were found to be 76 percent less likely to churn — that is, leave the financial institution — compared with those who did not make online payments, according to the Aspen Analytics study, which was sponsored by Fiserv.
Customers using online bill programs delivered 15 to 20 percent more profit to financial institutions after enrolling in the bill pay option, compared with other customers who did not adopt the service, the study also shows. The additional profit likely came from higher bank balances carried by bill pay customers, as well as higher rates of up-sell and cross-sell transactions.
Too many financial institutions regard adding the online bill pay feature as a cost center, the study also found, adopted only for defensive reasons to remain competitive within the sector.
Online billpay programs could also be viewed as an "important investment that should be fully understood so it can be leveraged and maximized," Aspen noted.
Market for IT Vendors
Just as banks and credit unions have an opportunity to generate more income by offering online bill payment services, vendors also have an opportunity to gain business by providing financial institutions with the IT programs and products that support electronic bill paying. However, vendors need to serve the market with a range of products.
The majority of financial institutions, including bigger banks, community banks and credit unions, have some capability in electronic banking, according to ORCC's Narayan.
The level of capability varies but not always by the size of the institution.
"The major differentiation we see among financial institutions is the ability to drive adoption of online bill paying, as well as whether the institution provides premium bill payment services such as expedited payments or personal financial management tools," Narayan said.
The largest financial institutions are most likely to have in-house resources to develop and drive comprehensive and sophisticated programs, while medium-sized and smaller institutions may not have the resources for these programs and will outsource their online banking and bill payment services, as they understand a full online channel service is a critical competitive offering, she added.
Vendors aware of these differences are developing programs that range from modest core functionality for processing payments to full-scale CRM programs.
For example, ORCC emphasizes CRM through a customer lifecycle approach to electronic banking. The idea is that each component of electronic banking, including bill paying, reinforces every other component. That approach not only helps to maintain long term customer loyalty, but also provides cross-selling and up-selling opportunities.
"When consumers invest the time to set up payees and return regularly to view account activity and pay bills online, the likelihood that they will take advantage of an institution's other financial products and treat that institution as their primary financial provider rises dramatically," said Narayan.
To help financial institutions boost online bill pay adoption, ORCC provides support that includes surveys, promotion assistance, customer service with in-bound and out-bound calls, and the use of customer segmentation data and analysis to target prospective customers. The company recently launched an enhanced version of its electronic bank and bill payments program that was designed to provide easier consumer navigation, integrated bill presentment, and enhanced use of consumer usage pattern information.
Fiserv, which provides electronic banking systems to more than 4,000 financial institutions, and online bill payment programs to about 3,100 clients, takes a similar approach.
"Most financial institutions are aware of the potential CRM advantage of online bill payment programs," Kim Sergent, director of channel marketing for the company's electronic banking unit, told the E-Commerce Times.
Fiserv not only provides financial institutions with technology that enables online bill payment services, but also supports customers with "impact marketing" to encourage consumers to use those channels. Support ranges from off-the-shelf marketing programs to full-fledged campaigns and market research. The company uses a surveys and models that utilize consumer segmentation data. One model used is Experian Mosaic with categories such as upscale America, affluent suburbia and aspiring contemporaries.
Fiserv's programs are designed to integrate online bill payments into a larger CRM context. For example, customers can be automatically solicited to set up bill payment accounts during the first 60 days after they initially sign up for electronic banking through an "event triggering" program that Fiserv provides but that is branded in the bank or credit union's name.
In January, the company released an updated version of its Corillian Online program with a capability that combines 90 percent of the most commonly used functions — including account balances and electronic payment functions — onto a single screen for improved access. A special feature allows consumers to view a bill in the same way they would review a physical bill and a click function approving bill payment.
"The use of all of these tools, whether it's an email or phone follow-up or a new account welcome kit, is basically designed under a CRM philosophy of keeping the customer engaged," Sergent said.