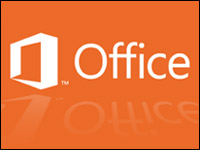 Microsoft next year will release Office Mobile for devices running iOS and Android, The Verge reported, citing anonymous sources.
The software will released in the form of free apps, for iOS first, in early February or late March. The Android version is scheduled for May.
Office Mobile was first released to users of Windows Mobile 6.5 in 2010, and is available on Windows Phone 8.
The company has previously confirmed that Office Mobile will be released for iOS and Android by 2013. However, Microsoft declined to comment for this story.
Account Required
Office Mobile will let iOS and Android device users view and edit Office documents on the move, TheVerge reported. However, they'll have to sign up for a Microsoft Office 365 account first in order to use the apps.
The apps will support Microsoft Word, PowerPoint and Excel documents.
iOS users will be able to purchase an Office 365 subscription from within the app, and organizations will be able to distribute codes to let users perform basic editing of documents in Office Mobile. However, its capabilities will be minimal, not comparable with what's offered by a desktop version of Office.
Why iOS First?
Android devices constituted 75 percent of all smartphones shipped worldwide in Q3 2012, totaling 136 million devices, IDC reports. Meanwhile, iOS smartphones had only 14.9 percent of the market, with 26.9 million units shipped.
However, Microsoft knows that developers "tend to favor iOS because that's where the money is," Julien Blin, directing analyst at Infonetics Research, told the E-Commerce Times. "Whenever a new iPhone or iPad comes out, developers tend to drop Android and go back to iOS."
Android's fragmentation, and "how much [Microsoft] hates that platform" could have factored into Redmond's decision, said Rob Enderle, principal analyst at the Enderle Group. Further, Microsoft has an Apple-focused Office group and a well-defined relationship with Apple regarding Office.
Holding On to the Enterprise
Releasing Office Mobile for iOS and Android could be part of a multifaceted plan by Microsoft to maintain its presence in the enterprise.
Office 365 is already available for iOS and Android, but it's Web-based, and requires a local client to work offline, Enderle told the E-Commerce Times. "This new offering would be that off-line instance." Further, integrating Office Mobile for iOS and Android with Office 365 "will likely force a higher level of commonality between these new offerings and the Windows Phone implementation."
By requiring iOS and Android users to register for a Microsoft account before they can use Office Mobile, Microsoft "can leverage those accounts to promote its products like the Surface, and capture credit information down the road," Infonetics's Blin speculated.
Further, iOS and Android devices are getting entrenched in the enterprise mobile space, aided by the bring-your-own-device (BYOD) trend, Blin pointed out. Microsoft "needs to work with many OEMs and even competitors so that, in the long run, those iOS and Android customers might migrate onto the Windows Mobile platform."
Hustle and Flow
There could be yet another reason behind Microsoft's pushing Office Mobile out to iOS and Android.
"At the end of the day, this to me is a play for Microsoft's cloud services," said Carl Howe, vice president of data sciences research at Yankee Group.
Those cloud services "are a more platform-agnostic way of monetizing Microsoft's software," Howe told the E-Commerce Times. "I think Microsoft has reached the point where it thinks that getting some revenue from platforms other than Windows might be a good idea."