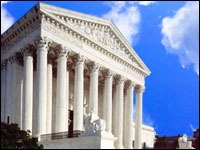 When the U.S. Supreme Court issues a unanimous decision, it's easy to conclude that it must be right on the facts, right on the law, and right in applying the law to the facts. So what's not to like about its recent 9-0 ruling in a software patent case?
The decision was spot-on — or at least nearly spot-on, according to Victoria Espinel, president and CEO of the Business Software Alliance.
"This decision is a victory for innovation," she said.
The Court confirmed existing law that views abstract ideas as ineligible for patent protection, noted Microsoft.
Others see the decision as an example of the Supreme Court continuing along a well-worn path of never missing an opportunity to miss an opportunity. It missed a chance to resolve several vexing issues dealing with both principles and technicalities in patent law, according to critics.
A Long Road
The Court's June 19, 2014, decision in Alice Corp. v. CLS Bank International involved a business process program developed by an Australian company for settling financial accounts. Alice obtained U.S. patents for its computerized trading platform for exchanging obligations designed to reduce transaction risk by using a trusted third party. Several years after Alice developed the system, CLS Bank was created by a consortium of international central banks to provide a settlement service for international currency transactions. CLS used a system similar to the Alice program, which Alice claimed infringed its patents. That led to a 12-year litigation journey that wound up in the U.S. Supreme Court.
Under U.S. statutes, "laws of nature, natural phenomena, and abstract ideas" are not patentable by virtue of being commonly experienced. The Alice process was, in effect, an abstract idea, dealing with the concept of alleviating risk, the Court ruled.
Such a risk mitigation concept reflects a "fundamental economic practice" that is not terribly distinct and is routinely experienced as a practice "long prevalent in our system of commerce," said Justice Clarence Thomas, writing for the Court. Therefore, the Alice program failed to trigger the need for special intellectual property protection.
The Court dismissed Alice Corp.'s contention that its program qualified as an innovation because implementing the settlement process involved a distinct computerized platform. The Alice system created electronic accounts that mirrored actual transactions as a check for ensuring compliance by all parties — so called shadow accounts.
"Using a computer to create and maintain 'shadow' accounts amounts to electronic recordkeeping — one of the most basic functions of a computer," Thomas said.
Computer Connection Challenged
Alice's computerized functions were ordinary in nature and not particularly distinctive, the Court found.
"Given the ubiquity of computers, wholly generic computer implementation" does not provide the sort of "additional feature" that patent law requires for the protection of innovations, Thomas explained. Because Alice's patents were not valid, the company could not charge CLS International — or any other party — with infringement violations.
One impact of the decision that seems to be broadly acknowledged is that software that involves cleverly arranged but essentially ordinary business processes may be harder to patent in the future. That's because such practices don't reach the level of something so unusual that patent protection would be justified. Laundering such configurations through computerized implementations would not be enough to meet the innovation test for intellectual property protection.
The court's opinion "makes clear that real software inventions are patentable under U.S. law and that merely connecting an abstract idea to a computer doesn't make it patentable," said BSA's Espinel.
The ruling likely will discourage future issuance of computer-implemented but essentially weak business process patents tied to abstract ideas.
In the past, the U.S Patent and Trademark Office actually has shown a preference for granting protected status for thousands of such business practice ideas and related software. The Court's decision in Alice could make it much harder for non-practicing entities to operate. NPEs — also known as "patent trolls" — commonly acquire such patents solely for the purpose of seeking compensation for alleged infringement.
However, "the notion that the Alice decision is a death knell for trolls is off-base," said Todd Dickinson, executive director of the American Intellectual Property Lawyers Association and a former director of the USPTO.
"It may discourage the practice but it sure won't eliminate it, because other factors are at work which will sustain it," he told the E-Commerce Times.
Challenging a troll, even armed with the arguments in the Alice case, would prove costly and time consuming for a targeted infringer, which might decide to pay off the troll rather than go to court.
Nothing Revolutionary
"On the whole, the Court did little in the Alice case to provide some needed clarity in patent law, and that's discouraging," said Dickinson, lamenting the Court's temerity in determining what actually constitutes an "abstract" idea.
"It's within the law to rule on the basis of 'abstractness,' but we need to know how something is judged to be 'abstract,'" he said.
"This decision hardly alleviated confusion, and it may have compounded it. The Court's chain of logic here simply made no sense," Graham Gerst, a partner at Global IP Law Group, told the E-Commerce Times.
In patent law, the notions of abstract idea and laws of nature are considered "subject matter" criteria, while other parts of the law address the concept of novelty and innovation.
The Court failed to properly distinguish these various criteria in its reasoning, without appreciating the statutory implications of doing so, Gerst contended.
The Court's failure to properly address the abstract idea criteria left unanswered a "primary problem that has plagued the lower courts," said Robert Sachs, a partner at Fenwick and West, in a posting on the firm's "Bilski Blog." The Court also ignored distinguishing between generic and specialized computer functions.
That said, the Court's ruling properly avoided a "one size fits all" patent standard for viewing abstract ideas, noted David Kappos, another former director of the USPTO, now a partner with Cravath, Swaine and Moore.
The Alice decision "rightly retains the flexibility needed in an adaptable and forward-looking" patent system, Kappos told the E-Commerce Times.
"By expressly leaving software patenting out of its holding, the Court reaffirmed that from the point of view of the patent system, software is simply a medium of expression that can be used to capture and convey ideas — important, inventive ideas that give our country an edge in many critical industries," he said.
In the Alice decision, the Court by no means left the legal protection structure for software shattered. Substantial protection is still available, maintained the Electronic Frontier Foundation. However, by focusing on the subject matter element and by reducing the role of computerized platforms, the Court may have narrowed protection standards by a notch. Still, the decision could result in greatly reducing the more egregious examples of software patenting errors.