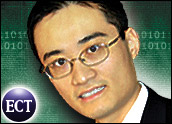 The European broadband market is growing rapidly. At the end of Q2 2007, there were close to 100 million broadband subscribers in Europe.
DSL (digital subscriber line) remains the dominant access technology, with over 80 percent of the market share. Nordic countries remain the leaders in broadband penetration, with penetration rates exceeding or approaching 30 percent. The five largest markets — the UK, Germany, France, Spain and Italy — also experienced robust growth over the past five years. All five countries now have a per-capita penetration rate of higher than 15 percent, with the UK leading the pack at 24 percent. Several developing economies are also catching up quickly; for instance, between June 2005 and June 2007, broadband penetration in Czech Republic tripled to 12 percent.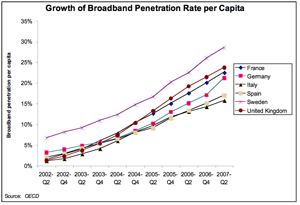 (click on image to enlarge)
These varying adoption rates underscore the fact that Europe is not a single market; however, pan-European competition will help level the playing field in the coming years. Established operators in competitive markets will look for new growth markets to export their technologies, services and knowledge and achieve higher profit margins. In addition, EU regulators are seeking ways to encourage broadband competition across Europe through harmonized regulation.
Beyond the Plain Vanilla
Recent trends in dynamic markets such as the UK and France presage future directions of the overall European market. Faced with a competitive broadband market and increasing demand, service providers are aggressively shifting their strategies from plain-vanilla broadband access to value-added and bundled services and fixed-mobile convergence features.
In addition, they are investing more resources in next-generation broadband technologies such as fiber and WiMax and reshuffling their assets to focus on quadruple-play packages in key markets.
LLU (local loop unbundling) was a major driver for the competition in France and the UK In 2000, France's telecom regulator forced the former state-owned monopoly France Telecom (FT) to open up its network to rival operators, allowing telecom upstarts such as Iliad/Free and entrenched carriers from other countries to rent access from FT and offer competing broadband services.
FT, in turn, improved its own prices and services and became one of the most innovative incumbent telecom operators in the world. In the UK, competitive broadband offerings blossomed, partially thanks to Ofcom and British Telecom's OpenReach program, an approach that separates network and service operations to encourage competition and innovation.
Thanks to this program, several new market entrants, including Carphone Warehouse, Sky and Orange UK, are now giving away broadband access for free to differentiate their core service offerings. In a little over a year, Sky signed up more than one million broadband subscribers. Now even the post office is planning to join the party. In October 2007, it announced plans to enter the broadband service market through BT wholesale, leveraging its brand name and retail presence. Regulators elsewhere, including Sweden and Italy, are studying OpenReach to determine if it could be replicated in their respective countries.
Value-Added Services
Competition has led to significantly decreased consumer bandwidth cost. In the UK, headline speeds of 8 Mbps (megabits per second) are available for less than Pounds 10 (US$20) per month (or even for free if bundled) from some operators, compared with Pounds 40 ($80) in 2004.
Over the past several years, service providers have maintained the same price level while providing much higher connection speed. As it's difficult for service providers to increase ARPU (average revenue per user) through higher bandwidth, they are looking to sell more appealing value-added services (VAS).
British Telecom has had some early success with several such offerings. BT noted that its Home IT Advisor service (a digital home management and support service) had 40,000 customers as of May 2007, with 2,000 new subscribers signing up each week. Further, the Advisor service has a 96 percent satisfaction rate among users.
In its most recent quarterly financial report, BT disclosed that it had over 300,000 customers for its Broadband Digital Vault service, which provides secure online digital storage. To further enhance its VAS portfolio, BT recently announced a potential partnership with Google and FON, a large hotspot community operator; plans to add Sony's PlayStation 3 and PlayStation Portable to its network, enabling video and voice-call capabilities; and engagements with more than 600 startups globally for new innovations.
Bundling Services
Another key strategic focus for leading European operators is bundled services. Independent service providers such as Iliad/Free and FastWeb (before it was acquired by Swisscom) have used triple-play bundles to gain strong footholds in France and Italy, respectively.
In September 2007, Free reported 2.8 million subscribers, all of which subscribe to a triple-play package. Its pricing strategy is extremely aggressive — Free offers its customers 100 Mbps/50 Mbps broadband with TV and free domestic fixed-line calls for just 29.99 euros ($43.25) per month, prompting similar offerings from Orange and Neuf Cegetel.
As a result, France is now the most competitive triple-play market in the world. According to Global Digital Living II, France has the highest consumer interest in bundled services among the six European countries we surveyed. It also serves as an excellent test market for innovations in bundled services.
The entry-level bundles are priced low, so the hope among providers is to sign up subscribers quickly and upgrade them to additional value-added services attached to the bundle. Our consumer data show that in most countries, consumers are more attracted to a bundle because of price discounts than blended features, but once they become a basic subscriber, it is much easier for service providers to sell new service features and boost monthly ARPU. Free currently generates approximately 7 euros ($10.09) in monthly ARPU through VAS features, about 20 percent of its total ARPU.
The growth of bundled services also leads to a high penetration of residential gateways, providing great opportunities for equipment vendors such as Thomson. All 2.8 million subscribers to the Free bundle have a Freebox at home, and close to 70 percent of Orange's 6.9 million ADSL (Asymmetric Digital Subscriber Line) subscribers in France have a Livebox.
The presence of residential gateways also makes it easier for service providers to sell new service features, including fixed mobile convergence (FMC) services, resulting in a virtuous circle. Thanks to the higher residential gateway penetration among its customers, Orange has been very successful in selling FMC voice services; its Unik service had more than 250,000 users by June 2007, eight months after launch.
Across the Continent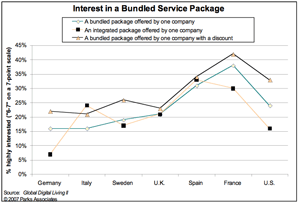 (click on image to enlarge)
With France leading, other European countries are also witnessing more activity in the triple-play space. All the major European markets have at least one triple-play service operator.
Even in Germany, commonly considered a broadband laggard among developed economies, competition is heating up. Facing challenges from HanseNet Telekommunikation, a subsidiary of Telecom Italia, Deutsche Telekom recently dropped the price of its entry-level triple-play package by 25 percent to 59.95 euros ($86.46). The focus on triple-play services is serving as an accelerator for FTTx deployment in Europe, with France again being the most active market.
ProviderTechnologyAccomplishments and GoalsDeutsche TelekomFTTC+VDSL2
Six million homes covered at the end of 2006.
By the end of 2007, DT plans to roll out IPTV to 17 million homes, or 44 percent of all homes in Germany.
British TelecomFTTHBT has done trials since 2004 but recently decided to not take it further.TelefnicaFTTH
In late 2006 Telefnica conducted FTTH trials in the Madrid area.
November 2007 Telefnica announced another FTTH trial covering 54,000 customers around various parts of Spain.
Telecom ItaliaFTTC/FTTB +VDSL2According to the latest three-year plan, Telecom Italia plans to reach 5.2 percent of the population, with a long-term plan to cover 65 percent of the population by 2017.FastWebFTTHFastWeb has around 300,000 customers.Neuf Cegetel (France)FTTHNeuf Cegetel began FTTH rollout in late 2006, with a plan to pass one million homes and connect 250,000 by the end of 2009.France Telecom (France)FTTHCurrently in pre-deployment phase, France Telecom is aiming to connect 150,000 to 200,000 customers out of a total base of over 1 million connectable customers by the end of 2008.Iliad/Free (France)FTTH
Free launched its FTTH service on Sep. 11, 2006.
Iliad announced in March 2007 that it planned to pass half a million homes in and around Paris by the end of 2007 at a cost of 150 million euros ($216 million).
In total, Iliad aims to pass 4 million French homes by the end of 2012, a rollout that will cost around 1 billion euros ($1.44 billion).
Numericable (France)FTTHOn Aug. 28, 2007, Numericable announced that it had passed 1 million homes with FTTH and expected to reach 2 million by the end of 2007.
The next competitive frontier will be quadruple play. Incumbents with wireless assets want to fight their challengers by integrating mobile services into their service portfolio.
In June 2006, Orange launched Europe's first integrated quadruple play, offering data, voice, video and mobile services on a single bill. In October 2007, Telecom Italia launched its own quadruple-play bundle, known as "Unica." Not to be left behind, smaller service providers such as Virgin Media, Free, Fastweb, and ONO are also planning to launch their own quadruple-play services in 2007 and 2008.
The race to quadruple play will inevitably lead to market consolidation, asset reshuffling, and more strategic partnerships, further changing the look of the European service provider market.
---
Yuanzhe (Michael) Cai
is director of broadband and gaming for
Parks Associates
.
---