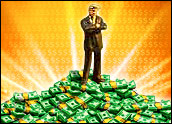 U.S. government agencies are looking everywhere they can to cut costs — including the cost of information technology. Tight budgets will be the dominating factor in federal IT procurement over the next several years — at least.
Yet in the face of budget discipline — and even slightly projected declines in spending — two venture capital companies see great promise in the federal IT market. Madison Dearborn Partners and CoVant have created a joint vehicle "to identify and secure equity investments in the federal government technology services and solutions market."
Through an enterprise called "CoVant Technologies II," they will pursue the development of multiple platform companies focused on high potential federal market segments including IT, information and cybersecurity, intelligence, mission support services, and systems engineering and integration.
"Despite projected budget pressures, the U.S. government will remain the largest consumer of technology services and solutions in the world. We believe it will always continue to be an attractive market for high-quality solutions providers," Joseph Kampf, cofounder and chief executive at CoVant, told the E-Commerce Times.
"CoVant provides industry experience and operational expertise in the federal technology services market that complements Madison Dearborn's track record of successful equity investments," Kampf said.
Both Firms Are High-Tech Angels
Madison Dearborn Partners has assigned managing director Doug Grissom to the venture, utilizing the capabilities of MDP's business and government services unit. The unit is focused on ventures dealing with outsourced business services, including Software as a Service providers, data services, business process outsourcing, IT outsourcing and education services.
"CoVant Management shares our strategic vision and, importantly, our culture and values — all of which we think will be compelling to strong management teams looking to build and grow companies in this sector," Grissom said.
Neither CoVant nor Madison Partners would disclose how much the venture plans to invest. CoVant was created by former executives of Anteon International, a government technology services firm. Kampf was president of Anteon when it was acquired by General Dynamics in 2006 for US$2.2 billion. When CoVant was created in 2008, it was supported by a $200 million investment from a private equity firm.
"We will be active partners with management in our investments. While we prefer to make controlling investments, we will look at minority investments where we can add value by actively participating in the development and execution of the business strategy," Kampf said.
In another new venture, three IT veterans with prior connections to Dell formed their own company in February 2012 to pursue the federal IT market. The company, Spear, will focus on providing professional IT solutions, consulting, and business process outsourcing for federal government clients and business partners.
Spear's current chief executive is Richard Pineda, who had been president of Dell Services, formerly Perot Systems, before he cofounded the new firm. Noel Samuels, another cofounder and the venture's chief financial officer, had a similar position with Dell's public sector group. The third cofounder, Gino Antonelli, is chief operating officer at Spear. He had been an executive with Intelligent Decisions, and a member of Dell's partnership advisory council.
Venture Offers Agility, Efficiency
Spear's marketing strategy appears to be based on the IT budget realities facing federal agencies.
"We purposely built the company recognizing the need for a viable small business to help the federal marketplace meet its IT optimization goals, while also addressing today's fiscal challenges. Our agility and efficiency as a small business translate directly into cost savings for the government," Antonelli told the E-Commerce Times.
"What's more, the extensive industry experience of the founders results in the highest quality of IT, management consulting and business process outsourcing services one would expect from a major contractor — but at the cost of a small business," he said.
Not surprisingly, the three cofounders decided to enhance their IT portfolio of offerings to federal customers by representing Dell as an authorized reseller. Spear will not replace Dell's federal marketing team but will join the Dell partnership network.
"Dell remains a top 15 contractor to the U.S. government focused on providing its customers with effective and efficient IT solutions," Antonelli said.
"Spear's relationship with Dell is focused on providing federal clients with access to a flexible and experienced small business, augmented by the full suite of Dell capabilities and products," he added. Spear will offer Dell hardware, software and end-to-end IT products.
Starting an IT business is always risky, and success stories gain more recognition than failures. But for the MDP, CoVant and Spear managers, an optimistic sign was a recent federal contract issued by the General Services Administration (GSA) to eGobalTech.
Under the GSA award, eGlobalTech will continue providing comprehensive support for the Federal Risk and Authorization Management Program (FedRAMP). The program is the backbone IT vehicle that provides a standardized approach to security assessment, authorization, and continuous monitoring for cloud products and services used by federal agencies.
Founded in 2004, eGlobalTech is a small business provider of a range of IT and related services. Since its startup, the company has landed major IT contracts with the Department of Energy, Department of Homeland Security, U.S. Agency for International Development, and several other federal agencies.
The FedRAMP rollout is expected this summer but will need ongoing support. The GSA contract is an exclusive award to eGlobalTech.
"We are the only FedRAMP support contractor, and we have been involved with the program since its inception," Branko Primetica, eGlobalTech vice president, told the E-Commerce Times.
"Our near-term focus will be to implement business processes, complete testing, and conduct training and stakeholder outreach to support the launch for FedRAMP," he said.
Going With the Flow
The venture strategies of CoVant, Madison Dearborn Partners, and to some degree Spear, reflect a current sweet spot in private equity investing. Software and IT enterprises remain highly attractive to angels that support startup ventures, concluded a report released earlier this month by Silicon Valley Bank.
"In 2011, venture capital firms once again invested more money and did more deals in the software sector than in any other sector," the report said, citing data from the National Venture Capital Association/PWC Money-Tree. A related report issued by Silicon Valley Bank, the Angel Resource Institute and CB Insights, found that 34 percent of all 2011 angel financings were made in Internet companies, and that 68 percent were made in Internet, mobile, telecom, and other software companies.