Microsoft has launched a slew of new devices designed to reshape the world: the Surface Laptop 3, the Surface Pro 7, the Surface Pro X, Surface Earbuds, and the upcoming Surface Neo and Surface Duo.
"The next decade will be about creation, and amplifying what we can do as humans," CEO Satya Nadella said Wednesday at Microsoft Surface 2019 in New York City. "It's that ambition that … underlies the approach to Surface and everything we do today."
The Surface Laptop 3, Pro 7 and Pro X are available for preorder in select markets. The Surface Neo and Duo are dual-screen devices that will be available for the 2020 holiday period.
Productivity Workhorse
The Surface Laptop 3 is the perfect everyday laptop, according to Microsoft. It comes in a 13-inch version starting at US$999.
A 15-inch version, starting at $1,199, is the fastest 15-inch laptop available, the company claimed.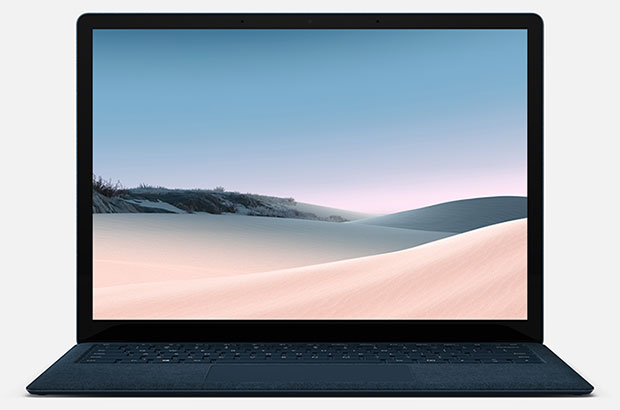 Surface Laptop 3
The Laptop 3 offers fast charging, achieving 80 percent in an hour. It has a larger trackpad, and USB-A and USB-C ports. It has improved cameras, OmniSonic speakers, and dual far-field Studio Mics.
Versatility Rules
Microsoft has positioned the Surface Pro as the most versatile 2:1 device you can buy.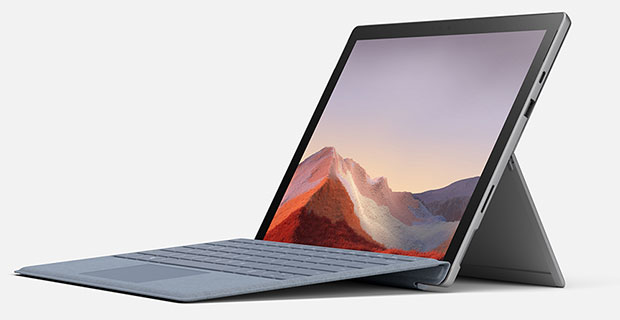 Surface Pro 7
The Surface Pro 7 has a 10th-generation Intel Core processor, USB-A and USB-C ports, and a battery with all-day life. Pricing starts at $749.
The Surface Pro X has a 4K UHD screen, more than 2 TFlops of graphics processing power, a 13-inch edge-to-edge display, and an always-on feature using LTE.
It is 5.3mm thick and weighs 1.68 pounds. It uses the Qualcomm Microsoft SQ1 chipset, which combines the Qualcomm Snapdragon technology with an integrated artificial intelligence accelerator.
The Surface Pro X is the first Windows-based PC to have an integrated AI engine, said Panos Panay, chief product officer of the Microsoft Devices Group. "With Qualcomm, we also redesigned the GPU and other pieces of silicon."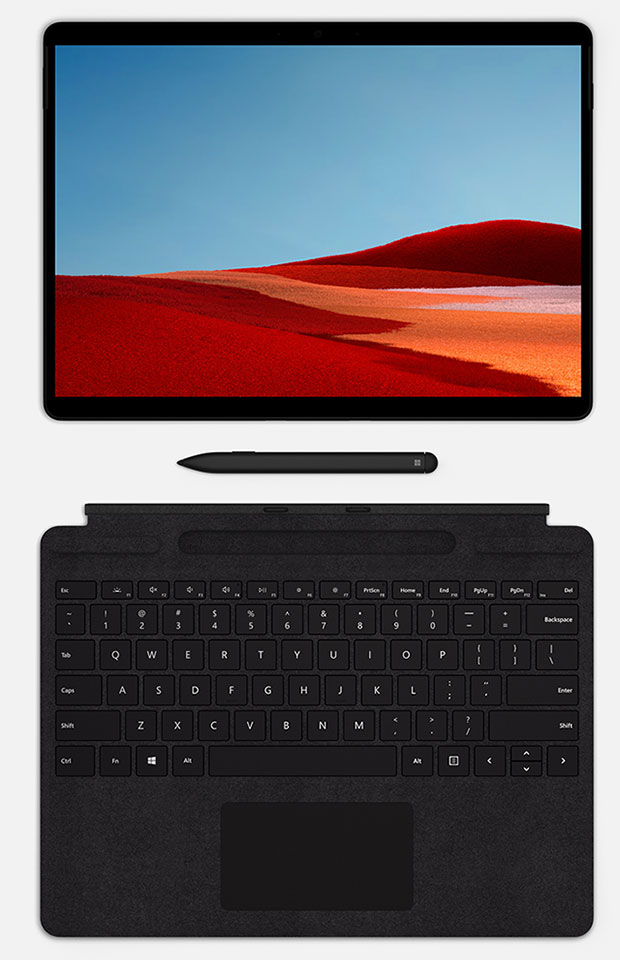 Surface Pro X
The Surface Pro X runs the full power of Windows, Microsoft Office, and the Edge and Chrome browsers, Panay said.
Its Signature Keyboard includes pen docking and charging for Microsoft's new Slim Pen.
Microsoft also announced several new features in Office to leverage the capabilities in the new Surface lineup.
The Surface Neo
The Surface Neo has a 360-degree full-friction hinge consisting of 60 coax cables, and two 9-inch screens with Gorilla Glass 5. Put together, the screens make up a 13-inch display.
The Neo runs full productivity apps. It has a removable keyboard and comes with a Surface Pen. It is also compatible with a Bluetooth mouse.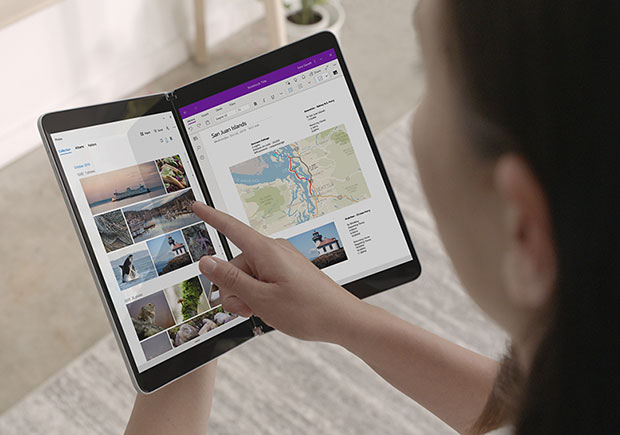 Surface Neo
Apps open on the left-hand screen when launched. They can be dragged with a finger to span both screens.
Both screens can be used to run different apps simultaneously.
The Surface Neo uses the 11th generation Intel Lakefield processor.
The Neo is "for those folks who want a compact device with a big surface," remarked Ray Wang, principal analyst at Constellation Research.
"Laptop screens prevent them from becoming as small as we want to carry and as big as we need to work," said Rob Enderle, principal analyst at the Enderle Group. "The Surface Neo is an attempt to fix that problem."
The Neo "brings back Microsoft as the innovator in hardware," Enderle told TechNewsWorld. "It will also help the ecosystem, ensuring support for the dual-screen interim future."
Split-screen devices "have not fared well in the past, because they're clunky and hard to use," noted Eric Smith, a research director at Strategy Analytics.
The Neo's productivity aspect is interesting, he told TechNewsWorld, "but I'm struggling to see what a 9-inch screen plus an attachable keyboard on a scaled-back OS is going to accomplish. New use cases should be well defined and should help solve a problem for users."
Running Windows 10X
The Surface Neo will run Windows 10X, an operating system designed to offer Windows 10 functionality on dual-screen devices.
That might be a problem, as "Windows 10 is a hot mess," Constellation's Wang told TechNewsWorld.
"From Cortana crushing your CPU usage, and missing search with the KB4512941 upgrade, most folks are super wary about the progress with bug fixes," he said. Still, "we hear Microsoft has all hands on deck to resolve this."
Windows 10X will be available in fall 2020.
The Surface Duo
The Surface Duo offers mobile phone functionality, but "make no mistake, this product is a Surface," Microsoft's Panay said. "This is industry-pushing technology, and it's technology pushing possibilities. People need to use their phones to be more productive, but phones have their limits."
It has two 5.6-inch screens that unfold to make one 8.3-inch screen. Like the Neo's screens, they can be arranged in various combinations.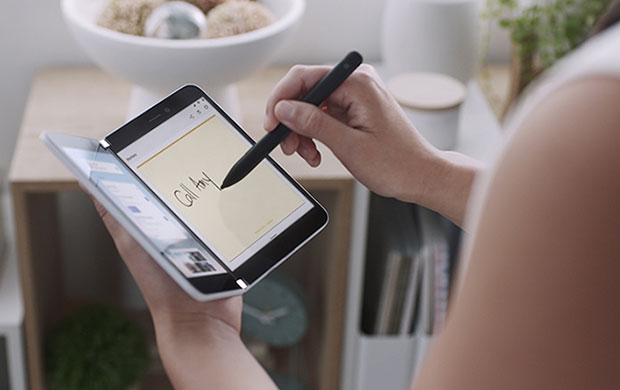 Surface Duo
The Duo also runs Android apps, thanks to a Microsoft partnership with Google.
The Surface Duo "potentially reverses what Steve Jobs did to Microsoft with the iPhone launch, and attempts to flip at least part of the smartphone market back to a business focus," Enderle observed. "It provides a better blend of Google apps with Microsoft's business focus."
Microsoft's previous attempts to launch a mobile phone have failed. Its $7 billion purchase of Nokia in 2014 fizzled, and the company killed Windows Phone, its mobile OS, in 2017 due to lack of market penetration and lack of interest from developers.
With the Duo, Microsoft "is in a much better position than last time" and "can further drive its core strategy to the smartphone market," said Gerritt Schneemann, senior analyst at IHS Markit.
That's because Microsoft is "not competing with existing platforms on the platform layer, but rather is driving its services and apps to the user," he told TechNewsWorld.This is "a natural extension of their strategy, delivered in a way that matches today's smartphone market realities."