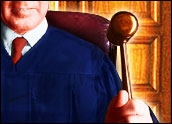 Social media is transforming communications, but what many people do not see is how social media impacts litigation. Today at least 95 percent of all information is electronic, and the continued proliferation of social media surely will make that percentage grow.
As I pointed out in my recent column about judges and social media, U.S. Supreme Court judges remarked that they "didn't get social media." Since every single lawsuit includes electronically stored information (ESI), these same judges, many of whom find ESI difficult to understand and evaluate, will need to consider the added complexity that social media brings into the picture.
Some Background on Destruction of Evidence
Even before ESI was a factor in lawsuits, the rules of evidence punished parties who intentionally destroyed evidence they had a duty to preserve and provide in litigation. The legal term for this destruction of evidence is "spoliation."
For example, a person who was kidnapped and assaulted outside a department store later sued the store for lack of adequate security at the exit. Before trial, the store destroyed a paper report of the poor security at the very exit where the kidnapping occurred.
Outraged to learn that evidence was destroyed, the judge issued what's called a "death penalty" ruling and made the defendants liable for the injury to the kidnap victim by granting millions of dollars without a trial.
A less severe penalty is an adverse inference drawn at trial when evidence is destroyed. The judge instructs the jury to presume that the reason that the party destroyed evidence was because it was adverse to that party's case.
A high-profile example of the application of adverse inference occurred when U.S. District Judge Shira Scheindlin told a jury that because UBS destroyed emails, the jury should assume that those emails were adverse to UBS. That adverse inference led to a US$29 million verdict against UBS, including punitive damages (Zubulake v. UBS Warburg).
Enter Social Media – What Is Protected?
We may think that all social media is public and not protected because of its very nature, but that isn't so. In May 2010, a federal judge ruled that private postings on Facebook and MySpace could not be subpoenaed as evidence at all under the 1986 Store Communications Act. (As described in my recent column, this is the same statute that the U.S. Supreme cited in its Quon v. Arch Wireless ruling that employees using employers' devices should not expect privacy.)
On May 26, 2010, U.S. District Judge Margaret Morrow issued an Order in Buckley H. Crispin v. Christian Audigier, Inc. et al that defendants in a copyright infringement case could not subpoena private messages on Facebook and MySpace.
However, based on the Quon v. Arch Wireless case, an employee who uses an employer's device to create Facebook or MySpace postings probably can't expect privacy, and the information can be subpoenaed.
So, when deciding in litigation who has what rights of privacy, it is essential to determine whether the ESI may be accessed by the parties to the lawsuit.
Alternative Dispute Resolution
In the 1980s, states adopted laws to encourage litigants to use Alternative Dispute Resolution (ADR) procedures to limit the number of cases reaching trial and to reduce the high case loads of overworked judges. Among other forms of ADR, two are well-known and became popular throughout the U.S.: mediation and arbitration.
Mediation. The mediator is a neutral third party — obligated to maintain confidentiality — who meets with the parties and their lawyers in private confidential meetings to discuss strengths and weaknesses of their lawsuit. Ultimately, the mediator works to reach a settlement of the lawsuit during those private meetings. More than 60 percent of all lawsuits settle at mediation conferences, so it has been a great way to reduce litigation.
Arbitration. The parties agree by contract to allow contractual disputes that would otherwise be presented to judges and juries at the courthouse, to be decided after an evidentiary hearing by one (or a panel of three) arbitrator(s). The contractual agreement to arbitrate can be one sentence or a complex set of terms that may include criteria for each arbitrator (perhaps a former judge or someone with IT experience), the number of arbitrators who will decide the dispute, the location and length of the arbitration hearing, number of depositions, and whether the prevailing party may recover attorneys' fees and expenses.
ESI Intersects with ADR
As previously mentioned, ESI makes litigation more complicated. Not many mediators and arbitrators have significant skills with ESI. Recently, Allison Skinner (a full-time mediator who also teaches eDiscovery at the University of Alabama School of Law as an adjunct professor) created an approach for using the mediation process to resolve ESI disputes in litigation that she calls "eMediation."
In early 2011, Allison invited me to co-found the American College of e-Neutrals (ACESIN), an organization dedicated to the education, training, credentialing and use of e-Neutrals. E-Neutrals are third party referees — mediators, arbitrators, masters, judges, liaisons and magistrates — committed to resolving disputes arising from ESI.
With eMediation, litigants bring their ESI disputes to the neutral mediator to help develop an eMediation plan for how the parties will define the specific ESI they have to search for and provide to the other parties. As a result, the parties can reduce the time and cost of ESI discovery disputes.
ACESIN aims to provide a better understanding of ESI to litigants in ESI disputes so that they can avoid filing a myriad of expensive and time-consuming court pleadings. The goal is to make litigation of ESI disputes less expensive and avoid judicial intervention to resolve them. With the e-Neutral training, more well-educated individuals should be available to help the court system.
Conclusion: ESI, with social media added to the mix, is impacting legal disputes, adding time and costs. Hopefully, more education for eMediators, lawyers and judges will reduce the strain on litigants and the judicial system.