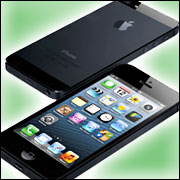 So, now that you're getting a new Apple iPhone, which network is best? Yesterday you didn't have to think about it, since it was only available on AT&T. Today, however, it's harder to decide. It's offered by Verizon, Sprint, C Spire and even a few prepaid carriers. So which carrier is really the best choice for you?
My Pick of the Week is AT&T for setting a new iPhone sales record over the first weekend following the iPhone 5's launch.
Choosing the Best Network
There are several different factors to consider when choosing your provider — but making the right choice may be easier than you think.
Ask yourself a question: Why do you use your current carrier?
Is it because it's the same carrier as your family and friends and you want to be part of the group? Is it because you have a phone on someone else's account and didn't get to choose the carrier? Is it because this is your work account and it's your company's choice?
Or just maybe you chose the carrier because it offered the best coverage where you spend the most time.
Many of us have a reason for our carrier choice. However, don't assume all carriers are created equal. They aren't. And don't assume that all carriers offer great service to every customer. They don't.
You are fortunate in one respect — the iPhone is pretty much the same no matter which carrier you use. However, the service you get can be very different from one to another.
If you have the freedom to choose your carrier, then it's time to get to work thinking about which is the best one for you.
What kind of user are you? Different carriers tend to have different strengths and weaknesses. Finding the right carrier for your needs is the primary goal. Otherwise, your new iPhone may have poor signal strength, and that means it won't work — no connection.
Carriers are all different. Just because one advertises it is the largest this or has the most that doesn't mean it is the best for you.
Check Your Favorite Haunts
Many of us choose a carrier based on great marketing. We buy a phone and then find out later that the carrier's signal is weak or nonexistent in some of the places where we regularly spend time.
Carriers all have different strengths and weaknesses. So spend some time to explore which carrier is the best for you where you spend the most time. It's not only signal strength; it's the type of network you are connected to. Is it the faster 4G network? Or is it 3G, which gives you a connection at a slower speed?
The best choice for you this year may be different from last year. Sometimes providers change pricing or strategy. Sometimes the locations where you spend time change, or you have different needs. Sometimes network upgrade — or lack of one — affects your service.
Believe it or not, I use phones from all the major carriers, but for my daily usage, only one gives me the best and strongest signal in all of the places I regularly spend time. The others are good, and I like them all — but for my primary phone, my choice is easy.
Your choice may be simple as well. Make sure you know the strengths and weaknesses of the different carriers' signals. They are not created equal.
Generally speaking, each of the carriers that offers the iPhone is a major network that offers great quality.
Generally speaking, I would trust any of them.
I don't choose my carrier based on advertising or marketing, though. I choose based on which gives me the best signal where I spend time. That is something you should consider.
The next factor is this: What turns you on? Speed? Unlimited data plan? Many of us would prefer both, but you have to choose — one or the other.
Faster Speed?
AT&T and Verizon offer the fastest speeds in more locations today on their 4G LTE networks.
If you have noticed their advertising, both claim to be the fastest. The truth is, it depends where you are standing when you make the call and what device you use. Don't pay attention to advertising when choosing your carrier. Base your decision on tests you carry out where you spend time.
AT&T is faster in some places, and Verizon is faster in others. However, both are very fast, and those top speeds are spreading to more locations every day.
Advertising is confusing. Verizon calls its entire network one thing, and AT&T calls its network different things in different places. So, through claims and counterclaims, both try to position their network as being the fastest.
Fortunately, both are speedy.
AT&T has an advantage over Verizon and Sprint for customers who like to make calls and surf the Web at the same time. They are the only carrier that supports this.
Or Unlimited Data?
Unlimited usage plans are another option. Sprint and C Spire offer unlimited data plans for iPhones.
Actually, T-Mobile also has an unlimited plan, but it doesn't sell the iPhone.
C Spire is starting to turn on many high-speed 4G LTE markets within its region, so it will be both fast and unlimited in those markets over the next few months. This is an advantage for its customers.
Postpaid and Prepaid
The prepaid iPhone is coming this season as well.
You know all about the postpaid iPhone. That's what you get with the typical plan. Prepaid, however, is new for the iPhone market.
Rumor has it networks like Virgin Mobile (owned by Sprint) and Cricket (owned by Leap) will get into this new segment.
To tell you the truth, I expect to hear of other carriers joining the iPhone parade as the next few quarters pass, both on the postpaid and prepaid side.
So, as you can see, choosing the right network for your needs is the most important part of this iPhone purchase.
The iPhone is basically the same device from carrier to carrier. Your decision should be to find the carrier for you and the best plan as well.
Remember — signal strength first, then fast or unlimited.
It's always important to understand which carrier offers the best signal where you spend time. That can change from year to year, so keep current..
Well it looks like all that speculation was wrong. AT&T is still selling new iPhones like crazy.
That's right, AT&T is not selling fewer iPhones — it is selling more. In fact, it is selling quite a few more, breaking all sales records.
Maybe it's AT&T's ability to talk and surf at the same time. Maybe it's the company's huge 4G coverage area. Maybe it's because it doesn't force customers to switch to shared data plans. There are many reasons, but the fact is, AT&T is selling more iPhones, not fewer.
Not shabby. Not shabby at all.