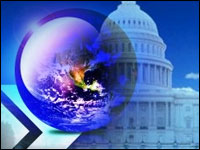 How easy is it to sell a house, shop for a mortgage, select a mutual fund — or even make a plane reservation? Sometimes it's not very easy: Mortgage offerings are numerous and complex, and choosing among thousands of mutual funds can be overwhelming.
Enter the broker — or the travel agent. Brokers offer expertise and implementation services that hopefully save the consumer time, money, and the hassle of getting involved in an activity in which the consumer has little expertise and limited patience.
Now the latest wrinkle in the brokerage business is in cloud technology. A whole new class of intermediary enterprises are cropping up to help potential adopters figure out how to acquire and utilize the cloud.
Just as private sector businesses are waking up to the concept of cloud brokerages, the federal government is already scouting the field as federal agencies strive to meet aggressive goals for cloud migration. The Federal Acquisition Service (FAS), a unit of the General Services Administration, has issued a formal Request for Information (RFI) from public and private sector organizations on the use of cloud service brokers.
"GSA is seeking information about alternative models or solutions for future cloud acquisition," FAS said in its notice earlier this month.
"One emerging concept in cloud computing is that of a 'cloud broker,' or an entity that manages the use, performance and delivery of cloud services, and negotiates relationships between cloud providers and cloud consumers," FAS said. "The government is interested in understanding how market segmentation would inform the implementation of a cloud brokerage or similar capability."
Vendors interested in the federal cloud brokerage initiative can learn more by attending an Industry Day sponsored by FAS/GSA on Aug. 2. Vendors may also submit responses to the RFI by Aug. 17.
Cloud Brokerage Trend Advances
The cloud service broker (CSB) concept — and the enterprises to support the idea — have been emerging over the last few years, according to Gartner. Interest in the CSB concept increased in 2011, and the firm expects this trend to accelerate.
For federal agencies trying to determine how cloud services fit their missions and IT programs, CSBs could be useful in helping sort through the myriad of technical, operational and legal issues surrounding cloud adoption.
"The cloud brokerage model can potentially be utilized to deliver a wide variety of cloud IT services to government organizations. Additionally, the model can potentially enable the delivery of value-added services that enhance the ability of government to effectively acquire, order, secure, provision and manage cloud services," FAS said.
The brokerage option was suggested in the "U.S. Government Cloud Computing Technology Roadmap," issued late last year by the National Institute of Standards and Technology (NIST), an agency within the U.S. Commerce Department. NIST provided the working definition of "cloud broker" used by GSA.
"The roadmap is designed to foster adoption of cloud computing by federal agencies, support private industry, reduce uncertainty by improving the information available to decision makers, and facilitate the development of the cloud computing model," NIST told the E-Commerce Times in a statement provided by Romayne Hines for the agency's Information Technology Laboratory.
"The GSA initiative, in seeking information about cloud brokers, helps advance the cloud computing model by encouraging a discussion of cloud brokers, the different types of brokerage, and their ability to reduce complexity for consumers by providing a single point of entry to manage multiple cloud services," NIST said.
Among the specific topics FAS is exploring:
Procurement: "A contract vehicle would presumably have to be in place to provide a means for government organizations to acquire cloud services through a brokerage function. A vehicle could be established uniquely for the cloud brokerage concept, or an existing vehicle could be utilized," FAS said. The agency is seeking recommendations for an acquisition approach for a cloud brokerage capability, including the use of existing or new procurement vehicles.
Quality control: Performance standards for information technology are generally covered through Service Level Agreements (SLAs). "The development, implementation and enforcement of SLAs are key issues in cloud computing in the government. SLAs should ideally be well-constructed, enforceable, and measurable," FAS said. FAS is seeking input on how SLAs can "better help government organizations achieve the benefits of cloud computing, and how the conventional SLA used with cloud service providers might change for cloud brokerages."
Security: "Introducing the cloud broker as a new player in government cloud computing may pose interesting new opportunities and challenges to information security, particularly around determining liability," FAS said. The agency asked respondents to address how a cloud broker model would fit into the security framework needed for customer agencies to obtain authorization for their cloud service acquisitions, including the assumption of risk by all parties involved in a cloud brokerage transaction.
Role of Vendors
"The government is a unique case in the cloud world. The cloud service business model is based on economies through scale, including both cost and performance. Most organizations won't have the leverage with general-purpose cloud service providers so they will have to either settle for the standardized service, or build additional functionality to complement the cloud services," Ed Anderson, research director at Gartner, told the E-Commerce Times.
However, "the government may have the leverage necessary to motivate cloud service providers to build services that meet the specific needs of the government," he said.
The potential business opportunity of CSBs "has already been demonstrated by the 'government cloud' initiatives of big cloud services providers," Anderson said. The opportunity exists not only for cloud brokers, but also for cloud service providers who come into the federal government's orbit as a result of the efforts of CSBs working with federal agencies.
"There a definite advantage to a third-party intermediary, especially an intermediary who can be objective regarding the services," Anderson said.
"It's probably beneficial that GSA is exploring this as an option for federal agencies, although in some ways GSA is already, or should be, a broker for federal agencies in the procurement of cloud services," John McDonald, chief executive officer at Cloud One, told the E-Commerce Times.
"Up until now, the brokerages have been relatively small in size compared with the big cloud players like Amazon, Microsoft, Salesforce, Google and others. So the question is how effective the brokers can be in marshaling the resources of the big players," he said.
"The key defining feature of a cloud broker is its ability to provide a single consistent interface to multiple differing providers. Cloud brokers can enhance a given service, integrate multiple services into one or more new services, and provide flexibility all while reducing complexity for the federal agencies in their efforts to rapidly deliver innovative mission solutions," NIST said.
Information about the cloud brokerage industry day is available from GSA at [email protected].
Responses to the cloud brokerage Request for Information should be sent by email to the contracting officer, [email protected], by Aug. 17, 2012.