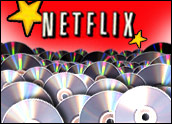 Netflix on Wednesday announced a partnership with NBC in which the broadcast company will offer the online movie rental service's subscribers advanced screening copies of the premiere episodes of its upcoming drama series, "Studio 60 on the Sunset Strip" and "Kidnapped."
The shows will be made available in their entirety, six weeks before their respective broadcast premieres on a special DVD created for Netflix that also will include preview trailers of the network's other new fall drama series.
Market Opportunity
"We have been looking for ways to create a marketing [and] content-related alliance with one another for some time. The fall season launch of these two high-profile shows was the ideal opportunity to forge the partnership," Bronagh Hanley, director of public relations for Netflix, told the E-Commerce Times. "Our visibility on NBC will expose our brand to a bigger segment of the national population. It also spotlights an increasingly important area in our business — TV on DVD."
Television accounts for between 18 and 20 percent of the Netflix business — a 6 percent increase from last year, Hanley said.
Netflix members use the TV category as a way to sample shows before committing to them full time, according to the company. "Shows like 'Family Guy' and 'Lost' have found their audience on DVD, which in-turn has fueled a tremendous amount of traffic to their respective networks," Hanley said. "Sampling only deepens the relationship and creates show loyalty."
NBC selected "Studio 60" and "Kidnapped" because they meet the standards of the "high-quality theatrical feel Netflix customers are used to," said Wendy Luckenbill, vice president of entertainment publicity at NBC.
Netflix's roughly five million subscribers can add the shows to their queues now at Netflix and view the episodes beginning Aug. 5. The promotional offer will extend until Sept. 17, the company said.
"Netflix subscribers are entertainment-hungry consumers that can be foot soldiers for promoting our programs," Luckenbill told the E-Commerce Times. "That's a perfect demographic for us to reach out to. We want new eyeballs. We're trying to entice new customers."
Spreading the Word
NBC sees the partnership as a chance to create buzz in a nontraditional media environment.
Viral marketing, in which consumers spread the word about their experiences to others in the digital and online world, presents countless possibilities. In addition to its partnership with Netflix, NBC is providing free views of its other two fall dramas, "Friday Night Lights" and "30 Rock" on nbcfirstlook.com. The company previewed episodes of "The Office" on MySpace before it aired in March 2005 and "Conviction" made a special appearance on iTunes last winter.
"We're empowering people to be our own promoters," Luckenbill said. "Internet chatter is infectious. It's the way people are chatting about what they're excited about in pop culture, in films. That's an area we're pursuing more and more of in our marketing strategy."
To drive further awareness of the offer, NBC and Netflix will experiment with a range of promotions, including tagged network spots and integration into the annual 30-minute NBC "Fall Preview Show," which will air repeatedly on NBC stations for approximately six weeks prior to premiere week in September.
Banner ads on the Netflix Web site — which saw a 12 percent increase in unique visitors to 10.1 million from June 2005 to June 2006, according to comScore Media Metrix — and print ads inside the company's red mailers will also highlight the deal, and Netflix will promote the offer to "relevant subscribers based on previous rentals and ratings of comparable content."