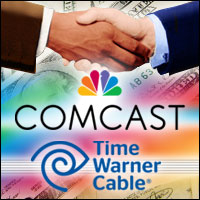 After months of being courted by both Comcast and Charter Communications, Time Warner Cable has agreed to be purchased by Comcast for US$45.2 billion in stock.
The deal, if approved by the United States Department of Justice and the U.S. Federal Communications Commission, will create the biggest broadband provider in the country, with 33 million customers.
The agreement is unusual in that there's no provision for a break-up fee.
Consumers will get a superior video experience, higher broadband speeds, and the fastest in-home WiFi, TWC said. The deal will create operating efficiencies and economies of scale and "generate multiple pro-consumer and pro-competitive benefits."
Those claims generally have been met with skepticism.
"The No. 1 cable company combining with the No. 2 — I don't see how this will help consumers or smaller businesses or competition," Michael Copps, former FCC commissioner and special adviser to the Common Cause Media and Democracy Reform Initiative, told the E-Commerce Times.
"It raises questions of consumer choice, competition and program access — and prices will rise," Copps continued. "It's also bad for programming, for news and information, and for journalism, and that's bad for our democracy."
The Terms of the Deal
Comcast will swap 2.875 of its shares for each of TWC's roughly 285 million outstanding shares. That will give TWC shareholders about 23 percent of Comcast's common stock.
The transaction will generate about $1.5 billion in operating efficiences, TWC said. The companies will merge their products and services, as well as their advertising platforms and channels.
Comcast will get TWC's 11 million managed subscribers and will divest about 3 million of them.
"It's a complex situation that doesn't really lend itself to being boiled down to some simple issues," Barry Randall, Covestor model manager at Crabtree Asset Management, told the E-Commerce Times.
"The cable-TV pricing model is probably going to blow to bits in the next couple of years as everything is delivered in an Internet model," Randall continued. "In this transaction, Comcast is simply appropriating a move from the football playbook: The best defense is a good offense."
You Gotta Have Faith?
"Companies seeking to justify mergers almost always claim that economies of scale will increase efficiency and provide better service," said T. Barton Carter, chairman of the mass communications, advertising & public relations department in the Boston University College of Communication.
"In reality, however, they often reduce competition and thus the incentive to provide better, more affordable service," he told the E-Commerce Times.
The merger "would increase Comcast's ability to squeeze out smaller companies," Carter pointed out. "It would also give Comcast greater leverage in the programming market where they are both buyer, as a cable company, and seller, through NBC Universal."
The deal will let Comcast "wield unprecedented gatekeeper power in several important markets," said John Bergmayer, senior staff attorney at Public Knowledge.
Regulators should review the effect on market power for content providers and consumers; the impact on innovation and market structure in the industry; and the effect on jobs, consumer costs and options; suggested the Communications Workers of America.
Individual consumer choice won't really be limited because "there will still be a cable operator, two satellite TV choices, and maybe a telco TV option if that's available, Greg Ireland, a research manager at IDC, told the E-Commerce Times.
"The difference is far fewer cable operators," he said.
"The deal still has to go through, which will take a long time," Dan Rayburn, a principal analyst at Frost & Sullivan, told the E-Commerce Times. "Until then, we're all just speculating."