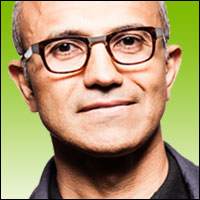 CEO Satya Nadella has begun his much-anticipated shakeup of Microsoft's leadership ranks, just weeks after taking the helm.
Tony Bates, executive vice president of business development and evangelism, and Tami Reller, executive vice president of marketing, are on the way out, Re/code reported.
Eric Rudder, EVP of advanced strategy, will take over Bates' duties temporarily, while marketing executive Chris Capossela will replace Reller and lead Microsoft's advertising efforts.
Mark Penn, formerly EVP of advertising and strategy, was relieved of advertising responsibilities and apparently will focus exclusively on strategy going forward.
Penn, an old friend of former Microsoft CEO Steve Ballmer, is a noted bare-knuckle brawler in politics, having formerly been a top adviser to the campaigns of Bill and Hillary Clinton. He reportedly was behind the so-called "3 a.m. phone call ad" launched by the Clinton campaign against Obama in the 2008 Democratic primary race.
These changes signal a ramping-up of Microsoft's efforts against arch-rival Google, contended Rob Enderle, principal analyst at the Enderle Group.
"In the battle with Google, Penn's political background should prove very powerful," Enderle told the E-Commerce Times. This "allows [Microsoft] to better defend against and attack Google, which has emerged as its biggest problem, largely because [Google's] ad-funded model destroys the product-based model that currently sustains the computer industry and Microsoft."
More About the Changes
Reller has been working at Microsoft since 2001, having joined the company when it acquired Great Plains Software, where she had worked since 1984. Reller held various posts at Microsoft, including CMO and CFO for its flagship Windows unit.
Reller's departure may have been inevitable, based on tech industry scuttlebutt, given that Ballmer apparently positioned her to go head-to-head with Penn — in keeping with his management style of pitting executives against one another.
That's not the only possible explanation, though.
Reller "just wasn't effective at maintaining or protecting Microsoft's image," Enderle asserted. She "had no real budget, so it's hard to see how anyone could have been successful, but she clearly lacks Nadella's confidence."
Capossela's assumption of Reller's post "implies that corporate marketing will play a much larger role," Enderle said. "This was one of Ballmer's mistakes, as he lost control of Microsoft's, and his own, image. This change suggests Nadella is moving to make sure he doesn't repeat that mistake."
Onward Redmond Soldiers
Penn is known for having a very divisive style, but that might be just what Microsoft needs, Enderle suggested.
Redmond's battle with Google "is largely political, where it is fighting for eyeballs more than money, and is attempting to get regulators to see Google as an anticompetitive threat," Enderle explained. "This is what Google and others effectively did to Microsoft a bit over a decade ago."
The executive changes lay the groundwork for a revamp of Microsoft, Enderle said.
While the changes are all about image rather than direction, they are "critical, so that when the change in direction comes, we see it as Nadella wants us to see it — not as some Microsoft competitor spins it," he added. "If you can't control the firm's image, you can't assure its future."
The Pain of Rebirth
Expect more changes, both in the management structure and the organizational structure, predicted Jim McGregor, founder and principal analyst at Tirias Research.
"I don't think you can pin all of Microsoft's woes on advertising or marketing," McGregor told the E-Commerce Times. "There is much more to this story, involving strategy, execution and business models."
Changes in Microsoft's corporate culture will eventually kick in, but "culture is really hard to change, and nearly impossible to change quickly," Enderle said.
In November, Microsoft announced that it would eliminate forced ranking — where managers would grade employees against each other and rank them on a scale of one to five, which meant a certain percentage of staff always would be designated as underperformers. Many dissatisfied former employees spoke out against the system.
This move, observed Enderle, "is just a start towards correcting what has been a very self-destructive and hostile culture."