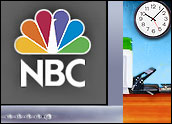 MSNBC Interactive, a joint venture between Microsoft and NBC, will buy Seattle-based startup Newsvine, a participatory news site that carries news from media outlets and from individual users who are paid for their writing.
Newsvine uses the so-called "social model" of user-driven ranking of the news.
The site deploys content-management technologies that enable the social networking features employed by today's reactive, Internet-centric readers.
A New Avenue
The purchase gives MSNBC a foot in the door of community-based journalism and strong user participation.
Members of Newsvine's contributor community were quick to react to the news.
Not a Surprise
"The response is about what we expected," Calvin Tang, Newsvine cofounder, told the E-Commerce Times. "Most of our users are happy that this deal will mean a lot more readership and exposure for our top contributors. However, there have been many questions raised, and I am doing my best to address all of them."
Translation: Some Newsvine fans were not thrilled.
"You [still] own your own content," he said in a message for the Newsvine posted on the site. "Copyright to the articles you write and publish to Newsvine will remain yours. This is the way it's been, and will continue to be."
The transition will be seamless, Tang told members of the Newsvine community.
"The first (and probably only) thing you'll notice right away is more people coming to Newsvine!" he wrote on the site's message board.
A Tough Sell
If cofounder Tang and colleagues celebrated wider distribution, one responder was not dancing. A surge in readership might cause a flood of "low-class, insulting, and unintelligent comments," driving away the more reasoned users, according one posted comment.
Another responder said it was a sad day for Newsvine, launched in March 2006.
Another posed the question, "Do I really want to spend time working for an MSNBC-owned site?"
The glum reactions came as no surprise. "Of course, every time a deal like this is announced, there is a very small percentage who cook up conspiracy theories and generally aren't interested in intelligent and open Q&A," Tang said.
The Newsvine stance is one of confidence that MSNBC will support Newsvine without ordering it around.
"MSNBC intends on giving us the backing we need to become the best people's voice," Tang said.
Fat Resources
MSNBC's site attracts 29 million users a month. Newsvine has more than 1 million monthly users, according to the company.
"Newsvine's top contributors will now enjoy a much, much larger presence on the news media landscape," he said.
"Also, our site's performance will be backed by the appropriate technical resources to keep up with that readership." he added.