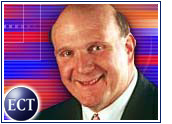 On the same day that Microsoft co-founder Bill Gates announced a new strategy within the so-called "Wintel" duopoly, the software giant sparked new concerns about its domination of world markets and also faced a direct challenge to its operating systems dominance in Japan.
The renewed fears of Microsoft domination center on the company's recently revealed strategy of linking its software to the Internet. Some have accused Microsoft of trying to rule the Web with its new .NET Internet initiative, using tactics similar to those it employed with its Windows operating system and Internet Explorer browser.
In April, a federal judge found Microsoft in violation of U.S. antitrust laws for abuse of its monopoly power. A breakup of the company was ordered, along with various sanctions. The Supreme Court is currently considering whether to hear Microsoft's appeal or send it back to a lower court.
Referring to the latest concerns over Microsoft's .NET initiative, CEO Steve Ballmer told reporters, "I don't think anybody can dominate the Internet. If the question is, are we going to try to get a high percentage of all Web site developers and users to buy into that — hallelujah. I think that's exactly what people should want us to do. And exactly what people should want our competition to do."
UK Fears Broadband Domination
In the United Kingdom, where Microsoft is locked in competition with other powerful European players in the emerging broadband market, analysts have expressed concern that the software giant will gain a stranglehold.
The European Commission rejected a Microsoft proposal for a joint controlling stake in UK cable company Telewest, along with AT&T subsidiary Liberty Media Group. Microsoft settled for a nearly 23 percent stake in the company, which still gives it a solid foothold in the European broadband free-for-all.
Microsoft officials have consistently maintained that the broadband market is too diverse for any one company to form a monopoly.
Faster, More Powerful Chip
In Orlando, Florida, Gates told a gathering of developers on Wednesday that Microsoft has come up with a new operating system that is compatible with Intel's next generation of microprocessors.
The new 64-bit "Itanium" chip is faster and more powerful than the 32-bit chip used in most personal computers, and is expected to be used mostly in scientific research and other areas that handle vast amounts of data. Some analysts wonder, however, whether the public will respond favorably to the new chip.
Japanese Choose Linux
In Japan, a consortium of major Japanese computer and electronic appliance makers said it would jointly develop new software based on Linux, the open-source operating system that threatens to become a serious rival to Microsoft.
"It is impossible anymore for one company to develop operating software that can become a widely shared asset, like Microsoft did," said new consortium chairman Tatsuo Nakajima.
Microsoft has traditionally kept its source code for its software secret. The Linux code is available to the public for free, with the understanding that improvements must be shared with the rest of the world.