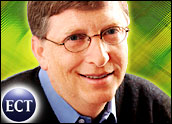 In papers filed Monday, Microsoft Corp. (Nasdaq: MSFT) asked the federal appeals court reviewing the antitrust judgment requiring a breakup of the company to set an unusually long five-month schedule for submitting briefs.
The software giant won an important legal point last week when the U.S. Supreme Court decided not to hear the review directly, and sent the case back to the U.S. Court of Appeals for the District of Columbia.
The U.S. Department of Justice (DOJ) had contended that the case should be fast-tracked to the high court because of its importance to the United States. However, Microsoft argued that the appeal would go quickly, saying: "Little time will be lost and none will be wasted."
DOJ lawyers are to propose their briefing schedule on Thursday, and are expected to ask for a shorter time frame for completion of the appeal.
'Corporate Survival at Stake'
The schedule Microsoft proposed would give both parties 60 days to file arguments with the court and 30 more days for Microsoft to respond to the government's arguments.
Microsoft is also asking that each side be allowed to write briefs four times longer than normal.
"Those word limits are insufficient for a case of this magnitude and complexity, in which Microsoft's very corporate survival is at stake," company lawyers said.
In addition, Microsoft suggested that supplemental briefs be allowed before and after oral arguments.
"Microsoft's proposal would unnecessarily delay proceedings and postpone resolution of the appeal," said DOJ spokesperson Gina Talamona.
Should Microsoft ultimately lose on appeal, it will face a company breakup. In April, U.S. District Judge Thomas Penfield Jackson ruled that Microsoft had violated federal antitrust laws and in June ordered the software titan to split into two separate companies, one selling operating systems, and the other selling software.
The breakup was been delayed pending completion of all appeals.
Decision in Seven Months?
The U.S. Court of Appeals normally takes two months after a case is submitted to reach an opinion, but under Microsoft's proposed five-month schedule, it would be spring at the earliest before briefing and arguments are concluded. Thus, the appellate court opinion would not issue for at least seven months.
"We are recommending a fair schedule to allow the parties to fully brief all of the issues in this complex and technical appeal," Microsoft spokesman Jim Cullinan said. "Our appeal will raise a significant number of legal, factual and procedural errors committed by the district court, which we believe will result in this judgment being reversed."
Because of the timing of the presidential elections, a new U.S. Attorney General will be in place in January. Legal experts believe that a new Attorney General, particularly if appointed by Republican George W. Bush, would likely view the DOJ's case differently than has current Attorney General Janet Reno.
Nineteen Issues on Appeal
Microsoft listed 19 issues it needed to address in the appeal, as it did in its papers filed in the Supreme Court. Microsoft's attorneys have made it known that they plan to question nearly every aspect of the lower court's proceedings, including conclusions of law, findings of fact, and the remedies granted, as well as the pre-trial rulings.
In its latest papers, Microsoft referred to Judge Jackson's remarks made during a speech at a recent Washington, D.C. antitrust conference. Although the judge did not concede error, Jackson reportedly said: "Virtually everything I did may be vulnerable on appeal."