Microsoft on Thursday announced new Office apps for the iPhone, updated Office apps for the iPad, and a preview of Office apps for Android tablets (sample screen shot shown above).
The company released separate Office for iPhone apps for Word, Excel and PowerPoint that it said would offer the iPad experience optimized for the iPhone.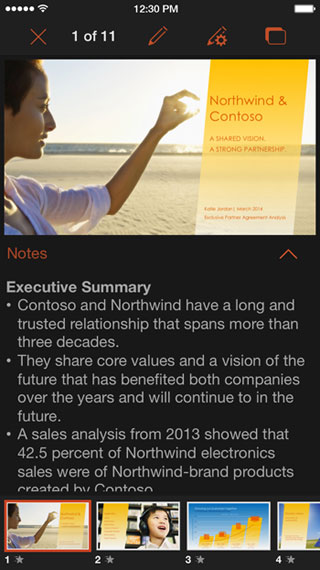 Microsoft also updated Office for iPad apps for Word, Excel and PowerPoint, which initially were released in March.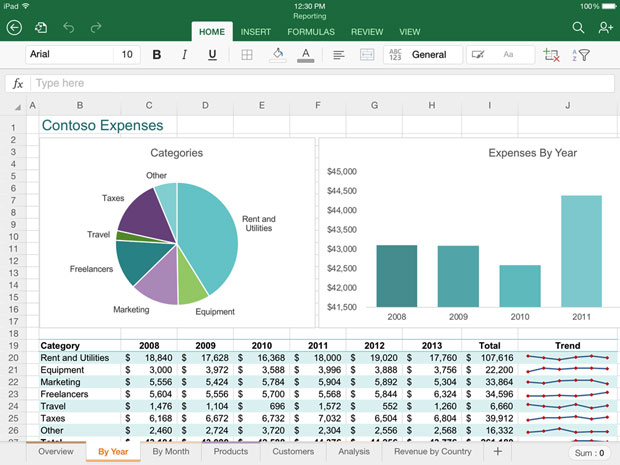 They are all available from the iTunes store.
Owners of Android tablets can sign up here for a preview of Word, Excel and PowerPoint apps for Android. Their general availability is scheduled for early 2015.
"This is about ensuring a pervasive Office platform across every device," Wes Miller, a senior analyst at Directions for Microsoft, told TechNewsWorld.
"It's Microsoft [drawing] a line in the sand showing that they intend to own productivity on mobile devices."
Which Devices Qualify
The new Office apps for iPhones and iPads run on iOS 7.0 or later.
Only Android tablets running KitKat with a screen size ranging from 7 inches to 10.1 inches are eligible for the Android Office apps preview.
Those running Lollipop are not, and users must avoid OS updates if they want to continue participating.
Out With the Old, In With the New
The Office for iPad apps offer limited free versions, as do the Office for iPhone apps, which replace the free Office Mobile app.
Microsoft Office Mobile for Android phones is still free on Google Play.
"This release brings the iPad capabilities to the iPhone and replaces Office Mobile with standalone apps on all iOS devices," Miller said.
The new apps will let users perform basic content creation and editing tasks for free, without having to sign up for Office 365.
Size Matters
Microsoft claims that the new Office for iPhone apps offer the iPad experience optimized for the iPhone, but can it really do so, given that scaling down an interface is fraught with difficulties?
"Microsoft is doing the leading work on scaling apps up and down, and changing the interface dynamically when required," Rob Enderle, principal analyst at the Enderle Group, told the E-Commerce Times. "You should see an interface that's appropriate to the screen size as a result."
Ideally, Microsoft "has made conscious design decisions to optimize for each form factor," Miller mused, "but we'll have to try them and see it in practice."
Work on All Your Devices Are Belong to Us
Microsoft since March has released native apps for OneNote, Lync, Yammer, OneDrive for Business and OWA (Outlook Web Access) for iOS and Android, and Outlook for Mac. It plans to release the Office for Mac beta in the first half of 2015.
These moves are all "part of their new strategy to embrace every platform that has a substantial following with their productivity offerings," Enderle remarked.
On the Android platform, Microsoft is facing competition from Polaris Office, which is free and syncs automatically across all devices.
Google earlier this year upgraded its Docs, Sheets and Slides for Android to let users open, create and edit native Microsoft Office files on them. It extended that upgrade to iOS in August.
Pressure from competitors could have driven the release of Microsoft's new apps.
"The more people get used to other products, the more at risk Microsoft is," Enderle pointed out. "If they can keep users on Office, those users are less likely to change because they won't want to learn different interfaces."
Impact of the New Apps On Users
Businesses will have to ensure that users downloading the new apps use them within the correct type of license — a business subscription that includes Office 365 ProPlus, Miller cautioned.
The benefit for both businesses and consumers is that these broader capabilities "ensure users can get more done with Office regardless of the device they have at hand," he said.
Still, not everyone will benefit.
"If you aren't an Office user or don't use OneDrive or Office365," Enderle said, "the differences may be less compelling."