Microsoft on Monday opened its flagship store in Manhattan.
With an area of more than 22,000 square feet, it's the company's largest store and its 113th brick-and-mortar retail establishment. It's also the first Microsoft store that's two stories high.
The company gutted a 1930s building that was previously a Fendi store and replaced the street-facing facade with giant glass panes. The building has a 40- by 20-foot exterior culture wall that will display noncommercial artistic images.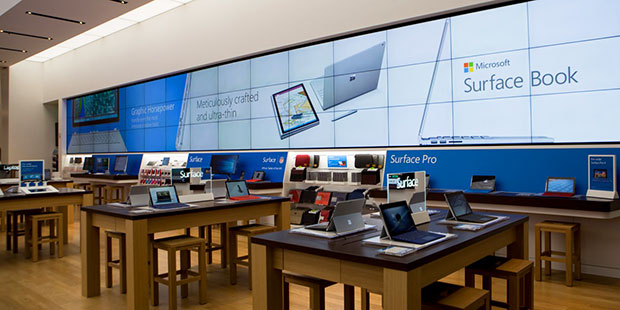 Better Late Than Never?
Microsoft has been opening stores in North America for the past six years, and you might think the flagship store would be first, to plant its flag, so to speak. Why did it take the company so long to open a flagship store?
"They've been tweaking the concept and their products," said RSR Research Managing Partner Paula Rosenblum.
Apple, whose store is just down the block, "didn't open their flagship store first either," pointed out Rob Enderle, principal analyst at theEnderle Group.
"Often, it takes a combination of the right location and right vision," he said. Microsoft's original vision "didn't appear to include a flagship store."
Apple's Influence
Like all Microsoft stores, the flagship has design elements strongly influenced by Apple's stores — which makes sense, as Apple has developed the art of retail store layouts to a high degree.
Laptops and phones on display are not tethered to tables, so visitors can pick them up and try them, and there are stools beside the tables for visitors. Wooden tables and floors enhance the ambience.
The new Surface Pro 4 tablets are available, and there's a station where visitors can play Xbox games.
In addition to showcasing various Microsoft products, the store has an Answer Desk that offers expert support for PCs and phones from any vendor.
It also has two theaters, which will be available for free community and educational programs.
Evolution of the Microsoft Store
Microsoft "developed a retail lab about a decade ago, and that's where they developed their store effort," Enderle told the E-Commerce Times.
The stores were "well laid out with regard to product shelving, using a variant of what Sharper Image stores used to employ and Brookstone still uses, [but] they didn't seem to grasp the need or use of products to draw people into the stores," he said. "Thus, regardless of traffic near the store, the in-store traffic significantly lagged Apple stores."
Now, with products like HoloLens, Surface Book and the new Microsoft Band, Microsoft "has the potential to draw people into its stores," Enderle suggested.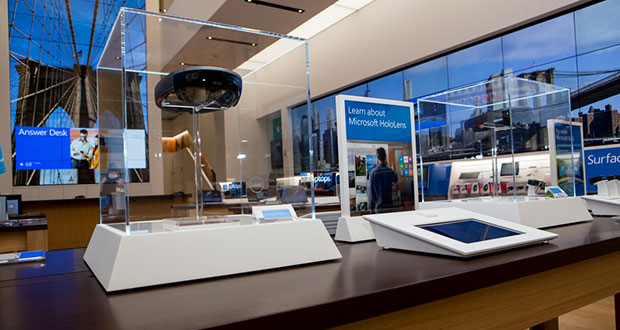 However, "people are already a bit jaded; a showcase store in an extremely high-traffic area that pulls in could get people interested enough to step in and look around, and that's half the battle," he said.
It's All in the Timing
PC sales this year are dismal, with shipments down nearly 11 percent in the third quarter year over year, according to IDC. Intel reportedly is overhauling its flagship processors, and PC makers have launched a $70 million ad campaign to boost demand.
Is Microsoft making a misstep by opening its flagship? Should it stick to its cloud business, which has generated the bulk of its profits and is booming?
Microsoft "is late to hardware, but they're getting there," RSR Research's Rosenblum told the E-Commerce Times. "Think of [the store opening] as the next-phase coming-out party. I believe [Microsoft] is on the verge of a resurgence."
This is a good time for Microsoft to be opening its flagship because "they've got some better products now," she said. "I also think the bloom is just slightly off the Apple rose."
Microsoft has "historically lacked products that folks want to walk into the stores and see," Enderle said, adding that the new product lineup might change the situation.
"We are entering the holiday shopping season, and if you can't pull folks into a store now, you're pretty much screwed," he added. Opening the store now "increases the possibility [Microsoft] could get a lot of sales, which they can talk about to draw more interest in its stores."