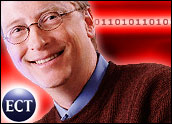 Microsoft probably does not mind that its monthly round of security patches for June are causing much less of a ruckus than previous months when the company was caught in the middle of a worm war that targeted its Windows systems and forced the company to play catch-up with vulnerabilities that were giving virus writers an edge.
This month's set of patches address relatively minor, "moderate" rated vulnerabilities in Crystal Reports Web Viewer and the DirectX application programming interface (API), which is particularly significant to gamers using DirectX 7.0a to 9.0b.
Security experts said that while Microsoft is benefiting from the usual lull in computer viruses and worms that comes with the end of school and the onset of summer breaks, Microsoft has improved its patching process and has shown an ability to respond to security issues more quickly.
"Overall, I think they have made some important strides," iDefense director Michael Sutton told ECT News Network. "I don't think they're there yet."
And even as Microsoft caused less fear than previous patch releases for more dangerous vulnerabilities, the company's software security was again being called into question on old, already-patched issues, according to security mailing lists.