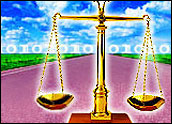 The U.S. District Court judge presiding over the Microsoft antitrust settlement posed several questions Wednesday about the extent of proposed penalties to be levied against the software giant.
Judge Colleen Kollar-Kotelly told the opposing sides that she will decide on appropriate penalties for Microsoft by relating them to the company's antitrust violations.
Judge Kollar-Kotelly filed an order Tuesday stating that she will hear arguments from Microsoft's attorneys as well as from attorneys for the nine states that refused to accept the original settlement agreed upon by the U.S. Department of Justice, nine other states and Microsoft.
The order further stated that on Friday, Kollar-Kotelly will hear arguments on the enforcement provisions contained in the two proposed remedies. She will hear closing arguments from both sides on June 19th.
Commingling Issues
Judge Kollar-Kotelly indicated that while legal precedent affords her far-reaching powers to determine Microsoft's punishment, she will not assign penalties that she believes go beyond the scope of the original complaint.
During the day's proceedings, the judge badgered attorneys on both sides to back up their arguments on the issue of integrating other Microsoft programs into the Windows operating system.
The states' attorneys have backed up an appeals court's ruling that Microsoft effectively undermined Netscape's viability by amalgamating Internet Explorer with Windows. They have advocated a modular version of Windows that would allow certain programs, such as IE and Windows Media Player, to be stripped out and replaced by competing applications.
Microsoft's attorneys have argued vehemently against the modular Windows proposal. They have pushed for keeping to the company's earlier settlement with the other nine states and the U.S. Department of Justice (DOJ). That settlement would allow PC manufacturers to conceal desktop icons at their discretion without harming the overall integrity of Windows.
Reasonable Justice
Peter Kastner, chief research officer of Aberdeen Group, told the E-Commerce Times that because Microsoft has made modular Windows a make-or-break issue, it is reasonable for Judge Kollar-Kotelly to insist on knowing everything behind the states' argument before rendering a final decision.
The judge would want all the ammunition the states have to offer in order to determine the impact such a remedy would have on the market and on consumers, whom the states are in effect representing, Kastner said.
"Who benefits and why is a reasonable question for the judge to answer," he noted.
Company Pressure
Kastner added that the pressure to impose the modular version of Windows is coming mostly from Microsoft's competitors, not from the consumers that the states' attorneys supposedly are representing.
"It's not like there are thousands of consumers picketing, 'We want justice!'" he said.
Kastner pointed out that the elected position of state attorney general is often a stepping-stone to higher political office, and that the Microsoft case offers high visibility to the attorneys general involved.
"Draw your own conclusions," Kastner said.