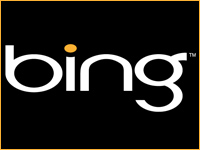 Fresh off its attempt to sideswipe Apple with its "Laptop Hunters" ad campaign, Microsoft is apparently now gunning for Google with its upcoming search engine, Bing.
Announcing Bing on Thursday, Microsoft promised a worldwide launch by June 3 and pointed readers to a Web site where the service would be located.
However, this was not the first the public has heard about Microsoft's renewed search efforts. In fact, it appears as though Microsoft has been stringing Bing watchers along for months.
Late last year, rumors — which may or may not have been fostered by Microsoft itself — surfaced that the company was buying up Web domains containing the term "Kumo," prompting much speculation. Earlier this month, rumor had it that a Microsoft announcement concerning its Kumo project was coming soon.
Now, there's been an official announcement — the search tool will be called "Bing," not "Kumo" — but there's still no open availability.
At this time, anyone without special permission will see only a "coming soon" message at Bing.com, as well as a few tabs encouraging visitors to follow Bing on Twitter and Facebook.
About Bing
Bing is the successor to Live Search and was indeed being developed under the codename "Kumo," said Rob Enderle, principal analyst at the Enderle Group.
It incorporates both semantic Web technology and a decision engine, which Enderle believes is a first. "Decision engines are common on shopping Web sites, but I believe this is the first time one's been built into a search engine," he told the E-Commerce Times.
Bing was designed to help people make decisions because Microsoft's research showed that 66 percent of people were using Internet search more frequently to make complex decisions, he said.
RIP Google – or Not?
Microsoft is reportedly pumping anywhere between US$80 million and $100 million into a marketing campaign to promote Bing.
It will most likely use tactics against Google that are similar to those it has employed in recent ad campaigns against Apple, Enderle said. "As they found with Apple, part of the strategy is making people unhappy with what they already have," he said. "Two years ago, I wouldn't say they could have done it, but looking at what they did with their ad campaign against Apple, they have a chance right now."
However, that approach could backfire, said Jonathan Eunice, principal IT analyst at Illuminata.
"Focusing on killing the other guy rather than bettering yourself is often a failed investment or product planning approach," he told the E-Commerce Times.
Also, Google won't be a stationary target.
"However much Bing advances, I expect Google to be putting out some pretty strong advances on its own," Eunice said. "Has Google been sandbagging? I'd bet on it."
Not Just Marketing
As of Friday afternoon, Bing's search capabilities were not accessible to the public; instead, the page promised the service was "coming soon" and offered more information via a "Find Out More" tab.
Clicking on "Find Out More" led to another page with Facebook and Twitter tabs at the top and a button in the middle of the page titled "Why Bing?"
The site's Facebook page displayed a video on Bing and information on a campaign launched Thursday to have 7,500 fans signed up by midnight Thursday. It appeared to have signed up a little more than 5,500 by that deadline. By Friday morning, though, Bing had attracted 9,005 fans to the Facebook page.
Getting Out On Time
Microsoft will make its June 3 worldwide launch target date, expects Greg Sterling of Sterling Market Intelligence.
"They've been using the underlying engine for some time, and I've been playing with Kumo for the past two weeks," he told the E-Commerce Times. "It's something they can pull the switch on today."
Indeed, Microsoft launched Bing internally on Thursday to 90,000 employees, according to spokesperson Brittany Robbins. "Bing will begin to be available worldwide in the next few days," she confirmed.