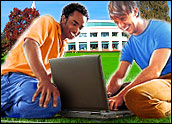 Microsites — highly focused mini Web sites within larger ones that encourage consumers to create content — will be growing in popularity among larger online advertisers in the coming year, according to a report released last week byJupiterKagan.
"The use of promotional microsites will grow most strongly among the largest advertisers in the coming year," notes the report."While only 30 percent of companies whose annual revenues exceed US$500 million used promotional microsites in the past year, 45 percent of such companies plan to use them in the coming year."
Brander's Delight
Brand-conscious advertisers accustomed to flogging their products on TV are cozying up to the microsite concept, explained Emily Riley, lead analyst for the report.
"TV advertisers are using microsites to create an engaging online environment," she told the E-Commerce Times.
Those advertisers tend to be companies with deep pockets.
"Large advertisers typically have enough money to spend to create these sites," Riley opined.
Attracting Content
An important component to campaigns that include microsites will be the movement toward consumer-generated content, the report maintains, a trend sparked by social media sites like YouTube and MySpace.
"Advertisers and agencies have stated their intention to integrate consumer-created content directly into microsites in the next year," the report notes. "Thirty-four percent of advertisers planning to use microsites intend to use consumer-created content in their overall marketing efforts."
Surfers who create content represent only a small fraction of traffic to microsites, but they're a highly prized fraction, according to JupiterKagan.
"While only 7 percent of users have posted an opinion or other writing as a result of seeing an ad in the past year and only 5 percent of users have posted photos or video, this group of ad-driven creators is very valuable to advertisers for their heavy online purchase behavior and viral activity," the report claims.
Interest-Based Targeting
Riley explained that advertisers have adopted various strategies to attract content creators to their microsites.
It can be done in the advertising messages they use to drive traffic to their sites, she said. For example, the ad can request that a visitor leave an anecdote about a topic.
Sweepstakes are another method used by advertisers, she added. For instance, site visitors are asked to upload a video of a kitchen they'd like remodeled and to vote on a winner.
To attract the right audience to their microsites, the reported notes, advertisers should use interest-based targeting and social marketing tools.
"A recent successfully targeted microsite was created by Organic for "X-Men: The Last Stand" on MySpace.com," says the report. "MySpace is often used as a forum for discussions about movies, and was therefore an appropriate interest-based placement, driving millions of targeted visitors."
Social Marketing
An array of social marketing tools can be used to pump up interest in a microsite, Riley noted. They include blogs, content-sharing sites, podcasts, video and RSS feeds.
A tool that marketers are just beginning to tap into is instant messaging, which can be a big boon to viral sellers, according to Andy Chen, CEO of PowerReviews in Millbrae, Calif.
"People trust their friends," he told the E-Commerce Times. "So they'll give great credibility to information coming from people who are one or two steps away from [them] based on [their] IM network.
"If marketers can figure out how to harness IM, it will be a killer app for them," he declared.
Message Burnout
"While those advertisers who plan to create microsites will drive traffic through traditional tactics such as paid search and display advertising, they are also planning heavy use of new tactics," the JupiterKagan report says.
"In fact," it continues, "advertisers who plan to use microsites are planning to use weblog and viral advertising nearly three times as much as those advertisers who are not planning to use microsites."
For those advertisers jumping on the viral advertising bandwagon, Joseph Carrabis, chief research officer for Next Stage Evolution, a marketing research firm in Nashua, N.H., has a word of caution.
"If you're doing some kind of viral marketing campaign, one of the greatest concerns you're going to have is getting your message to spread fast — but not so fast that it burns itself out," he told the E-Commerce Times.
"A problem that has occurred in the past," he observed, "is that companies have started campaigns that go like gangbusters and when the object of the campaign comes out — "Snakes On A Plane," for example — people say, 'Yeah, so? This is old news.'"