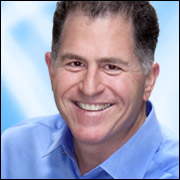 Dell shareholders on Thursday approved founder Michael Dell's US$25 billion bid to buy back the firm and take it private, ending a seven-month battle with a group of investors led by corporate raider Carl Icahn.
This is reportedly the largest leveraged buyout since the Blackstone Group took hotel chain Hilton Worldwide private in 2007.
Michael Dell reportedly plans to boost investments in mobile devices and data-center servers together with buyout partner Silver Lake. On Wednesday, Dell revived its dormant "Venue" brand with a new Windows 8.1 tablet.
Dell did not respond to our request for further details.
'Best Done by Going Private'
"Dell is at a crossroads, as are all PC manufacturers, and it needs to look at different strategies, including software and services and vertical strategies," Mukul Krishna, senior global director at Frost & Sullivan Digital Media, told the E-Commerce Times.
"This is best done by going private, as it requires a singular focus on a massive reorganization and restricting, away from the constant scrutiny of the stock market," Krishna continued.
Dell's Q2 report in August listed a 71 percent drop in GAAP earnings per share. On a non-GAAP basis, that figure was down by 50 percent.
That was because Michael Dell "tried to start executing before they went private," said Rob Enderle, principal analyst at the Enderle Group. "Their server revenue was up and they were gaining market share."
Dell "wanted to go private because he didn't want to get beaten up by financial analysts for executing his plans," Enderle averred.
Details of the Deal
Dell stockholders will get $13.75 in cash for each share of Dell common stock they hold. Further, stockholders of record as of an unspecified date prior to the effective time of the sale will get a special cash dividend of 13 cents a share.
Holders of record will also get the regular quarterly dividend of 8 cents a share for fiscal Q3.
The transaction was approved by the holders of a majority of Dell's outstanding shares, according to the preliminary vote tally, excluding shares held by Michael Dell, certain related family trusts, Dell's Board of Directors and certain members of its management.
Dell's Twisted Saga
At one point, three sets of possible buyers were eying Dell.
One set consisted of Michael Dell and Silver Lake; a second was led by Boulder Acquisition Corp. and its Blackstone Group affiliate — the one involved in the Hilton deal, with Morgan Stanley as its lead debt financing source; and the third was Icahn and Southeastern Asset Management.
Dell had accepted Michael Dell's offer in February but was bound by law to seek alternative offers.
Battles over the price to be paid for Dell ensued, almost sinking the sale, and resulting in the price being raised twice. Institutional investors had argued that the bid was too low.
A combination of behind-the-scenes negotiations to raise the bid and amended voting rules, combined with Icahn's abandoning the battle earlier this week, led to Michael Dell's success.
What Lies Ahead
To succeed, Dell needs to adapt to the changing business situation.
The company "builds really great stuff, but one could make the case they relied on others to provide technology in a world where increasingly vendors need to supply technology top to bottom," Dan Kusnetzky, founder of The Kusnetzky Group, told the E-Commerce Times.
Michael Dell said he plans to continue building the company into the industry's leading provider of scalable, end-to-end solutions.
There is a rumor that Dell is working with Oracle and will replace HP as Oracle's partner, Enderle told the E-Commerce Times.
"We'll see if that plays out," Enderle concluded, "especially given that Oracle's hardware strategy isn't doing all that well."