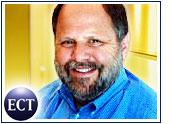 Larry Kramer founded MarketWatch.com as part of a joint venture between Data Broadcasting Corporation (DBC) and CBS back in 1997. After years of turmoil, the company, which publishes business news and financial information and tools, recently achieved profitability in the fourth quarter of 2003 and for the year as a whole.
Also, in January 2004, MarketWatch acquired news aggregator and distributor Pinnacor. The E-Commerce Times recently interviewed Kramer, who was in Chicago working on merging the two company's sales forces. Here is what he had to say.
How did your career path lead you to MarketWatch? What convinced you to make the leap to the Internet?
Larry Kramer: I was in the newspaper business until the late '80s, early '90s. I was editor of the San Francisco Examiner for five years. I got pretty burnt out with the business because the last couple of years were pretty rough financially.
If I wanted to stay in journalism, I had to go back East. There were really no other jobs [in San Francisco], and I had an offer in New York and one in Atlanta. But I also had a friend who worked at Data Broadcasting Corporation (DBC), which sold real-time market data to, essentially, day traders. They had a product called Signal and a product called QuoTrek. QuoTrek was a handheld, real-time stock-market device. Very intense traders who needed real-time market data would buy it.
Around 1991, my friend wanted to start a company that transmitted sports information over the same network, because the network was transmitting data nine-to-five Monday through Friday, and they weren't transmitting anything nights and weekends. Since the network was in place, it would be pretty cheap to transmit sports data [to] handheld devices. [For financial reasons], DBC … couldn't start a new product, but they told my friend that if he wanted to leave the company and start this business, they would support it. They would be a shareholder, but we had to go out and raise some other money and treat it like a separate company. So my friend convinced me to join him on this venture.
We called the company DataSport, which was partly owned by DBC. We got The Sporting News to be our partner, and we put out a product called The Sporting News SporTrax. We worked on this for two years, and it was a small but marginally profitable company. DBC then exercised an option to buy the company because, for them, it would be very profitable.
DBC asked me to stay on and run it and for my partner to come back to DBC on the financial side. My partner then said to me that he needed help on the financial side too. They saw the Internet was coming and saw their monopoly in real-time data was dissipating. My solution was that they should build a news operation, very similar to what Bloomberg did, only for the average day trader.
How did the concept of MarketWatch evolve from that point?
Kramer: Slowly, I started to build a news organization for DBC, and the Internet did come along in a pretty big way, and I started adding a few more reporters. I started adding editors, and I started to be able to put this content up on a Web site, where people who had [QuoTrek] could access [it].
Friends of mine in the news business were starting to put up Web sites, and I made deals with some of them to put up our financial content on their sites, with stock quotes, portfolio, real-time news that was updated throughout the day. And we started doing this on a few small papers — like USA Today.
Then I thought the real way this could work is as an advertising-supported business that was free, and I looked for a media partner. I got CBS to agree to create a joint venture, half-owned by DBC and half by CBS, which had no real financial coverage. That was in October of 1997. It was an opportunity for CBS to get 20 or 30 business journalists under their umbrella. And 18 months later, January of 1999, we did an IPO, the first that year.
The Internet to me was very similar to the way people in the financial world got their information. They either had a Bloomberg terminal or a Reuters terminal or a QuoTrek. The information came on the terminal. My view was that, if professionals got financial information [that way], it would definitely be how the new investors would want to get that information too. The Internet leveled the playing field for the average investor.
How has MarketWatch's business changed since 1999?
Kramer: The challenge was that the ad dollars that supported the sites crashed around 2000. Around that time we acquired a business called BigCharts, which licensed charts and tools on other Web sites. I needed a new technology, and we didn't quite realize how good they were. As advertising started to erode, a lot of companies were putting their money into beefing up their Web sites. We were able to do that for them with BigCharts. BigCharts grew into quite a big business and replaced advertising as our biggest source of revenue when advertising first crashed. We were able to stay intact because of multiple revenue streams.
Now, three years later, advertising has been rolling back — [though] in the last year, our advertising business has been a little soft. Plus, the financial services industry was in a funk. On their Web sites, they were regrouping. We used that opportunity to acquire a company called Pinnacor, formerly known as Screaming Media, that used to be one of our competitors in terms of licensing content to Web sites. We just closed that deal and have almost doubled the size of our company.
We've created lots of content, and the reason we've succeeded is from multiple ways of making money on that content. We do financial reports on radio stations across the country, mostly CBS/Infinity stations. And we also have a syndicated TV show on various CBS affiliates. We do anywhere from 50 to 60 reports a day for CBS stations across the country.
What were some of the biggest hurdles MarketWatch faced on the path to profitability, and how did you work to overcome them?
Kramer: It was being smart enough to know we needed lots of different ways to get revenue that really helped us through the sort of early days of the Internet. We built a company where the journalists at least believe they are part of a news organization that gives them all these different mediums.
When you get a company that starts that way, it's a lot easier than getting a company that has been doing it one way for a hundred years.
Now that MarketWatch has turned a profit, what is next on your list of goals? What is your outlook for 2004?
Kramer: Advertising continues to be strong. We are in the process of putting together both companies. We're very optimistic that with Pinnacor, we can build some pretty neat product and create some new tools and some new ways of looking at information for actual Web sites.
How does Pinnacor fit in with your overall business strategy?
Kramer: All of Pinnacor's customers will be able to get MarketWatch news for the first time, instead of whatever news they have been getting. Pinnacor delivers lots of news, but none of it their own. They are basically an aggregator. We're going to add some content. We are going to replace some content with our own. We're going to add some new products. Pinnacor is a more technology-oriented company, and we are going to use them to upgrade all of the tools that we have.
What do you think of the market's run during the course of the last year? Do you think we've entered a long-term market recovery?
Kramer: It's recovery. Some sectors may be ahead of themselves. I see advertising in certain sectors going way up. Companies are thinking things are getting good. On the other hand, stock prices have been going up rapidly, and I'm not sure they are worth that much more that quickly. But I do think they are going to continue to improve.
There is still a jobs issue. Jobs haven't come back quite as fast. U.S. companies have been good at trying to control costs, so the productivity has been pretty good. But they have not used that opportunity to really start hiring back. I think they will. They just have to figure out where. They have to get over the gun-shyness. They don't want to start hiring people and then get caught again. And then in certain sectors they are outsourcing pretty heavily to India and other places.
But generally society has a way of adapting to those needs, and ultimately people go to college for the things that produce jobs. It just takes a while.
What do you view as your greatest success as MarketWatch's CEO?
Kramer: The broad answer is: We are everybody's best partner. We've worked hard to make all of our relationships — with our customers and our partners — work. We've worked hard to be CBS' best partner, and we were, and we are. That's why we are a success and why 95 percent of the companies with the three initials of a TV network that went into the Internet failed. They never stopped to understand what the parent company was about and that they were translating that to the Web.
We knew we had to honor the tradition of CBS News and be every bit as responsible and respected and behave in a way that earned that respect. This meant committing great journalism to the Web and understanding that on the Internet we were trying to create a new medium. And we had to learn how to serve someone on the Web, because serving someone on the Web is a lot different from serving someone on TV or a newspaper. We started a company that was fully focused on understanding the Web. Ironically, we were able to build TV and radio businesses out of that.