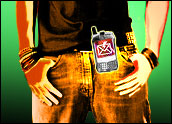 For years now, most of us have taken for granted the fact that we can access our contacts and calendars from our mobile devices. This convenience has become so engrained in our daily lives that many of us feel like we've lost a limb if our smartphone is not at our fingertips at any given moment.
Not only that, but younger generations in particular expect to be able to do everything — banking, registering for classes, reserving a table for dinner, recording shows on their DVRs, locating the venue where their favorite band is playing at any given night — via mobile devices. Given the near ubiquity of these types of technologies, more and more people are trying to find ways to get work done through them.
It is because of this progression toward a "work anywhere at any time" mentality that mobile technology has emerged as one of the new frontiers in talent and workforce management. Organizations are starting to advertise jobs and manage candidate relationships by smartphone, schedule shifts via text message, deliver multimedia learning on mobile devices, and update performance reviews from online portals accessed through handheld devices.
New Approaches
With all of these new options, companies will need to understand how to manage them in the most effective way to increase efficiency and address the needs of an increasingly dispersed and diverse workforce population. Aberdeen Group has shown through its research that these predictions are much more than mere speculation. In its June 2009 study on Web 2.0 in Talent Management, it found that the use of social networking and mobile technologies enjoyed 105 percent year-over-year growth for recruiting and 35 percent growth in learning and development.
It is with this in mind that that its upcoming research on Mobility Tools in Human Capital Management is set to become a guide into how the top performing companies are using mobile devices and mobile access to data throughout the workforce and talent management lifecycle to make faster and better talent decisions, improve candidate and employee experience, and reduce costs through increased efficiency.
Key Benefits
One of the biggest areas of potential for mobile devices is their adaptability to serve just about any need. Because of this, they are bound to have an impact in every aspect of the talent management lifecycle, from recruiting, to onboarding, learning and development, performance management, and succession planning. In addition to widely available mobile mediums like email and texting, vendors are flocking to the space to design unique mobile applications that are loaded with features.
Organizations are still trying to figure out which of these are really having an impact on the business process and which ones are just shiny objects that aren't necessarily adding value.
In order to help companies crack this nut, Aberdeen's June 2010 mobility study will show how the top performing organizations are finding the right technologies and deploying them to:
Make better talent decisions by enabling real-time collaboration among key stakeholders
Engage individuals in new ways with their employer, and allow them to customize their employee experience
Save time and money by providing access to job application, scheduling, benefits and learning information via employee-owned mobile devices
The survey is live right now for all HR and IT professionals, as well as line of business and senior leadership to convey their best-practices around mobility in HCM. Those who take the survey will receive a free PDF of the report when it is published at the end of June. All other readers will still be able to access the research for free by visiting Aberdeen's website.
Mobile technology is here to stay. By taking the reigns early and learning the best ways to master this new domain, the HR professional will be able to bring about new levels of engagement and productivity from an increasingly demanding and tech-savvy labor pool.
---
Mollie Lombardi
is a human capital management research analyst at Aberdeen.