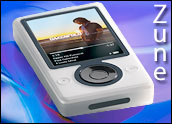 For decades, Apple Computer has counted on the loyalty of its customers to fuel the company's success, but in one of its most important markets there may be signs that that loyalty is flagging.
According to a survey released Wednesday by ABI Research, 58 percent of iPod owners who plan to buy a new digital music player in the next 12 months said they were "somewhat likely" or "extremely likely" to buy a Zune, Microsoft's player that is expected to be released later this month.
Keeping Their Options Open
Only 15 percent of iPod owners, surveyors found, were "not very likely" or "not at all likely" to choose a Zune.
Many iPod owners don't have the depth of loyalty to Apple products that the users of the company's computer products have, ABI Principal Analyst Steve Wilson claimed. That may be because the differences between the iPod and its competitors aren't as distinct as they are between the Macintosh and its rivals.
"There isn't a lot of application differentiation in the MP3 player space," he told the E-Commerce Times. "A music player is for listening to music. In this market, we're not seeing people as loyal to the iPod brand as to the Apple computer brand because it's a different kind of device."
Welcome the CE World
The iPod crowd may not be as constant as the Mac faithful, agreed Rob Enderle, president and principal analyst of the Enderle Group.
"The loyalty isn't there," Enderle said. "This is a CE audience and consumer electronics audiences tend to switch vendors about as often as people change their underwear."
There's also another characteristic of iPod owners that's different from Mac pack.
"A large part of the iPod customer base are Windows users so they don't have the Apple brand loyalty that we have traditionally seen in the Macintosh market," Ross Rubin, director of industry analysis for the NPD Group, told the E-Commerce Times.
iTunes Not a Barrier
Incompatibility between music purchased at Apple's iTunes music store and the Zune — once seen as major barrier to switchers — won't be an issue to many iPod deserters, he contended.
"People have purchased relatively few songs for their iPods via the iTunes store," he observed. "While there is some lock-in for those who have purchased such music from Apple, for those who have used their own music and formats, a lot of that music would be transferable to a new player."
Moreover, Enderle maintained, the Zune has something the youth segment of the music player audience wants and can't get with the iPod.
"The folks that are buying these products are really into peer-to-peer, into sharing things person-to-person," he said. "Right now, the Zune is the leading product for peer-to-peer."
Indian Giver Sharing
The Zune allows its owners to share their music with other Zune owners over a local wireless connection. Music shared that way, though, can only be listened to for three days or three plays.
About 11 percent of the market is interested in peer-to-peer sharing, acknowledged Michael Gartenberg, vice president and research director for Jupiter Research, but he doubts Microsoft's concept of sharing will be a hit with peer-to-peer seekers.
"The younger demographic defines sharing as I-give-you-the-song, not you can listen to the song for a limited period," he told the E-Commerce Times.
Lacks Compelling Qualities
If Microsoft wants to give iPod users a compelling reason to switch to Zune, the unit's wireless sharing feature won't be it, argued Rubin.
"Limited sharing at the expense of more thickness and less battery life is not a tradeoff that is compelling for iPod users," he said.
Wilson, of ABI, agreed that Zune lacked compelling qualities. "It'll make a big splash, but it's going to need something else behind it to make it take hold," he said. "It'll ride far on the initial marketing drive, but there's nothing unique about it that's all that compelling."
That may be why some market analysts believe Apple's position in the digital music player market will remain strong. "We don't foresee any significant loss of market share for Apple over the next 18 months," Gartenberg predicted.