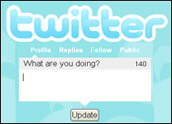 Is Google close to making a bid for Twitter? Yes, according to a report from TechCrunch, though neither company has made an official announcement.
Google declined to discuss the issue. "We don't comment on rumor or speculation," Google spokesperson Rachel Nearnberg told the E-Commerce Times.
Twitter cofounder Biz Stone ducked the issue, telling the E-Commerce Times that he'd already addressed it on the company blog. "Our goal is to build a profitable, independent company and we're just getting started," he says in a post.
Though it's managed to kick up a lot of publicity and attract many users, Twitter has yet to make money. Still, it's growing rapidly, and there has long been speculation that its backers are pressing it to turn a buck or two.
Hungry Eyes
Two people close to the situation said Google is in late-stage negotiations to acquire Twitter and that the price will be more than the US$250 million valuation Twitter saw in its latest round of funding in February, according to the TechCrunch report.
That's not going to happen, Greg Sterling, founding principal of Sterling Market Intelligence, told the E-Commerce Times. "On 'The Colbert Report,' Biz Stone talked about expanding Twitter and growing it to a global network," Sterling said. "He also said he wants Twitter to be a strong, independent company." capabilities, Sterling said. "Twitter isn't a Google killer, but there are some circumstances where people would rather go to Twitter than Google, and there's an interest potentially in pre-empting that and capturing the search volume that Twitter might see," Sterling said.
For example, YouTube has more searches than Yahoo does, Sterling said. "That kind of thing is what Google would look to pre-empt."
On Thursday, Twitter announced new features and adjustments it's making to its search capabilities.
Another Purchase Fiasco?
YouTube's purchase cost Google heavily, and buying Twitter could be another mistake, warned Julien Blin, principal analyst and CEO of JBBResearch. "Google acquired YouTube for $1.65 billion in 2006 but barely makes any money with YouTube today," he told the E-Commerce Times. "History could repeat itself, and Google could end up overpaying for Twitter."
Google's stock has lost almost half its value in the past 12 months, Blin pointed out, so it should spend its money wisely.
"It might be wiser for Google to either forge a strategic partnership with Twitter or wait a bit longer until the market returns and Twitter starts generating some cash before acquiring Twitter," he said. "Patience is a virtue, especially in this environment."
Google's share price fell from $692.87 at the beginning of January 2008 to $286.68 in December 2008. At the time of this writing, it was $368.75.
Pots O'Money
Twitter's latest round of funding was held February 13, Twitter's Stone said in a February blog post. The money was raised from Benchmark Capital and Institutional Venture Partners.
Regarding February's round, Stone said the company was not actively looking for more money, as it had cash left over from its previous round in June 2008, but the venture capitalists had made a very attractive offer.
In June of 2008, Twitter had raised funds from Bijan Sabet of Spark Capital and Amazon founder Jeff Bezos through his Bezos Expeditions private venture fund, as well as Union Square Ventures and Tokyo-based Digital Garage, according to Twitter.
Money Talks – or Not
If Google were indeed to make a bid for Twitter, it wouldn't mark the first attempt by an outside company to buy the microblogging service. In November, Facebook offered $500 million for the company, of which $100 million was reported to have been in cash and the rest in stock.
Twitter reportedly turned down the offer because the Facebook stock was overvalued and because it was working on its own revenue-generating model.
That revenue-generating model remains to be defined. Twitter is currently experimenting with text advertising, and there have been rumors that it will begin imposing charges on corporate users. Many companies are using Twitter in-house as an alternative or supplement to instant messaging, and this could be profitable if monetized.
"Twitter could do quite well if the volume of corporate users and the usage are sufficient," Sterling said.