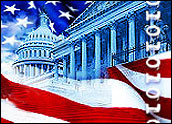 "If you can keep your wits, when all about you are losing theirs, maybe you just don't understand the situation." That often-cited spoof of a Rudyard Kipling poem comes to mind as the doomsday scenarios of the federal budget Fiscal Cliff begin to mount. Maybe cool heads won't prevail. Maybe panic is the right way to go.
Should information technology vendors to the federal government start wringing their hands or show other signs of panic? Not really, according to recent assessments of the federal IT market. For vendors, the task of marketing IT to federal agencies will be a bit trickier, the deployment of IT will be changing at a faster clip, and agencies will be under tighter scrutiny to justify their IT investments. Underlying all of these factors, of course, is the money.
Federal information technology spending runs close to US$80 billion per year, according to the Office of Management and Budget. While recent national media reports increasingly are full of images of dire consequences stemming from going over the Fiscal Cliff, the IT spending level may only dip a bit for the next several years, but it should not fall drastically.
Spending: Tight But Steady for IT
"We really haven't changed our outlook over the past several weeks," Robert Hass, a budget expert at the TechAmerica Foundation, told the E-Commerce Times. The foundation issued a budget analysis in October based on the assumption that Congress and the administration would forge an agreement including some tax and spending changes. The foundation assumed that federal IT spending would be in the range of $77.5-billion per year through fiscal 2015 on a current value basis, and a shade less in constant value.
That said, agencies operating in a climate of tight budgeting will be much more diligent and disciplined in their IT spending activities.
"The IT budgets will be particularly challenging, forcing agencies to think hard about what options they have and how, and where, they can save money," Kevin Plexico, vice president for federal information solutions at Deltek, said. Deltek's estimate of IT spending at about $120 billion per year goes beyond the figures produced by OMB, to include spending by intelligence services, the U.S. Postal Service and other agencies, not included by OMB. A 5 percent cut resulting from the fiscal compromise would put annual IT spending at around $114 billion.
Agency Missions Critical for IT
Over the last two years, federal spending on cloud technology, mobile IT, and data consolidation have received significant attention as a result of an effort to streamline and improve IT performance. However, these large clumps of IT functionality are perhaps less important for vendors to focus on than the actual purposes for investing in IT.
"Much more of the focus for investment, especially in light of restricted budgets, will be on the use of IT for basic agency mission objectives," Haas said. "Vendors will need to pay more attention on how their IT offerings can advance an agency's mission and show a return on investment."
For example, there are huge IT requirements associated with implementing the Affordable Care Act, as well as IT support for recent Internal Revenue Service tax collection activities.
Vendors can also expect agencies to improve their capabilities for measuring the performance of IT offerings, partly as a result of OMB requirements. A recent General Accountability Office study reported that federal agencies were struggling to meet OMB standards for such IT operational assessments. GAO came to that conclusion after examining several large departments, including Defense, Veterans Affairs, Treasury and Homeland Security.
"There is renewed pressure on agencies to do a better job on performance assessment, and right now they are not doing so well. With OMB urging them to move to common platforms and to make informed decisions, they will get better at it," Shawn McCarthy, research director at IDC Government Insights, told the E-Commerce Times. "They will start to develop templates for these assessments and eventually I think they will be more successful at it," he said.
Mega-Contracts for IT Due Soon
Among other factors for vendors to consider are changing patterns in procurement. Agencies are still free to pursue contracts on their own, but increasingly they are tilting to utilizing government-wide acquisition contracts (GWACs), where a contract template is established by a single agency, such as the General Services Administration, and is then used throughout the government. GSA, for example, has established a GWAC for IT procurements dealing with Infrastructure as a Service related to cloud deployments.
Various types of multiple award task order contracts (MATOCs) are also gaining preference. With MATOCs, awards are made to a number of vendors and the winning vendors compete among themselves for business via the issuance of task orders or requests for quotes. For vendors, getting on a MATOC list as a prime contractor, or as a partner to a prime, could be crucial.
Other trends in contracting will have an impact on vendor opportunities. For example, smaller modular contracts for IT offerings, which take less time in procurement and implementation, will replace big contracts which may take years to mature, noted Brian Haney, vice-president for client services at Deltek. As a result, vendors will have to pursue more of these smaller contracts to maintain the same level of revenue. Contract consolidation among federal agencies, and IT deployments featuring shared services could reduce competition, Haney noted.
Several multiple award IT opportunities will surface early in 2013, Haney said, including a "One Acquisition Solution for Integrated Services" (OASIS) contract from GSA for various professional services, including a significant IT component. As a new contract vehicle, there are no incumbents for the 10-year program with a potential value of $12 billion.
Also, the National Aeronautics and Space Administration's Solution for Enterprise Procurement (SEWP-V) contract vehicle for computer hardware, storage and network equipment, comes up for renewal. The seven-year program has a potential value of $10.5 billion, and has several incumbents. The Department of Health and Human Services and the Department of Education each have multiple-year IT related contracts at the ready, with a combined value of $8 billion.
Another contracting wrinkle that is emerging is the use of the 'lowest price technically acceptable' standard (LPTA) for procurement, an emerging as a trend. While used rarely at present, LPTA was conceived to apply on procurements where requirements are well defined, and so lends itself to commodity purchases, such as personal computers and hardware.
"I would not expect to see LPTA used in a majority of purchases, but the fact that it is being used in some recent situations suggests a willingness for government to make some significant compromises in taking on risk and reducing quality for the sake of cost savings," Plexico told the E-Commerce Times.
The bottom line is that federal agencies will be thinking more about their bottom lines, and will be making the appropriate changes.
Vendors "need to view the government market differently because changes and innovation are happening more rapidly than you think," IDC's McCarthy, noted.
Vendors should analyze where IT funding and programs are strategically positioned — for example, whether they are oriented to capital investments or operating expenditures — and then target marketing opportunities accordingly, IDC said. "Agile and innovative solutions that focus first on government lines of business, such as human services or public safety, and which extend capabilities to deliver business value across the enterprise will win."