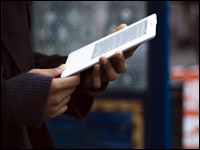 Amazon.com on Wednesday announced it is bringing out a new global version of its Kindle 2 e-reader.
The company is also cutting the price of the original Kindle 2 from US$299 to $259, possibly to gain market share.
A global version of the larger Kindle DX is in the works.
Tapping Into the Global Village
Except for its connectivity technology, the global version of Kindle is the same as the original six-inch version.
The global Kindle will use 3G wireless technology both in the United States and worldwide from AT&T, Amazon.com spokesperson Cinthia Portugal told the E-Commerce Times.
The original Kindle 2 and the first-generation Kindle will continue to use Sprint's Whispernet technology. The Kindle DX already uses wireless 3G technology, but that's from Sprint too.
The global Kindle will be available in 100 countries and can be pre-ordered now from Amazon.com. It will ship Oct. 19, and is offered at $279.99.
Amazon has already laid the groundwork for the global Kindle — the Kindle Store includes several publications from around the world among the 85 newspapers and magazines it offers. These include Italy's La Stampa, Spain's El Pais, Mexico's El Universal, Brazil's O Globo and England's Daily Telegraph.
"This is the first time we're making Kindle available to international customers," Portugal said. "We have millions of customers around the world who read English-language books."
Amazon.com has also issued press releases in Spanish, Japanese, French and German. That's possibly where it expects the demand for the Kindle will be strongest, as its price point might be a bit high for people in the developing world.
"I'd say $259 is a high price for developing markets," Carl Howe, director of anywhere research at the Yankee Group, told the E-Commerce Times. "I'd argue that we don't see e-reader adoption above single-digit percentages until there are products below $149."
Staking Out the Kindle Turf
By going international, Amazon is trying to beat down its growing competition in the e-reader market, Howe said. "Amazon wants to get consumers addicted to that friction-free connected experience and, coincidentally, a lot of friction-free e-book buying with Amazon before competitors launch differing value propositions," he explained.
Competition is strengthening. Rivals include Sony, iRex Technologies, Plastic Logic, Samsung, Endless Ideas, Hanvon and Elonex. Meanwhile, Barnes & Noble recently relaunched its own e-book store and has tied up with Google Books. Barnes & Noble is teaming up with Plastic Logic.
Then there is Apple, which is strongly rumored to be planning a tablet computer launch, which may be built with e-reader capabilities. This could pose a serious threat to Kindle because brand loyalty may see owners of other Apple products snapping up the tablet.
These factors could have led Amazon to cut the price of the original Kindle 2, which can only be used here in the United States, to $259 on Wednesday. "When you say 'e-reader' today, most consumers think Kindle, and Amazon wants to make the association permanent," Yankee Group's Howe said.
The Kindle's key differentiator is its built-in broadband connection, Howe said. "While Sony has announced one, and Plastic Logic is believed to have one coming out next year, today Kindle's the only e-reader that's got this feature."
Sony plans to bring out a new e-reader, the PRS-900BC, in December. This will have free 3G mobile broadband links to the Sony eBook Store throughout most of the United States.
DX to Go Global Too
The company plans to add a global version of the Kindle DX to its lineup "some time next year," according to Portugal.
"The launch of the Kindle with wireless access to a global catalog of books in over 100 countries around the world is an audacious first step, and we will continue to innovate on behalf of our customers and expand our offerings," she said.
The Kindle DX has a 9.7-inch screen and is currently priced at $489.