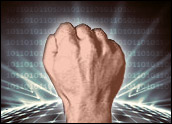 Notorious hacktivist groups Anonymous and LulzSec on Wednesday urged people to boycott PayPal for the online payment system's refusal to facilitate donations to WikiLeaks.
The hacktivists set up a Twitter thread, #OpPayPal, and claim that at least 20,000 people have canceled their PayPal accounts in response to their call.
PayPal denies that.
"We haven't seen any changes to our normal operations, including account opening and closing, overnight," PayPal spokesperson Anna Pignataro told the E-Commerce Times.
Anonymous had previously launched a major distributed denial of service against PayPal and other companies in retaliation for their freezing funds to Wikileaks.
Does the hacktivists' calling for a boycott instead of unleashing hack attacks on PayPal indicate they're moderating their approach? Or are they feeling the heat from law enforcement?
The Boycott Call
In their communique, the hacktivists expressed outrage at the FBI's willingness to arrest and threaten people involved in what they describe as ethical, modern cyberoperations.
They also point out that suspected hacktivists face the same severe punishment as criminals hacking for money, and contend that there's a difference between a politically motivated cyberattack and criminal hacks.
The hacktivists also say they're not afraid of law enforcement and accuse law enforcement agencies of being terrorists.
Divided We Fall
The call to boycott PayPal instead of hacking that company's servers could be seen as an improvement in tactics.
"I think what we're seeing is a mature response from the Anonymous hackers that may surprise people who may think of them as a one-size-fits-all engine of outrage," Charles King, principal analyst at Pund-IT, told the E-Commerce Times.
Perhaps that moderation is due to divisions within Anonymous's ranks.
For example, Anonymous initially responded defiantly to the FBI's July 19 arrest of 16 suspected Anonymous members and subsequent statements by deputy assistant FBI director Steve Chabinsky in an interview with NPR.
It released a statement on July 21 that, among other things, vowed to carry on the fight against governments and corporations and stated that hacktivists are not scared anymore.
That same day, an individual known as "Sabu," who's depicted as a senior member of Anonymous, tweeted a promise to release emails obtained when Anonymous hacked into the servers of the News Corp. newspaper The Sun.
However, another Anonymous tweet stated the hacktivists wouldn't release those Sun emails because that might compromise the court case against its alleged members.
On the other hand, on July 22, Anonymous was still accessing and downloading data from the servers of NATO, the North Atlantic Treaty Organization, which it had hacked into previously.
What is going on in the ranks of the hacktivist community?
"They're getting a lot of heat, not just from law enforcement, but other parts of the hacker community," security consultant Charles Dodd told the E-Commerce Times. "So, now they're focusing on getting a result."
Of Politics and Punishment
Anonymous and LulzSec are now "turning pseudo politician," Dodd stated.
"They're trying to create a political result so the threat of the attack will become as pertinent as the attack itself," Dodd explained. "They're truly becoming a political force."
However, the hacktivists' activisties do constitute cybercrime, Dodd stated. Nevertheless, perhaps they should not be punished as harshly as cybercriminal gangs who hack into systems to steal data for sale or to take over victims' bank accounts.
"I think that the methodology the government is using to prosecute the Anonymous members arrested July 19 is a [blanket] witch hunt methodology," Charles King, principal analyst at Pund-IT, told the E-Commerce Times.
"I think it's wise for Anonymous to recognize that they're being lumped in the same broad category of people who are launching far more malicious and deadly attacks, and to see if they can alter the ground rules but still make a change."