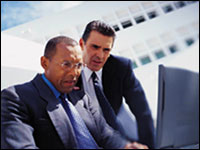 The observation that "80 percent of life is just showing up," generally attributed to comedian Woody Allen, has morphed into the admonition that "80 percent of success is just showing up."
However, it appears that vendors who just show up with a generalized approach to marketing cloud technology to federal government agencies likely won't attract much business. As the market evolves, vendors will need to be responsive not only to various agency mission requirements, but also to the unique procurement practices of the federal government.
The burgeoning market for cloud services at the federal government level will grow from annual expenditures of US$3.4 billion in fiscal 2014 to nearly $10 billion in 2018, according to IDC Government Insights.
Spurring that investment will be the challenge of dealing with "exponential data growth" in an era of tight or diminishing budgets, as agencies strive to transfer more workloads to lower-cost information technology infrastructures, according to Adelaide O'Brien, a research director at IDC.
"Massive investments in technologies, facilities, operational personnel, tools and best practices are the table stakes for vendors participating in this market," O'Brien wrote in a December 2014 IDC report assessing the vendor landscape of potential cloud providers to the federal market.
However, "making these investments is only the start," she added, noting the market requirements that characterize federal cloud procurement.
Agencies Seek Best Fit With Vendors
"Government decision makers should review their strategic plans and select vendors for their Infrastructure as a Service based on best fit," suggested O'Brien.
"Best fit includes finding a vendor that offers a full range of integrated physical and virtual infrastructure systems with pre-integrated, modular units of compute, storage and networking that allow IT to add blocks of physical resources in a repeatable, scalable fashion," she told the E-Commerce Times.
"If there isn't confidence in a prospective vendor's ability to securely meet projected capacity requirements in a timely fashion, with the capability — often through partners and alliances — to meet future needs through deployment of proven best practices, then it's time to look elsewhere," O'Brien said.
Government agencies will be seeking vendors that can use their domain knowledge, technology expertise, and intellectual property to reduce cost and increase efficiency from the start, she said.
In addition to describing various federal cloud requirements that vendors need to address, the IDC report provides profiles of the capabilities of selected vendors. Although the number of potential federal cloud providers likely extends well beyond those selected for the report, IDC eventually settled on profiling 12 companies.
Selection criteria included their having significant previous cloud experience with federal agencies and registering at least $1 billion in 2013 global revenue in such IT areas as consulting, systems integration, implementation and support, outsourcing and cloud.
Not surprisingly, major IT and cloud players such as Amazon Web Services, IBM, Accenture, Microsoft, AT&T and Verizon were analyzed. Rounding out the profiles were Dell, CGI, HP, CenturyLink, CSC and Unisys.
Vendors Respond
It appears that vendors are getting the message that garnering federal cloud business requires not only multifaceted marketing, but also multifaceted product offerings.
"The federal market is very diverse. We anticipate that 2015 will see additional cloud adoption throughout the federal government," said Lee Tamassia, director of federal cloud and data center business development at QTS.
Requirements vary significantly among civilian, defense and the intelligence community sectors as well as agency-by-agency within these sectors," he told the E-Commerce Times.
As part of its own strategy to serve the federal market, QTS last month reported it would team up with Carahsoft Technology to make its offerings available to federal agencies through Carahsoft's General Services Administration Schedule 70 contract for information technology. Under the GSA vehicle, QTS will provide an array of services, including custom data center services, co-location resources, and cloud capabilities.
"We regularly see solicitations for IaaS services, as well as Platform as a Service and Software as a Service. Agencies with custom workloads, custom software packages, high analytical needs or requiring ongoing day-to-day agency management of an application often look to IaaS providers while utilizing SaaS offerings for more common enterprise services such as email, VDI and storage — all as a service," Tamassia said.
"We are also discovering that although agencies enjoy the self-provisioning aspects of cloud services, many of them prefer, and sometimes mandate, a higher-touch customer service experience, as well as migration services, implementation services and managed services. These types of requirements open the door to QTS, versus some of the commodity cloud providers that provide a lower-touch experience with a more limited set of configuration options," he said.
"Federal agencies need support and expertise throughout the entire cloud life cycle," said Dante Ricci, global public services and healthcare marketing lead at SAP.
No stranger to the federal market, SAP responded to the emerging requirements of federal agencies by launching a secure federal cloud offering last October, designed to address all dimensions of the cloud model, including support, operations and delivery.
"We see other vendors addressing needs for distinct, disparate business scenarios.SAP is focused on giving federal agencies the flexibility to consume the cloud when and how they want on our platform, for varying needs. It will help them transform to run smarter, faster and simpler with the right mix of cloud technology designed for how they work and interact," Ricci told the E-Commerce Times.
In a similar move indicating recognition of the federal cloud acquisition environment, CenturyLink added its cloud data center service, an IaaS product, to GSA's Networx Universal contract in December. Networx is a multiyear, multibillion-dollar contract vehicle for telecommunications capabilities.
"We're working with agencies to address their many requirements so we can help them capitalize on the operational efficiencies that can be gained from moving to the cloud," CenturyLink Government SVP Tim Meehan told the E-Commerce Times.
More Than Products
The initiatives by SAP, QTS and CenturyLink involve product offerings as well as contracting elements, a point O'Brien noted in the IDC report.
While vendors need to provide products that are relevant to agency mission objectives, they also need to structure contracts appropriately, she said.
Among contracting features, the report lists three significant elements: Pricing — Is pricing aligned with the government market direction on the range of licensing options, such as subscription pricing, enterprise licensing agreements and allowing concurrent users?
Flexible contract conditions as standard — Such conditions include no minimum contract period, no minimum number of users, no upfront fixed fees, and compensation for breach of service leval agreements. A key question agencies may ask vendors is "How does the vendor enter into and terminate the data contract?"
Value-added services — The vendor offers value-added services including assessments and road map development, free trials and implementation of pilot programs, proof of concepts and testing, and application migration. Beyond product offerings and contract elements, there' sanother factor that will be crucial to effective marketing of cloud platforms in the federal space, O'Brien contended.
"Agencies expect innovations from their cloud partners, innovations that will further drive efficiencies and reduce mission-operating cost," she said. "A cloud partner should be the first source for access to new technologies. IDC believes that this emerging reality represents one of the most fundamental changes in how chief information officers need to evaluate technology partners."