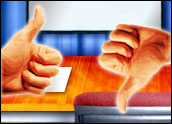 The starting gun has just been fired. The new Amazon Kindle Fire and Barnes & Noble Nook Tablet have entered the tablet space, preparded to compete with the Apple iPad. That means this new industry segment will quickly change and evolve into a completely new and different model. The problem is, no one is educating us as consumers and investors about this change. We have decisions and choices to make.
Let me try and explain what this new tech world is transitioning into, how it impacts companies, how competition will change, and the effect it will have on your wallet. Then you can decide which is the best choice for your purchase and your investments.
Then in my Pick of the Week, let me tell you about a German tech firm called Giesecke & Devrient, which just announced a new Nano-SIM card. It is two-thirds the size of the small Micro-SIM card and it's found in many things like wireless phones.
3-Way Race
Over the last year or two, we all have seen the tremendous impact the iPad has made. Apple pretty much jump-started the entire tablet segment. There have been countless other tablets introduced by other industry leaders, but they just haven't made much of a dent yet in the market in comparison.
That is about to change. This holiday shopping season will be all about these tablet computers. All competitors will see a boost. However, only a few will be among the big winners.
A few years ago both Amazon.com and Barnes & Noble jumped into the e-reader space and sold similar devices, but these were really just meant as book readers. Now suddenly they are introducing new versions that look much closer to the Apple iPad, but at a much lower price tags.
This will create a real three-way horserace. The decision around which device to choose is more important than just the device. The choice of the device will lock you into a company and a cloud.
If you choose the iPad, it will be easiest to buy content from Apple's system. If you choose the Nook Tablet, you'll generally buy content from Barnes & Noble. If you choose the Kindle Fire, you'll probably buy content from Amazon.com.
So choosing the device means you are choosing the online store, or cloud, in which you'll do most of your shopping. If you change your mind after a year and want to try another company and device, you cannot easily take the content you already purchased with you. That is the problem.
Portability Coming?
That may change over time. Remember, wireless phone numbers were not portable early on. If you changed carriers you had to change phone numbers. That kept many customers where they were even if they were not happy with the service. Carriers loved it, but customers hated it.
Then number portability transferred the power from the carrier to the customer. Customers could keep their numbers and choose the carrier. Since then, quality has increased. Now customers love it and the carriers don't.
The same thing may happen in this tablet space after several years. Eventually we may be able to easily move our content from one device and carrier to another with some kind of "content portability," but not yet.
Until then, choosing the device also means choosing the company and the cloud we want to mainly do business with over the years.
So choosing a device has more to do with the company and the cloud than the device itself.
Buying content this way, in files, is new. Of course, we have been dealing with this for years as technology changes. Everyone had tons of old albums, 8-track tapes, cassette tapes, CDs, DVDs and now music files downloaded from Internet stores.
We are also watching leadership changes. Steve Jobs did lead Apple to the No. 1 spot in our hearts, but since his passing, the market has become a colder place. It's full of companies, with fewer personalities. Both Apple and Barnes & Noble are now this kind of faceless company.
Jeff Bezos, the CEO of Amazon.com, is the only personality we have seen in this space. Since we love people, Bezos may rise in popularity going forward. We have not paid much attention to this yet, but mark my words.
Don't think this wave of change is over yet, either. Who knows what is coming next? We spend lots of money on never-to-be-used-again tech piled up in boxes in the corners of our basement.
These days, we log on and download music or movie files and play them on our devices. This may sound clumsy, but this is the way the market matures. Expect this revolution to continue.
Apple is further ahead with this cloud space, but it's new to everyone. It lets you buy stuff from the iTunes store. Your purchases stay in the Apple cloud and you can access music, books and more on any Apple device like iPhone, iPod, Mac and iPad.
Now both Amazon.com and BN.com are gearing up to do the same thing. They still have basic e-readers, but their high-powered tablet computers will do much of what the Apple iPad does, for much less.
So far they just offer these tablet devices, not wireless phones. Could that be next? Maybe. If so, they will compete more directly with Apple on a variety of devices.
Around the Corner
The big question is always, what is coming next? So who will be the big winner? To tell you the truth, I think they will all be big winners for customers and investors over the next few years. This new space will explode in a good way. Beyond that it is impossible to tell.
Apple will not compete with Amazon.com and BN.com for every purchase, but this seems to be the direction competition is heading.
One thing I do know is, we are just in the very beginning of this new wave that I regularly discuss with you. The Tablet Wave will likely continue to grow and make each company very successful.
The cloud will grow in popularity and importance. It is a way for companies to build their brand relationships with customers. It's a strange idea and concept, but will gain popularity over coming years.
This is also a threat and opportunity to the cable television industry as well. Much change will occur in that space in coming years. How will companies like Comcast, Time Warner and Cox compete with this new tech? Expect them to enter the tablet space as well.
The good news is, whatever we buy will always be there, in the cloud. We will always be able to use it. Then with content portability, it will be our content and we can consume it on our choice of devices.
The future may mean we don't have to buy the same content different ways. Perhaps someday we will buy a copy of a book and either read it or listen to an audio version for the same price, or at least at a discount.
As the years pass, and as other industries get up to speed, we will likely use these tablets to watch our cable television, as they will offer tablet versions that we can also pay for in addition to home versions for regular televisions. We will use these tablets to rent or buy movies to watch like going to Blockbuster, but instead we'll buy from the cloud we do business with.
Apps are another big and important segment. The bigger the demand for apps, the more successful the company and the cloud will be. The more crucial these devices become in our lives, the more successful the segment becomes.
So the vast difference between Apple, B&N and Amazon.com is shrinking.
How should you choose your new table computer? Based on the company and the cloud you want to do business with going forward, not on the features of the device itself. The reason is, over the next several years the devices will continue to improve, but all your content stays in one company's cloud.
So choose based on the company and the cloud. The question you have to ask yourself is, which do you want to do business with and invest in? That is the real question.