When Appleunveiled its 9.7-inch iPad Pro earlier this week, it aimed the tablet squarely at the PC replacement market, with Phil Schiller, senior VP of worldwide marketing, describing it as the "ultimate upgrade for existing iPad users and replacement for PC users."
More than 600 million PCs in use are 5 years old or more, he said.
The 9.7-inch iPad Pro's 64-bit A9X processor rivals that of most portable PCs, Apple said, and it supports the Apple Pencil and a new Smart Keyboard cover.
Schiller pointed to the device's new Retina display with True Tone technology, four-speaker audio system, 12-MP iSight camera, 5-MP FaceTime HD Camera and faster wireless capability when suggesting it as a PC replacement.
Winning Combination?
Apple has raised the possibility of the iPad replacing the PC since at least 2013, but the new tablet's combination of hardware and software could help it succeed this time, according to Rhoda Alexander, a research director atIHS Technology.
The 9.7-inch iPad Pro's processing speed and power, coupled with the Smart Keyboard "for the tasks where you really want to move beyond a touch screen" and the pen input for use with CAD systems, provides "a system that can go head to head with most PCs," she told the E-Commerce Times.
Further, the device "runs [Microsoft] Office, for those who need traditional applications, while still allowing users the flexibility and ease of a wide array of individually customizable mobile applications," Alexander added.
Who Might Really Need the iPad Pro
People in specific verticals, including fieldwork and healthcare, will be very interested in the 9.7-inch iPad Pro, suggested said Eric Smith, a senior analyst atStrategy Analytics. Some of that will be workflow transformation and some replacement, but the bulk of the PC replacement opportunity for the device is on the consumer side.
"I don't see the 9.7-inch Pro as a workhorse for enterprise users doing desk work," he told the E-Commerce Times.
"Even the 12.9-inch Pro will be a stretch for heavy-duty desk work," Smith said. However, either model's capabilities "will be more than sufficient" for most consumers.
The 9.7-inch iPad Pro "could replace laptops for executives and managers that require mobility but don't need to accomplish complex tasks on the go or otherwise," observed Susan Schreiner, an analyst atC4 Trends.
Possible Drawbacks
The 9.7-inch iPad Pro isn't quite as fast as it seems — its A9X processor reportedly isunderclocked compared to its 12.9-inch counterpart. Intel's fastest Core i5 and i7 processors, which are available in MacBook Airs and some Windows hybrids, reportedly canoutperform the A9X.
Further, the lack of a mouse and the device's high price compared to a Windows PC — it's offered at US$600 to $900 — might stymie its potential for use in the enterprise.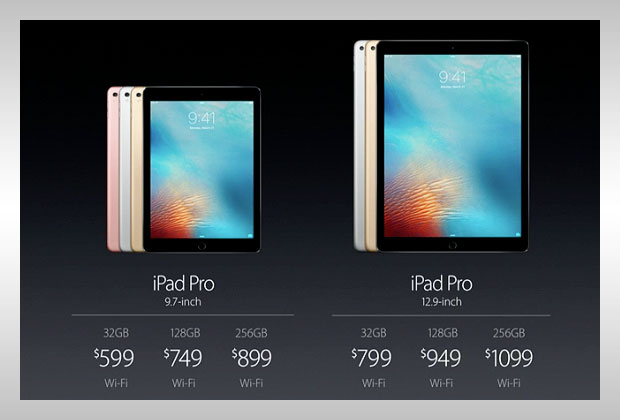 "The price will be a pain point when you factor in the extra cost of a keyboard or stylus," Strategy Analytics' Smith said. "However, the flexibility of the touchscreen, the portability and connectivity options — the LTE version has an embedded Apple SIM and a separate SIM port — will increasingly be attractive to enterprises looking to enable mobility across their organizations for better productivity."
The $600 price pits the new iPad against midrange PCs, C4's Schreiner told the E-Commerce Times, and Apple's "expanding its line of popular products to meet various price points as well as size needs for users' personal lifestyle or workstyle needs."
In any event, a PC "is very much like the human brain, in that most people use a small portion of what's actually available," IHS's Alexander pointed out. "Thus the question is not really which is the fastest or most powerful or most adaptive, but which is best suited to what the user is doing."
Pushing the new iPad Pro as a PC replacement is a good marketing strategy, according to Smith.
"For the last year, we've been saying that there are a growing number of PCs over 5 years old ripe for tablet or 2-in-1 cannibalization," he said, adding that the same holds true for older tablets.