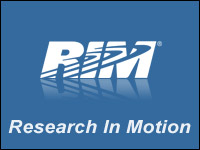 Executives of BlackBerry handheld device maker Research In Motion went into its annual shareholder meeting in Toronto Tuesday expecting a mauling, but ended up with a gumming instead.
Company co-CEOs Jim Balsillie and Mike Lazaridis apparently faced relatively mild questioning and comments about their strategy going forward.
Sure, some comments were raised about the company's need to improve its marketing and about the quality of its recently released PlayBook tablet.
However, what was expected to be a major thorn in RIM's side — a proposal Canadian mutual fund company NEI Investments had planned to table at the meeting — was not put up because the two companies had hammered out a compromise last month.
RIM's co-CEOs coyly admitted they were facing challenges, and they reportedly announced the company will launch seven new smartphones running its next-generation QNX operating system soon.
They also expressed confidence in the company's future. But that sentiment isn't shared by the market.
The company's share prices stood at US$27.13 at press time, down 39 cents, at press time.
"RIM's in a precarious position, and it's not about them having a new product portfolio, it's about the market's lack of confidence in their ability to rapidly innovate," Maribel Lopez, principal analyst and founder of Lopez Research, told the E-Commerce Times.
RIM did not respond to requests for comment by press time.
Teetering at the Financial Edge?
Perhaps Balsillie and Lazaridis are justified in expressing confidence that RIM will be able to pull out of its current doldrums.
The company's share prices have been on a wild ride for years, shooting up rapidly and falling just as fast. At one point, in July 2007, they stood at $234.35.
Perhaps RIM may be able to weather this current storm.
In recent months, RIM has pushed strongly into foreign markets. In June, the company announced that it would push the PlayBook into 16 new markets worldwide over the next 30 days. The PlayBook will be available in Hong Kong and Indonesia in July, for example.
RIM pledged at the shareholder meeting to improve its marketing capabilities, and it emphasized its reputation for providing email security. It also said its PlayBook tablet is being tried out at more than 1,500 companies, including government agencies.
The company has managed to put off demands for a change in its management structure by setting up an independent committee to look into the question.
That reportedly did not satisfy some attendees at the shareholder meeting, though.
New Directions Needed?
Whether or not the launch of seven new smartphones will help the company shore up its battered position is unclear.
"That will very much depend on the positioning and pricing of these devices," Vishal Jain, an analyst at the 451 Group, told the E-Commerce Times.
In any event, RIM may need to brush up its marketing efforts.
The company's already pushing hard in Europe, Jain said. It's offering BlackBerry Curve and Bold handsets at lower price points than market levels, he pointed out.
However, the direction of some of its efforts might need some explanation.
"An example is their recent promotion offering free coffee at rail stations across London," Jain stated.
RIM needs to do still more because competition is very fierce, especially in the emerging markets, where Apple, for one, is pushing hard, Jain remarked.
The Doors of Perception
Doubts about RIM are being stoked by the plight of Nokia, which once ruled the mobile phone market, Lopez Research's Lopez suggested.
"People are basically saying Nokia was strong and powerful, and look what's happened to them," Lopez pointed out. "Some of that's rubbing off on RIM."
The company needs to have "a couple of huge wins in the smartphone and tablet markets" by attracting developers to build apps for its platforms, Lopez suggested.
"RIM shouldn't focus on security but should focus more on getting app developers to build cool apps for them," Lopez added.
"When their next developers' conference comes up in a couple of months, it'll be interesting to see whether RIM gets any momentum there," Lopez said.
She was referring to BlackBerry DevCon Americas, to be held in San Francisco in October.