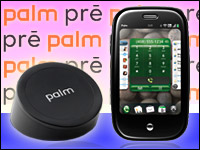 Palm continued to hemorrhage money in the fourth quarter of its fiscal 2009.
However, the figures it revealed Thursday represent the months just ahead of Palm's release of the Pre. Palm's latest smartphone sold 100,000 units in its first weekend on shelves, according to partner carrier Sprint.
Investors appeared optimistic despite Palm's fourth-quarter blues. Shares were up nearly 17 percent to US$16.36 by Friday afternoon.
By the Numbers
For the quarter that ended May 31, the firm's net loss totaled more than $91.5 million.
This was more than double the approximately $41 million of red ink in Q4 of 2008.
In fiscal 2009, Palm's net losses totaled more than $732 million, almost seven times the fiscal 2008 figure of just over $105 million.
Q4 gross profits fell year-over-year, totaling just over $20 million — less than one-third of what the company chalked up in Q4 of last year.
Fiscal year 2009 gross profits totaled nearly $160 million — just under 40 percent of the nearly $402 million figure for fiscal year 2008.
Net loss per common share was 78 cents, compared with the Q4 2008 figure of 40 cents. The differential in fiscal year figures was far greater — net loss per common share for FY 2009 was $6.51, almost six times the FY 2008 figure of $1.05.
Despite the dismal financial news, however, Palm's shares are surging. This is likely due in part to hope that the newly introduced Pre and Palm's new webOS will rescue the company.
Optimism Rules
Palm's confidence in its long-term potential continues to grow, based on remarks made by Palm Chief Financial Officer Douglas C. Jeffries during the company's earnings call.
"Looking ahead, we see the potential of turning cash flow positive in the second half of fiscal 2010," he said.
The company has reinvented itself at many levels, said Palm's new CEO Jon Rubinstein.
Demand for the Pre is strong, he added, and more than 1 million mobile applications had been downloaded from the Palm App Catalog by Thursday, even though the catalog was still in beta.
"We believe we have now pioneered the mobile operating platform for the next 10 years and beyond," Rubinstein said during the earnings call.
WebOS vs. the Rest
"Palm has done a wonderful job of launching its webOS, which easily makes the Pre the best device for multitasking," Avi Greengart, research director of consumer devices at Current Analysis, told the E-Commerce Times.
"While the iPhone can technically multitask, it doesn't allow multitasking for third-party apps," he pointed out.
"Other smartphones can multitask," he continued, "but don't make it as visually fluent when moving from one task to another as the Pre does."
Shooting Down the Bluebird of Happiness
Pointing out that smartphone market penetration is just 11 percent worldwide and 19 percent in the U.S., Rubinstein said those numbers are expected to almost double by 2013.
That huge demand means there's room for three to five players, he said. "We don't have to beat each other to prosper."
Rival platforms may not need to beat each other to prosper, but they will likely be fighting tooth and nail in order to stake out turf in the coming months.
A slew of Android smartphones will hit the market by the end of the year. Meanwhile, phonemakers are coming up with ever more innovative devices, such as HTC's recently unveiled Hero, an Android phone with a new "Sense" user interface.
"HTC Sense is very exciting, particularly with its implementation of the contact-centric approach, which is pulling in the same type of things as Palm Synergy," Greengart of Current Analysis said.
"That's definitely a challenge to Palm," he added.
Besides Android, Palm also has to compete with two 800-pound gorillas: Apple and Research In Motion.
Palm's Weaknesses
For all Rubinstein's talk about strong demand for Pre, the device's debut sales figures pale in comparison with those of the new iPhone 3G S, which sold 10 times the Pre's 100,000 over its launch weekend a week ago, according to Apple.
Then there is concern about the Pre's lack of apps, which are considered a key competitive factor.
The Pre App Catalog has only a few dozen apps, according to reports, compared to the roughly 50,000 wares in Apple's App Store.
That's going to be a problem, suggested Current Analysis' Greengart. "One of Palm's key constraints right now is that it still has not launched its SDK," he said. "Its App Catalog will likely remain relatively small — and even then, it may not generate the same level of developer interest the iPhone does."
Going Back to the Numbers
By 2013 — the point at which Rubinstein said we'll see nearly 40 percent market penetration for smartphones in the U.S. — Palm will be a bit player in the smartphone field, predicted IDC Senior Research Analyst Ryan Reith.
"We expect by 2013 that the webOS, as a whole, will have 3 percent of the smartphone market," he told the E-Commerce Times.
IDC expects Symbian to be the market leader, with about 40 percent of the market; BlackBerry will come second with 17 percent; Android third with 11 percent; and the iPhone fourth with 10 percent.
Palm will do well when it enters the European market, then comes back to the U.S. and moves from Sprint to another wireless carrier, Reith said.
As for the webOS, on which Rubinstein is pinning Palm's hopes, it's "a great operating system, but I don't think it will actually save Palm," added Reith.
Within a year, Palm will try to license out the operating system, he expects, possibly to a PC vendor such as HP.