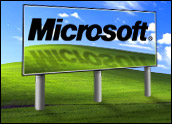 Most don't realize it yet, but Microsoft is completely reinventing itself right before our eyes. It is expanding from software to hardware and even to the cloud, starting with tablets and wireless smartphones. It is fundamentally transforming the company we have all known and used for decades. This path is full of enormous opportunities and challenges.
Let's pull the camera back and take a closer look at where Microsoft is heading. What kind of company is it changing into? Who will it compete against, and will it be successful? Whether you are a customer, an investor, a competitor, a partner or a worker — this is important.
My Pick of the Week is Apple, which I wish a happy anniversary. It's been five years since the iPhone was first introduced. It has ushered in many incredible features, but also some new problems.
Brand New Ball Game
We have all known and used Microsoft over the last few decades. It is still strong and growing on the software side — from operating systems to Office and assorted other programs. It is still riding the Wave up, and this is a long wave.
Over the last decade, Microsoft CEO Steve Ballmer has also been trying to break into the wireless space, but all of its attempts, including its recent partnership with Nokia on the Lumia, have so far fallen flat.
What is the problem? Microsoft is a good company. It has a huge customer base. It has an intimate knowledge of what customers want and need. Expanding into wireless should be a natural fit.
Two newcomers called Apple and Google have been hitting it out of the park during the last five years, but Microsoft keeps swinging and missing. Why?
One reason is its brand. It needs to be refreshed and updated if it is competing with newer brands like Google and Apple.
Two is its marketing. It needs to realize the world has changed during the last decade, and the wireless world has changed during the last five years. Microsoft has not updated its marketing in quite a long time.
Three is its technology. Its phones haven't captured the imagination of the marketplace, ever. Perhaps they are great, but there has been no angle for the media or customers to sink their teeth into.
Four is it only makes the software that powers smartphones and tablets made by other companies. It doesn't make hardware. So the Microsoft brand value gets lost in the mix.
There is more, but you get the point.
When a customer is shopping, which wins the day? A shared-brand story with Microsoft's brand diluted among other manufacturers? Or a single, straight and strong brand story like Apple? It's easy to see the problem when you look at it from this angle.
It seems Microsoft has learned this important marketing lesson. Actually, it is not the only company with this problem. Google shares this dilemma.
You may think Google is bulletproof with its Android phones, but its Android tablet story is pretty weak and shares some of the same issues as Microsoft.
So how can it solve this problem?
Look at Apple. It keeps hitting the ball out of the park. It doesn't share the brand story during or after the sale, on software or hardware. It's all Apple.
Apple has spread its brand to envelop an entire new way of thinking: multiple devices all connected under the Apple iCloud. Whether you like or dislike the idea of the cloud, this is a helluva success story isn't it?
So is Apple hardware or software? It is both, of course. It has a single and strong brand. Apple has created a powerful platform for growth, and it is working.
Falling in Love Again
That is the important lesson for Microsoft, and it finally looks as though Microsoft is getting it. If it is successful, things could start to get interesting pretty quickly.
Microsoft looked at all the mistakes it made in the wireless space, and all the mistakes Android made in the tablet space and added it all up.
In basic terms, when it comes to the brand, it's all about falling in love isn't it? It's emotional.
Now that Microsoft is moving into the Windows 8 world, it has a unique opportunity to reinvent itself — to reset.
One of Microsoft's strengths is its incredible brand recognition. It has an amazing history with all of us for decades. That is tremendous value if it can see how to use it. If not, it could be a hindrance as well.
So, at this point, Microsoft is going to either get better or get worse, but it won't stay the same.
The Microsoft brand does not resonate with the younger generations anymore — not the same as Apple and Google. That's one of its key challenges. How can it solve this?
Look at how SBC updated the AT&T brand several years ago when it acquired the company. Microsoft — this is what you need to do.
Expand and refresh your brand. Describe what you bring to the market. Talk about the cloud and tying all your devices under it. Help us see the Microsoft world you see and are trying to build. Whip up a frenzy. Marketing, advertising and public relations are all key.
Twenty or 30 years ago, you really didn't have much competition. Today you battle other thought shapers like Apple and Google, so your strategy has to be different as well.
To answer the frequently asked question, Steve Ballmer is Microsoft. He was there since it's founding. There is no reason to think anyone else could do a better job as long as he is focused on tomorrow, on growth, and can see the new opportunities and challenges.
The company is doing very well. It just needs to expand beyond today's way of thinking and help us do the same. Microsoft, this is your second coming-out party. Win or lose, this is it. The world is hoping you hit it out of the park. Batter up!