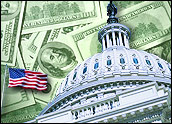 It doesn't make too much sense to send a sanitation truck around a predetermined route to empty street-side trash bins if half the bins are empty. It's a waste of employee time and truck fuel for work crews to stop at thousands of bins that don't need attention.
If the bins could speak for themselves and notify the public works department that they were nearly full, then a more efficient pickup schedule could be implemented.
That's where the Internet of Things — or the Internet of Everything — comes into play.
Generally, IoT involves the connection of machines or devices to each other through the Internet, often involving the use of sensors. In the trash collection example, some cities are now using trash bins equipped with sensors that collect data on which bins are full. The sensors transmit the data over the Internet to city computers so managers can more efficiently dispatch pickup crews and trucks.
The IoT concept, which has been around for a few years, is now getting some traction and is expected to soon become a major factor in the world of e-commerce. Worldwide spending at all levels of government for IoT will be US$1.2 trillion in 2017, according to an IDC Government Insights forecast issued last month.
"Government overall is one of the fastest-growing sectors with respect to IoT," Ruthbea Clarke, IDC's smart cities research director, told the E-Commerce Times.
IoT growth in the government sector will increase at a compound annual rate of 10.7 percent over the next five years, IDC projected.
Sensors Everywhere for Everything
Governments all over the world are just beginning to get the hang of equipping "things" with sensors that connect to the Internet to generate all kinds of data that can help save money or increase revenue. Such systems can be used for relatively prosaic purposes — such as trash collection — or for higher-impact applications such as traffic and transit control, energy consumption in government buildings, and emergency evacuation programs and security.
"We expect to see a lot of use cases in defense, public safety, immigration, border control, video surveillance, transportation, and weather and natural disaster monitoring and response," Clarke said.
Within the government sector, cities are one the largest components for IoT installations, accounting for nearly 30 percent of the market in 2014, said IDC.
The IDC forecast includes both wired and wireless connectivity and embraces an ecosystem including intelligent systems, connectivity services, platforms, analytics and vertical applications, in addition to the security and professional services required to build out IoT infrastructure. Values are based on vendor revenues for all of these aspects of IoT.
IoE Enhances Federal IT Goals
Cisco also projects a bright future for the IoT concept in the public sector. In another new study, it expands the scope of IoT to add people and processes to the chain of Internet connections to create what it calls the "Internet of Everything" — or IoE.
Over the next 10 years, IoE applications could generate $4.6 trillion in value worldwide for the public sector. Cisco defines the market opportunity as "the potential value that can be created by public-sector organizations based on their ability to harness IoE" over the next decade.
"Public sector leaders are under tremendous pressure to bridge the gap between rising citizen expectations and shrinking resources," said Martin McPhee, Cisco's senior vice president for consulting services. "IoE solutions have the potential to change everything."
At the U.S. government level, the IoE/IoT approach likely won't be visible as a separate technology requirement, such as those listed in procurement contracts for cloud technology or email systems. However, the concept fits into the continuing efforts of the federal government to improve IT management and acquisition.
"The Obama administration's IT improvement goals for utilizing the cloud — or promoting efficiencies with data consolidation or Big Data and analytics — can all be embraced within IoE," Dan Kent, director of public sector engineering at Cisco, told the E-Commerce Times.
"The scope of IoE goes beyond the cloud and IT in general. It involves more than just cost avoidance and moves toward using IT to enhance productivity and add value," he said.
For example, the mundane task of maintaining military vehicles can be enhanced with sensors that measure wear and tear. They are connected to a data center to more productively schedule maintenance and reduce much of the manual labor associated with inspecting vehicles.
Cisco's most specific value forecast for the U.S. government is an estimate that federal civilian agencies could capture $472 billion in value through IoE solutions to improve disaster response, fleet management, cybersecurity efforts and to fund other activities.
Federal Niches for IoT Development
There appears to be no single discernible U.S. government effort to promote IoT — or IoE, for that matter — but there are a number of scattered efforts to evaluate the concept. The Department of Energy's efforts to build a more efficient electricity system through a smart grid might be the most visible IoT-related effort.
The U.S. Geological Survey's National Seismic System for detecting potential earthquakes through continuous monitoring and Internet data connection is an example of IoT, according to the Center for Data Innovation. USGS devices are being used in some Department of Veterans Affairs hospitals to enhance patient safety and spur evacuation of facilities in the event of earthquakes.
Also, the White House Presidential Innovation Fellows program includes an IoT initiative under the Smart America Challenge, hosted through the National Institute of Standards and Technology. A public update on that program is scheduled for Feb. 14 at NIST headquarters.
As a supplier of a broad range of network and IT infrastructure products, Cisco makes no bones about its interest in promoting the IoE concept.
Of course, it is not the only IT vendor touting the potential for implementing Internet connections among machines and people. For example, Intel formed a dedicated IoE unit last year. Also, a group of major IT and consumer electronics firms formed the All Seen Alliance to work on industry standards for IoE deployments in December.
The Federal Buzz: AT&T, Identity Theft
AT&T Adds to Federal Staff: AT&T has recently bolstered its presence in the federal sector with two key appointments. In early January Casey Coleman joined the company as client executive vice president in AT&T's Government Solutions unit, which serves a wide range of federal agencies. Prior to joining AT&T Coleman was chief information officer at the General Services Administration. She will be involved in the development of long-term customer relationships, as well as delivery of customized solutions for a key set of agencies within the civilian market.
Chris Smith, a former CIO at the U.S. Agriculture Department, joined the AT&T unit as vice president for technology last November. Smith joined AT&T from Accenture Federal Services. The new additions to the AT&T operation "reflect the increased investment we are making in the federal sector and strengthen our ability to serve our customers with a diverse range of cloud, mobility, and Big Data solutions," Kay Kapoor, president of AT&T Government Solutions, told the E-Commerce Times.
Identity Theft: The recent occurrence of identity theft at the Target retail chain has triggered the re-introduction of consumer protection legislation. On Jan. 15, Sen. Tom Carper, D-Del., and Sen. Roy Blunt, R-Mo., introduced the Data Security Act of 2014.
The bill requires financial institutions, retailers, and federal agencies to better safeguard sensitive information, investigate security breaches, and notify consumers when there is a substantial risk of identity theft or account fraud.
"We cannot allow technology advances to outpace the security measures in place to safeguard the transactions we conduct in person and online," Carper said.