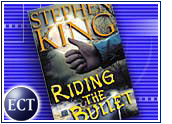 E-commerce helped to reverse a decline in overall book sales for adults in 1999, according to a new study by NPD Group, Inc. of Port Washington, New York.
The study found that sales of books purchased for readers 14 and older rose 3 percent to more than 1 billion in 1999, with books bought online accounting for 5.4 percent of those sales — up from 1.9 percent in 1998.
The report, to be released Friday at BookExpo, the publishing industry convention taking place this week in Chicago, Illinois, is the latest in a series of predictions about how e-commerce is affecting the publishing industry.
Everything Else Is Noise
Earlier this week, Microsoft Corp. executive Steve Stone told an audience that electronic books will someday overtake their paper counterparts in readership.
"There is the author, the consumer and the server — everything else is noise," Stone said.
Although electronic book sales currently only account for a tiny proportion of the overall figures, Andersen Consulting forecasts that they will make up 10 percent of the market by 2005.
Moreover, Andersen predicts that by the same year, e-books will soar to $2.3 billion (US$) and that about one-third, or $700 million of those sales, will cannibalize paper books.
King's Novella Proved Potential
In March, demand for horror novelist Stephen King's 66-page novella — available only by download — was so high that such e-tailers as Amazon.com and Barnesandnoble.com were swamped with requests.
With sales of more than 500,000 copies of King's e-book in just two days, Simon & Schuster clearly demonstrated that old line publishers have nothing to fear by making their authors' new books available online. The company also proved that e-books can be profitable.
"Overwhelming demand for Stephen King's novella is proof that readers want to explore exciting books, whether those books are delivered in printed or electronic mediums," said Tammy Deuster, CEO and co-founder of Bookface, an interactive Web site that launched on Friday.
The site will be supplied with content from such major publishers as HarperCollins, Penguin Putnam, Random House, St. Martin's Press and Time Warner Trade Publishing. According to Bookface, Time Warner Trade Publishing has an investment in the new venture and Larry Kirshbaum, the company's CEO and Chairman, is a member of the Bookface Advisory Board.
New Model?
Because books are currently the only form of popular media without a major advertising component, the use of the Internet to deliver content will provide a valuable new source of advertising revenue, while getting more books in front of more readers, Bookface backers say.
"We are intrigued by Bookface as a new merchandising and distribution vehicle for books," comments Steve Cohen, Senior Vice President at St. Martin's Press. "We are exploring Bookface as a way to promote our books online, with the expectation of gaining added revenue for both the publishing house and our authors."
However, critics maintain that readers will never fully accept the process of reading books over a monitor, and will continue to demand the look and feel of traditionally published books.